It takes a true love for racing to compete into your 60s but that's exactly the passion that Tomy Drissi shows for the sport.
Born in 1958 in Hollywood, Drissi has been in the racing spotlight since he was a young kid. Growing up in fast-paced Hollywood prepared Drissi for big things. It turned out Drissi wouldn't make his mark in front of the movie camera, but rather on the race track.
It took a while for Drissi to make his impact in the racing world, however. It wasn't until 1993 that he started racing legitimately (as opposed to illegally), and he didn't make his NASCAR debut until he was 45 years old.
You know what they say, better late than never. Keep reading for more information about Tomy Drissi's racing career, highlights, stats, bio and more.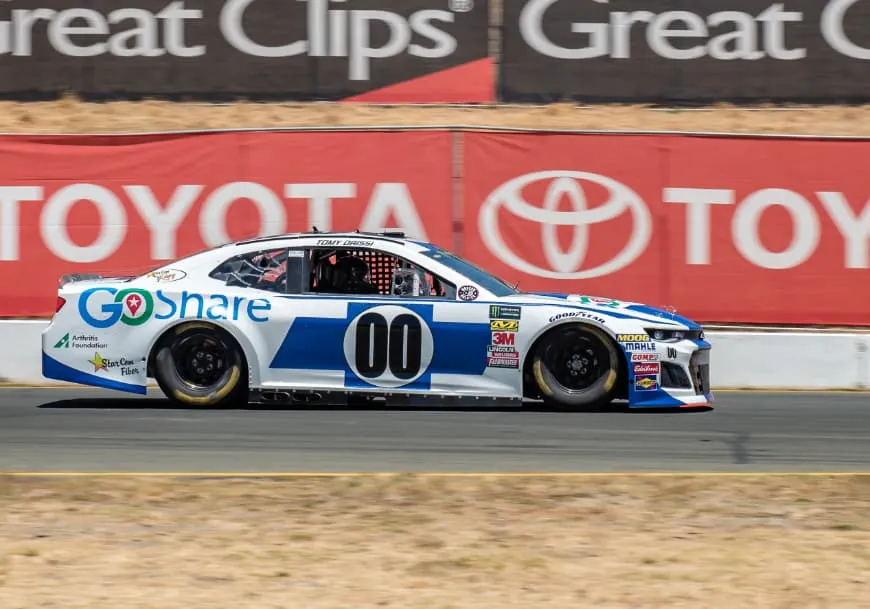 Fast Facts:
December 9th, 1958
Born: Hollywood, California
Wife: Lacy Livingston Drissi (1988)
Is also an advertising executive in the movie industry.
Career Highlights:
1999 Sports Car Club of America Trans-Am Rookie of the Year
2009 Sports Car Club of America Trans-Am Series Winner
First SCCA win in 2000 during the Long Beach Grand Prix
Xfinity NASCAR debut in 2010 (41 years old).
Monster Energy Sprint Cup debut in 2012 (43 years old)
Tomy Drissi Bio
Years before Drissi made his debut in NASCAR, he was getting experience in illegal street races in California.
At 16 years old in the early 1970s, Drissi was racing illegally along Mulholland Drive in Los Angeles. He often raced in his '69 Camaro up and down the streets, and he mentioned in an article to the San Francisco Chronicle that he competed in illegal races like this until his early 20s.
"Well, maybe it was my late 20's," Drissi told the San Francisco Chronicle.
Despite more than a decade of illegal street racing in the hills of California, it wasn't until 1993 that Drissi started racing legitimately. In the beginning, Drissi was criticized for being too aggressive in the vintage racing at Willow Springs Speedway.
In 1999, Drissi joined the Trans-Am circuit in what was his first legitimate foray into competitive racing. He started off hot in his career, winning the Sports Car Club of America Trans-Am rookie of the year award. He would go on to win his first career race the following season during the Long Beach Grand Prix.
Since the turn of the millennium, Drissi has found himself competing in a number of racing circuits. He started racing in the America Le Mans Series in 2003, a sports car racing league. Drissi also competed in Rolex Sports Car Series Events and the SCCA Speed World Challenge.
Drissi ended the decade by finishing as the top SCCA Trans-Am driver of the year in 2009, ten years after he was named rookie of the year.
Drissi Does NASCAR
After his accolades in the trans-am circuit, Drissi made the jump to NASCAR in 2010, starting in the Xfinity Series.
As a sporadic driver in NASCAR, Drissi has never competed in more than three NASCAR races (between Xfinity and Monster Cup Series) in a single year. The most he races competed in was three in both 2014 and 2015.
Drissi did make his Cup Series debut in 2012 at Sonoma, finishing 38th overall. He raced in both of the following two years before taking a four-year hiatus, returning in 2018.
Despite his sporadic performance in NASCAR, Drissi did bring home more hardware in 2011 on the American Le Mans Circuit. Drissi took home two wins in nine races in 2011 and won his third race on the circuit in 2012.
Some of Drissi's bad habits from early in his career came back to bite him. He was banned from the trans-am circuit in 2017 for aggressive driving and demonstrating poor sportsmanship.
Despite that, he's still managed to forge a part-time racing career. Most of Drissi's time is taken up running an advertising agency in Hollywood.