Tennessee vs. Florida Odds
| | | | |
| --- | --- | --- | --- |
| Team | Spread | Moneyline | Total |
| Florida Gators | +6.5 (-110) | +200 | O 58.5 (-110) |
| Tennessee Volunteers | -6.5 (-110) | -245 | U 58.5 (-110) |
Odds from DraftKings Sportsbook. Get $200 in bonus bets when you wager just $5 using our exclusive link.
Tennessee vs Florida Betting Preview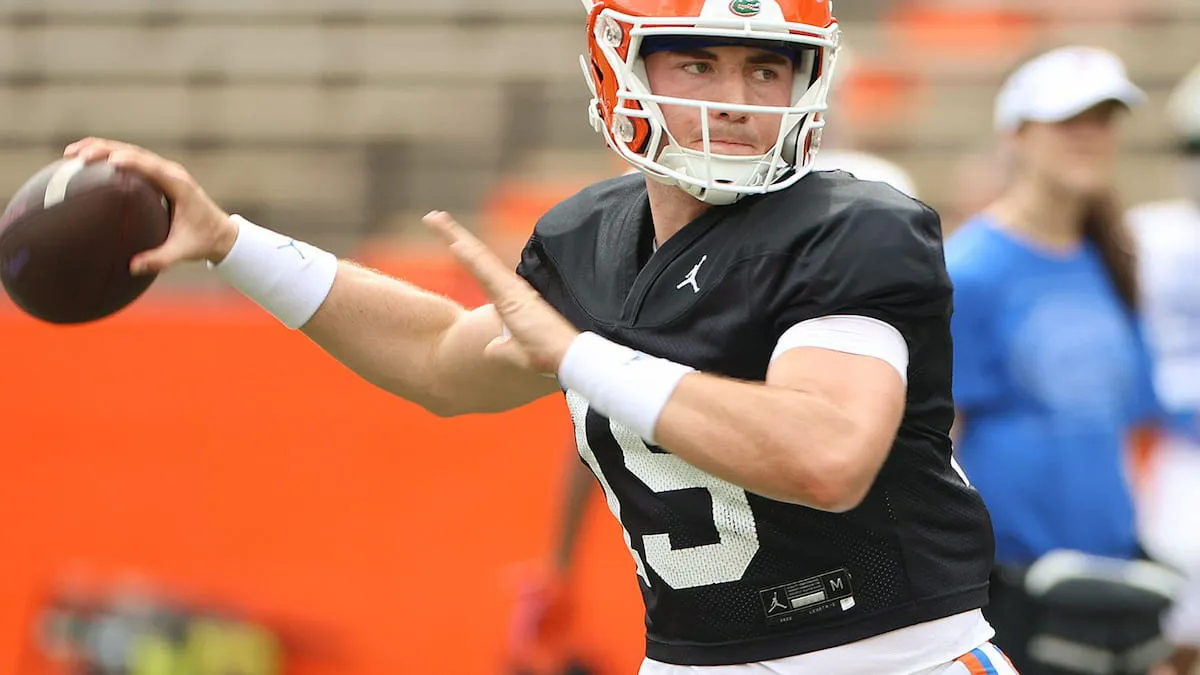 Any time Tennessee and Florida hit the field, regardless of the current state of their programs, you know it will be an exciting matchup.
The Gators are quarterbacked by former Wisconsin signal caller Graham Mertz. They are 1-1, headlined by a devastating Week 1 loss to Utah. The Volunteers are 2-0 but did have a bit of a tough time against Austin Peay at home.
Throughout his college career, Mertz has been mediocre, to say the least. He played four years at Wisconsin, completing 60.8% of his passes or less between 2020-2022, when he started most games. This season, he's playing better, completing 73.8% of his passes, but he has just two touchdowns and one interception.
As for the Volunteers, they're without Hendon Hooker now and have officially moved on to Joe Milton III. He's completing 66.7% of his passes. He's thrown for just 425 yards, but he hasn't thrown an interception, and he's also added three rushing touchdowns and 54 yards. Volunteers running backs Jaylen Wright and Jabari Small have a combined 51 carries for 394 yards (7.7 yards per carry), while their defense has 12 sacks and 35 pressures and has allowed just one passing touchdown.
The Gators are running the ball well, too, with Trevor Etienne, Treyaun Webb, and Montrell Johnson Jr. However, their defense has issues creating pressure, securing just two sacks this season. That will be an issue against a player like Milton, who can pass competently and take off and run. Milton's blindside is protected by John Campbell Jr., who's played fairly well this year as the Gators defensive front accounts for just one of their sacks, coming from edge rusher Princley Umanmielen.
The Gators will have issues slowing down Milton here, while their defense should create problems for Mertz.
Tennessee vs Florida Picks & Predictions
Volunteers -6.5 (-110)
Looking up and down these depth charts and matchups, including wide receivers vs. cornerback, pass rush vs. offensive line, and more, there are not many areas where Florida excels. They have wide receivers Eugene Wilson III and Ricky Pearsall, who we should give more credit to, but the Volunteers have cornerbacks like Kamal Hadden and Tamarion Mitchell to oppose them.
The Volunteers should win this game pretty decisively. You can place a bet on them at DraftKings and get a $200 welcome bonus.
Under 58.5 (-110)
Mertz has never been a quarterback we trust to put up points, especially if trailing. He's not someone you want to throw to catch things up. He's been a solid game manager, and with that comes an emphasis on running the ball.
There should be a lot of running game here, which helps eliminate the clock, and should the Gators fall behind, Mertz isn't a quarterback we trust to get them back into it.
We're thinking Tennessee Wins this one 31-21. Head to DraftKings to place your bet!
Total Touchdowns: Under 7 (+105)
Again, this goes back to how we expect this game to go. At 31-21, this pushes that seven-touchdown mark, but it's difficult to see how it goes over.
The Gators struggled to create pressure, allowing for more offense from the Volunteers, but both teams will look to run the ball here.
Mertz isn't a player capable of racking up touchdowns, so it'll be left totally in the hands of the running game.
You get a push here at worst, but this game should be lower-scoring than you think.
Tennessee vs Florida Betting Promos
Take a look at the top sportsbook bonuses and grab a promo when you bet on Tennessee vs Florida.
How To Watch Tennessee vs Florida
Game: Tennessee vs Florida
When: 7:00 p.m. EST on Saturday, Sept. 16
Where: ESPN