Kentucky sports betting is transitioning from imagination to reality in September, and bet365 is giving all new users the chance to win $415 in bonus bets through a pre-registration promo.
Have a look at all of the pre-registration offers for Kentucky you can get via WSN.
bet365 pre-registration promo: Win $365 in Bonus Bets + a $50 Touchdown Offer
The pre-registration period is officially open in Kentucky, and all new bet365 customers have the opportunity to secure a guaranteed $365 in bonus bets, plus up to $50 in additional bonus bets depending on the number of touchdowns scored in a featured NFL game.
The window for pre-registration bonuses will close when the online market launches on September 28. It will remain open past the launch of retail sports betting on September 7, giving users until Week 4 of the NFL season to claim the rewards.
Here's how you can claim the offer for yourself:
Click "Join" and enter your personal details into the empty fields
Place a $1 bet when the market launches
Claim your $365 in bonus bets + $50 touchdown bonus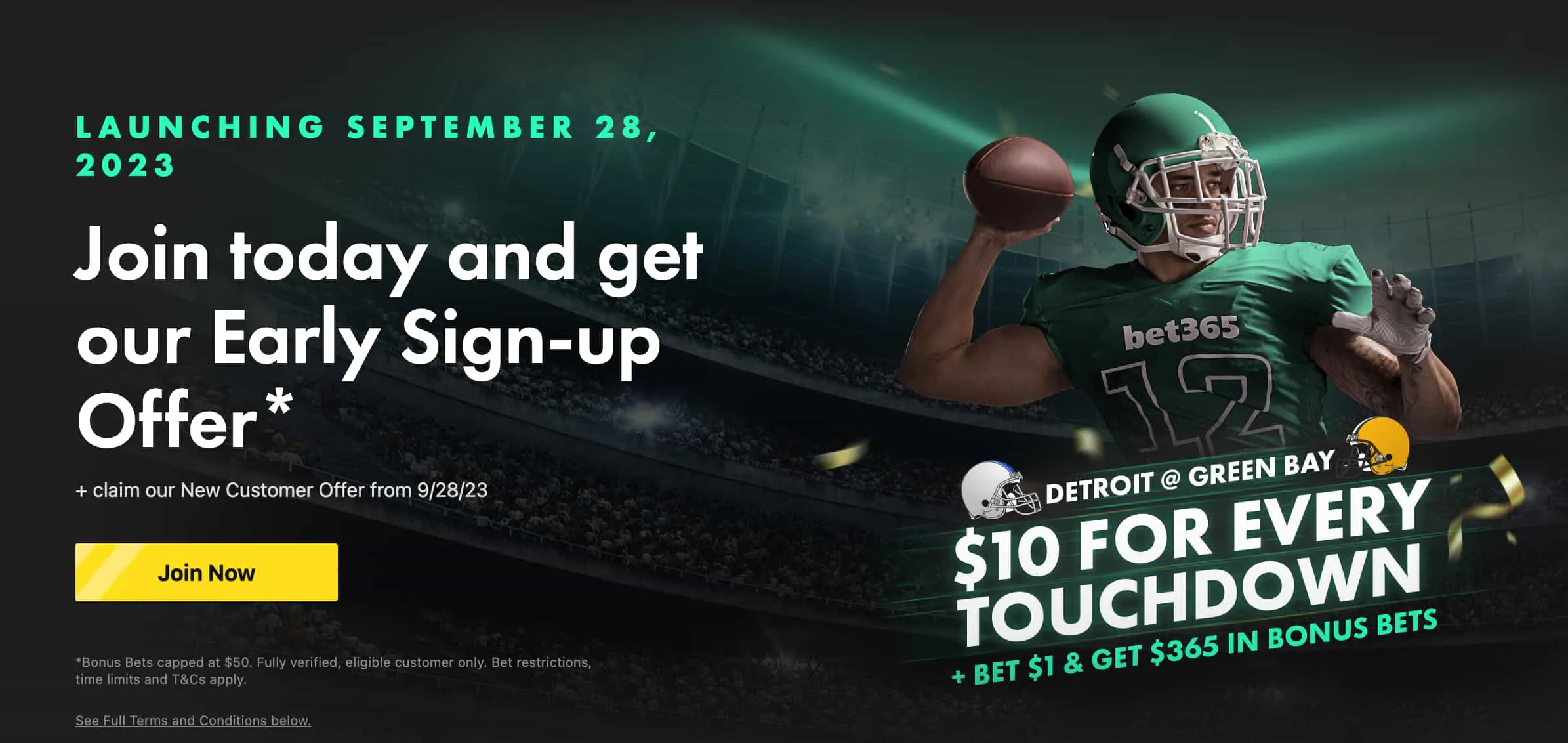 Customers may not have existing bet365 accounts if they want to claim the pre-registration promo offer. Users must also be at least 21 years old and must create the account and accept the offer when they are in Kentucky.
All prizes come in the form of bonus bets, which are like tokens that must be redeemed at the bet365 sportsbook and may not be withdrawn for cash. These bonus bets have fixed life spans and will expire if they are not redeemed within the provided timeline.
Kentucky Sports Betting Nears Online Launch
bet365 will launch the day the Kentucky online sports betting market goes live on September 28.
Gov. Andy Beshear approved the launch in May by signing HB 551, making Kentucky the 37th state to legalize sports betting (38 plus Washington D.C. have legalized at the time of writing).
Users will be able to use their bonus bets from the pre-registration offer in any bet365 market. Betting lines in the NFL are especially popular every year, and users will have their choice of Week 4 games including:
Detroit Lions vs. Green Bay Packers (the day of the launch)
Miami Dolphins vs. Buffalo Bills
New England Patriots vs. Dallas Cowboys
Kansas City Chiefs vs. New York Jets
And more…