Gambino Slots Bonus
There are no slot bonuses in the sense of traditional real money casinos at Gambino Slots, since you can't play for real money and you can't deposit anything into your account.
However, you do get certain perks when you sign up.
New players get 100,000 G-Coins just for signing up, along with 200 free spins. This bonus is totally free, with no purchase required.
It means all you need to do to become a fully-fledged member of the Gambino community is register with the site, and you're ready to start spinning.
Gambino has lots of other bonuses too for existing players. For one thing, you can spin the Daily Bonus Wheel once a day, which randomly awards extra G-Coins.
There are also promotions and giveaways on Facebook, plus email offers. Basically, the more engaged you are with Gambino Slots the more bonuses you stand to earn.
Gambino Slots Bonus Code
Gambino Slots doesn't use bonus codes. Instead, the bonus G-Coins package is available to every single person who registers, and everyone gets the same bonus opportunities as each other.
Gambino has worked hard to cultivate a collective atmosphere on the site – almost like a social media platform – and the exclusivity of bonus codes doesn't really fit with that ethos.
How to Register at Gambino Slots
Registering with Gambino is fast and easy.
You can choose whether to register via Facebook or Google or manually using your email address.
Choosing the former can be useful since Gambino has such a large social media presence and regularly has promotions and giveaways on Facebook.
Still, some players will prefer not to link their social media accounts, and for them email registration is perfect.
All you need to provide is your email address and a unique password. Your registration will be complete instantly, and you'll even get an extra 1,000 G-Coin bonus once it's complete.
Compared with other social casinos – especially ones that offer real cash prizes, which Gambino does not do – signing up is extremely easy.
Games and Software at Gambino Slots
Gambino Slots' software is bright and simple, with lots of animations and an overall cartoonish aesthetic. It feels a little like a retro games console, even down to the way the screen pops out on the desktop site.
The site isn't especially complicated or extensive. Instead, almost the entirety of the home screen is taken up with a scrollable menu of games, while other buttons are available at the side of the screen.
The games follow the same lead: retro feeling, 5-reel, lots of different themes, full of fun bonuses and scatters.
But also ultimately pretty simple, and without any modern 3D innovations like you might find at the top real money casinos.
In addition to the regular desktop platform, you can also play via Facebook, or on mobile.
Slots
Slots are more or less the only thing on the menu at Gambino Slots. There are more than 100 different games in total, but the majority are locked for new members.
To get access to more, you need to graduate through the different levels of the player program.
You can keep track of your player experience points – which you earn from playing games and generally interacting with Gambino, in the ticker at the top of the screen.
The slots at Gambino are all designed by Spiral Interactive and come in with a wide variety of classic slot themes – safari, ancient Egypt, fantasy, Vegas, and more.
Other Games
Gambino Slots doesn't have any other types of casino games, only slots. If you're looking for the likes of roulette, blackjack, craps, or other table games, you can check out sites like Chumba Casino or Funzpoints.
If social poker is your thing, check out Global Poker.
Gambino Slots on Mobile
Gambino Slots also has great mobile functionality. In fact, the software actually looks better on mobile than on the desktop, with sharper graphics and an overall smoother experience.
The basic shape and style of the site are the same, and playing on mobile gives you all the same access like the desktop site – as well as one important extra.
Only on mobile can you buy packages of G-Coins, Boosters, and other benefits, which we'll cover in a section below. These options are not currently supported on the desktop site.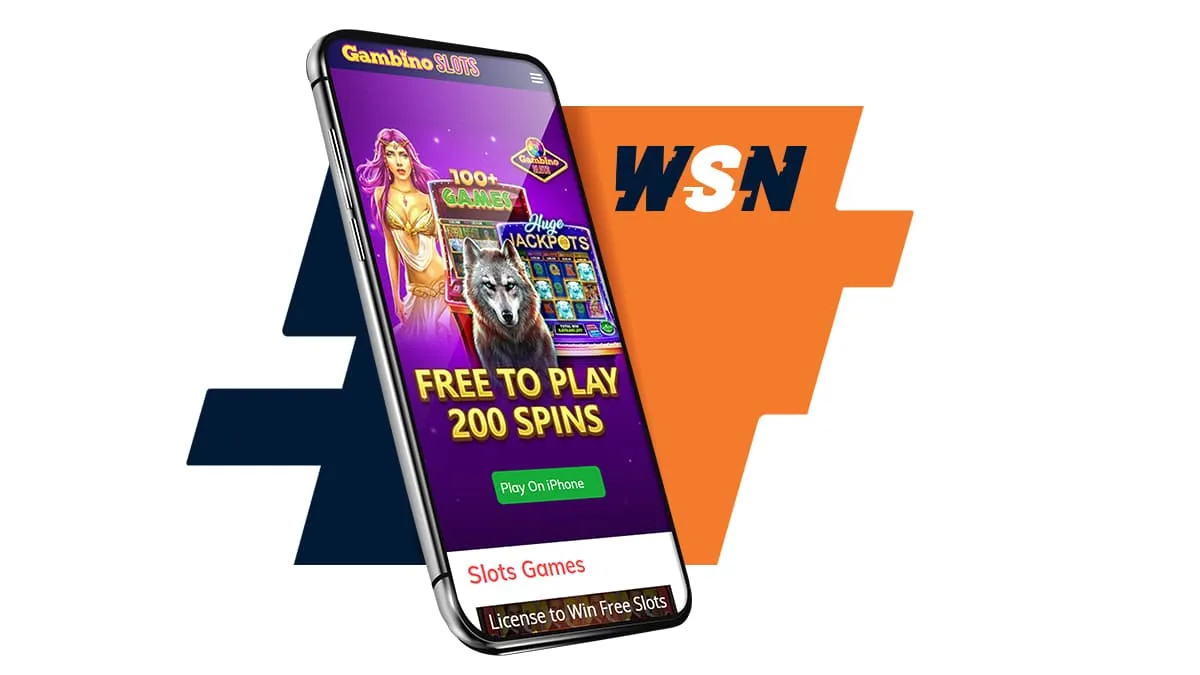 To play Gambino Slots on mobile, you have two options.
You can download Gambino's bespoke app for both iOS and Android devices, or if you have linked your Facebook account you can play via that app.
Both work perfectly, with all Gambino's slots available right on your phone 24/7.
Social Gaming with Gambino
Playing games is really only one part of why people choose Gambino Slots.
As a social casino, Gambino has gone to great lengths to create its own community and encourage players to get involved with every aspect of the site and interact with each other.
It feels as much like a social media platform or social group as it does a casino.
Gambino Slots has a big presence on social media, especially Facebook. You can chat with other players there, as well as find special bonuses and information about other promotions and free gifts.
You're encouraged to share your wins and your progress on your Facebook wall.
There are slots contests and leaderboards, where you can earn prizes and other benefits, as well as a refer-a-friend program.
All in all, Gambino Slots really strives to provide a forum for its users to have fun, socialize and support each other, as well as play slot games.
Purchasing Coins
Gambino Slots is totally free to play. You'll be given G-Coins for free when you create your account, and you can pick up extra free G-Coins via promotions and bonuses on a daily basis.
Whatsmore, G-Coins are used exclusively on Gambino. They have no inherent value, and your G-Coin winnings cannot be cashed in or redeemed for any prizes. They're only for playing games.
However, you can purchase additional G-Coins if you want, as well as other packages on Gambino Slots. Purchases are not currently supported on the desktop site, so if you're interested you'll need to download the app.
The bonus deals start from as low as $0.99, which will get you 36,000 G-Coins and 47 Loyalty Points, along with a spin on the Mega Wheel.
The packages go all the way up to $49.99, which gets you 3,600,000 G-Coins and 2,932 Loyalty Points, along with two spins on the Epic Wheel.
There are a variety of packages at prices between $0.99 and $49.99 too.
You can also purchase Boosters, which act like special enhancers as you play. You can get Boosters to earn more XP points, climb higher in contest leaderboards, and get extra spins on the various bonus wheels.
All of these purchases are entirely optional, and won't ever lead to winning real money on Gambino. Instead, they just add a fun extra dimension to playing for free.
Gambino Slots Customer Support
Gambino has good customer support channels for all its players. The best way to get in touch with them directly is probably via social media, especially the Gambino Slots Facebook page.
Gambino is very active on the page, regularly answering public queries on a variety of topics. Other members sometimes chime in too, and they can often provide info and guidance too.
You can also private message the page, and they'll get back to you quickly.
Alternatively, you can get in touch with Gambino using the contact form on the site, and you'll get a response sent to your email. There's no live chat, which is a pity – although Facebook messenger is almost as good.
There's also an FAQ section on the site, which has lots of good information about how the games work.
Is Gambino Slots Legit?
It certainly is.
As a free-to-play, non-real money casino there really isn't any reason not to trust Gambino, or be suspicious of them. At no point will you be required to pay to play, and you don't need to worry about cashing out real money, since it's not possible.
They don't ask you for much in the way of personal data, and you can even play some of the games without even registering with the site.
Gambino Slots doesn't even require a gaming license, and it's widely available around the world.
You can purchase additional G-Coins and other benefits at Gambino Slots, but it's entirely optional. It's important to understand – and Gambino is very clear – that any extra G-Coins you purchase are only useful to play games on the site, and can't be withdrawn for real money.
Where Can Gambino Slots Improve?
As a free-to-play site, we don't really have any concerns about Gambino from a safety or security point of view.
You don't need to trust them with much personal data or worry about payouts. If you want to purchase extra G-Coins, the process is simple and smooth.
In terms of improvements, it's true that Gambino's desktop platform and the software in general feels a little old-fashioned. Something similar applies to the games: they're fun and easy to appreciate but not exactly at the cutting edge of online slots.
It would also be nice to have more games unlocked as soon as you create your account. At the moment, it takes a little while to unlock a wider range of games. The addition of live chat support would be welcome too.
Should I Play at Gambino Slots?
If you want to play fun and cheerful slots online totally free – and you aren't worried about winning real money – the answer is an easy yes. Gambino Slots is available all over the world, and when you sign up you also get to become part of a vibrant and exciting community of slots fans online.
If you're looking for something with a little more at stake, you can always check out other social casinos where you can wind up winning real cash prizes, like Chumba Casino, Luckyland Slots, or Funzpoints.
If you want to keep things simple and you're happy to stick to play-money, Gambino Slots is perfect.
More Sweepstakes Social Casino Options in the US