FanDuel Sportsbook
FanDuel is the American leader in sports betting. It has one of the sleekest and most developed web and mobile apps, tons of betting markets, a fast turnaround time, and all of the basic security and customer support features.
As you'd might expect from every sportsbook on this list, it also concepts eChecks as a valid form of payment, making transfers—especially those of larger quantities—fairly painless. That's on top of also accepting other forms of withdrawals and deposits, such as wire transfers, credit/debit cards, PayNearMe, and plenty of others.
One of FanDuel's biggest selling points is that it updates its odds with the greatest regularity of all sportsbooks to ensure that bettors are always receiving up-to-the-second betting lines. It also takes care of the usual major markets (spreads, moneylines, and totals) while also offering tons of prop bets, futures, and more.
Users are also treated to regular, innovative promotions. One of the best examples was FanDuel's Super Bowl 2023 deal, in which users could split a pot of $10,000,000 in bonus bets if Rob Gronkowski attempted a 25-yard field goal (which he did).
The bottom line is that FanDuel is a great platform for bettors of all experience levels. It is also extremely easy to send and receive money because it accepts eChecks and many other forms of transfers. Check out our full FanDuel Sportsbook review here.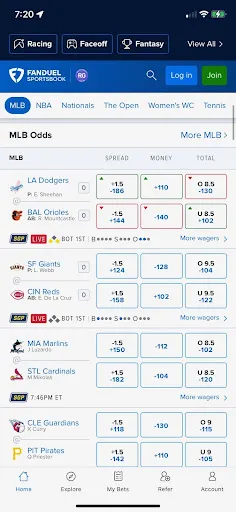 Pros
Accepts eChecks and lots of other payment methods
Fast, sleek sportsbook
Cons
Sign-Up Bonus
Click here for $200 in guaranteed bonus bets with a $5 wager
DraftKings Sportsbook
DraftKings is FanDuel's main competitor atop the food chain. It also puts a ton of time and attention into offering updated and diverse betting lines in all sorts of markets to appeal to a variety of audiences.
DraftKings also has many different ways to withdraw or deposit money into a user's account. One of those ways is by using the eCheck, which we have talked about enough at this point. Users just need to pick the eCheck from the list of available options when adding or withdrawing money to start the process.
Just because you use an eCheck one time does not mean that you are stuck and have to use it every time you want to add funds to your account. At DraftKings, users can pick between eCheck, card, PayPal, Skrill, wire transfer, or any of the other options (which greatly resembles FanDuel's list).
DraftKings has a special welcome bonus for new users that comes in three parts, including a bonus bet, a deposit match, and a bet to win option. This level of excitement can be maintained throughout the entire betting experience at DraftKings, which is one of the best in the industry.
Overall, DraftKings is a great choice for bettors of all backgrounds, and it is incredibly easy to use. Read our full review of DraftKings Sportsbook here.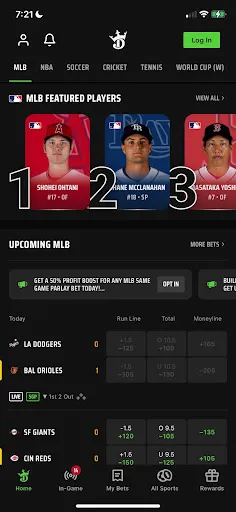 Pros
Fun, lucrative promotions
Ability to use eChecks and other deposit/withdrawal methods
Cons
Sign-Up Bonus
Click here for a $1,200 three-part welcome bonus with a DraftKings promo code.
BetMGM Sportsbook
BetMGM has an excellent sportsbook design and layout and makes it easy for bettors to find and track betting lines. It also processes quickly and never crashes, ensuring a top-tier experience for customers.
BetMGM also has great promotions for new and returning users to ensure that a bettor's career starts and remains profitable and exciting.
Like the other betting sites on this list, BetMGM accepts eChecks as a valid method of deposit. By now, you should know all of the benefits that this brings and why it can be so valuable, especially with the hefty fees often associated with other forms of transfer.
Anyone that doesn't feel like using an eCheck can also take advantage of options such as credit/debit card, PayPal, Skrill, bank transfer, and other methods. A full list of available options can be found on the BetMGM sportsbook (click our promo code link to visit the page and get enrolled in the sign-up offer).
The beauty of BetMGM is in its simplicity. The aesthetic exudes class, and the sportsbook makes it easy to get involved in and follow the action. Read our full BetMGM review here.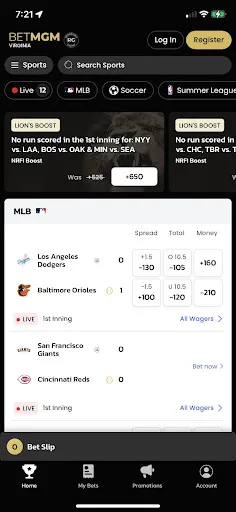 Pros
Elite layout and aesthetic
Numerous deposit/withdrawal methods, including eChecks
Cons
Sign-Up Bonus
Click here for up to $1,500 back in bonus bets if your first bet misses with a BetMGM promo code.
Caesars Sportsbook
Caesars Sportsbook is another member of the "Big Four" sportsbooks or the sports betting operators that control a majority of the American market. It has the infrastructure and backing of the world-famous Caesars brand and has used that to create a top-tier sportsbook.
The knock on Caesars compared to the other major sportsbooks is that it does not always have the widest array of betting markets and the mobile app is not as instantly-responsive as the other operators. But those concerns are actually very minimal as the app functions at the top level, and the betting markets are robust and contain profitable odds.
Customers looking to add or withdraw money to their Caesars Sportsbook account can do so with eChecks, cards, online wallets, bank transfers, or a number of other methods. We have created a full Caesars betting guide and review for anyone that wants to find more information.
At the risk of beating a dead horse, Caesars is yet another sportsbook suitable to bettors of all levels of experience. The Big Four did not earn their respective positions without reason, and it should come as no surprise that they all land on our list of the top five eChecks betting sites. Learn more in our Caesars Sportsbook review.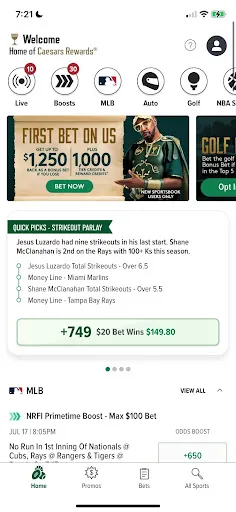 Pros
Wide betting markets
Great visual features
Cons
Sign-Up Bonus
Click here for $250 in weekly $50 bonuses with Caesars promo code WSNGET
bet365 Sportsbook
bet365 is an up-and-comer in the American market. It is one of the most well-known betting platforms in Europe but is only available in five states: New Jersey, Colorado, Ohio, Virginia, and Iowa. The company is looking to expand in the U.S. but has not done so on a wide scale just yet.
There are many reasons our BetEDGE system loves bet365. Those include the never-ending betting markets (often even beyond the likes of the "Big Four"), the visual enhancements that make it easy to see the rise or decline in the value of betting lines, the parlay-ability (yes, we made that word up) of betting markets, and much more.
Bet365 does, of course, accept eChecks as a valid method of sending money to and from the sportsbook. That's in addition to cards, PayNearMe, PayPal, and more.
Bet365 is definitely a sportsbook to watch in the American market. Its betting odds are some of the most profitable on the market, and it could quickly obtain a much larger share of the market if it does expand. Check out our bet365 sportsbook review for more information.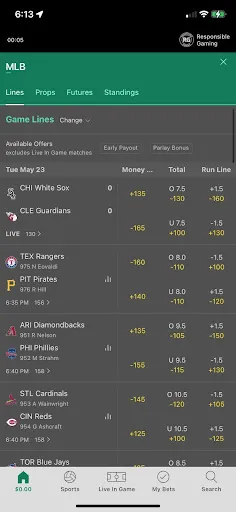 Pros
Great betting odds
Visual appeal
Cons
Sign-Up Bonus
Click here for $200 in bonus bets with a $1 wager using a bet365 promo code.
What Are eChecks?
It's really not as complicated as it might seem.
Here's an analogy: email is to mail as eCheck is to check. Basically, an eCheck is just a digital version of the piece of paper you'd cash at the bank, or use to pay your rent, or achieve a number of other financial-related objectives.
eChecks use Automatic Clearing House to direct debit (money that is in your account, not credit) to the recipient's account—in this case, either the sportsbook (for deposits) or the customer (for withdrawals).
To submit an eCheck, you will need the recipient's bank information, including the name of their bank, their routing number, and account number, along with your own bank information. Depositing an eCheck at a sportsbook is often streamlined as information is pre-entered or already known by the system.
The speed of eChecks is often what holds people back from taking advantage of them. They are totally secure, and they have gotten faster recently, but they still take longer to process than some of the instant deposit/withdrawal methods sportsbooks offer.
How to Deposit Using eCheck
To deposit money at your sportsbook, you'll first need to launch the company's site or app (web or mobile will work). Front here, click on your profile and then locate the "deposit" option.
Once you are on this menu, you will want to find the eCheck option. It may say ACH somewhere on it.
After you have highlighted the eCheck option, you will be asked to link your bank account. This may require you to sign into your bank account via a mobile or web app, enter your account and routing number, and/or other personal information such as your name and birthday, an email and password, or a number of other responses.
After you have finished linking your bank account you will be ready to submit your eCheck. The sportsbook you are using will likely require a minimum deposit that can vary depending on the site you are using.
Complete the steps your sportsbook directs you through and then, once you are finished, press deposit. Your sportsbook will have a brief processing period and then should signal if the deposit has been accepted or rejected.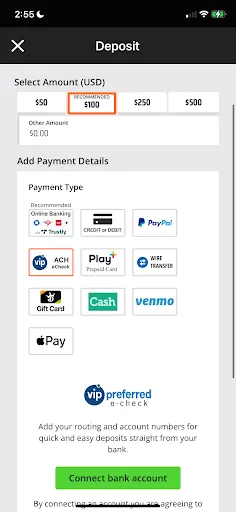 How to Withdraw Using eCheck
Withdrawing money using an eCheck is a very similar process to depositing it. Users will need to link their bank accounts using information such as account and routing numbers and then will be prompted to enter a desired withdrawal amount (which cannot exceed the amount that is in a user's sportsbook account).
The sportsbook should take you through the process of withdrawing money using an eCheck. As we mentioned previously, this method is entirely secure but can sometimes take longer than other methods.
Feel free to check your bank account balance to see if the transfer has been accepted and has been processed. Check the window for processing before contacting your sportsbook's customer service department to discuss issues, but don't hesitate to reach out if that window expires without the money reaching your account.
Benefits of Using eCheck at Online Sportsbooks
There are numerous benefits to using an eCheck at online sportsbooks. Here's a list that we will expound on:
Faster than certain methods (albeit slower than others)
Secure
Lower fees
Easy to track and monitor cash flow
Can't exceed debit
Convenience
eChecks can be processed within 24-48 hours if everything goes right. While that's not the "instant" deposit/withdrawal that certain sportsbooks promise with a select few payment methods, it's faster than some of the others that are available.
However, it is possible that the processing takes up to seven, sometimes even 10 days. It all depends on your sportsbook.
eChecks are secure because they are wired directly to your account. There's no chance for outside interference to disrupt the process, ensuring that your money goes exactly where you intended it to.
Nobody likes paying processing fees. A variety of fees can be charged for different payment methods and can be quite exorbitant, while eChecks are usually charged at a much lower price.
Another benefit of eChecks is that because they go directly to your account, you are able to manage your bankroll with greater ease. This is important for users of all financial literacy as you should never lose sight of where your money is going.
Because eChecks come from debit, they cannot exceed the amount that is in a particular account. That means that they will be declined if the account does not have sufficient funds, and eChecks cannot take on the form of credit.
Once you have linked your bank account and gotten all of the basic information saved in your sportsbook, using an eCheck can be as simple as a couple of button clicks. That streamlines the deposit/withdrawal process and makes it less tedious.
Drawbacks of eCheck
Using eChecks as a primary form of transfer can also come with several cons. They are:
Limited acceptance
Processing time
Can be bounced
Shorter window for disputes
One of the main reasons that we assembled this betting guide was to highlight which top sportsbooks accept eChecks—but that is because many sportsbooks do not take eChecks.
If you're someone who bounces around from sportsbook to sportsbook but always uses eChecks to deposit and withdraw money, then you may encounter problems at certain sportsbooks that do not accept them.
The processing time for eChecks can also be cumbersome. Depositing can move swiftly (in the best-case scenario), but withdrawals will usually take up to or more than a week. That makes it more difficult to keep a close watch on where your money is and impossible to quickly reroute the funds elsewhere.
eChecks also have the ability to "bounce," or be rejected, based on a number of criteria. That includes insufficient funds, errors in the entered information (such as the account or routing numbers), or glitches in the system.
Users also only have 40 days to dispute charges via eCheck compared to 60 days for ACH direct payments. In other words, you'll want to keep a close eye on the transfers involving eChecks to ensure that the proper amount has been sent or received.
eCheck Processing Times
eChecks have increased in turnover speed in recent years. The best-case scenario is that they are processed within 24 hours, but it is also possible that it takes up to or more than a week.
Deposits are usually processed quicker and are settled within 24 hours to a week. Withdrawals tend to take longer and usually run closer to the 7-10-day timeline.
If you have any questions about using an eCheck at your sportsbook, contact the customer support team and they will be able to provide more answers.
eCheck Processing Fees
eCheck processing fees vary depending on the bank that is linked to the transfer, monthly fees, and per-transaction fees, but they are still usually very low. Most authorities indicate that the average fee for an eCheck is between $.25-1.50, which is more than manageable.
There is no universal fee for using eChecks. Consult your bank and your sportsbook's terms to determine what you can expect in fee payments for using eChecks.
Final Verdict
eChecks are a safe, reliable, and inexpensive way to send and receive money. They are accepted as a method of deposit and withdrawal at a variety of sportsbooks, including the top operators in the industry.
We have provided a list of our favorite eCheck betting sites, a step-by-step guide to using them, and information on the pros and cons of eChecks. For even more, feel free to look at our review guides for each individual sportsbook, or simply reach out to your sportsbook's customer service desk for more information.