Max Holloway vs Korean Zombie - Featherweight Division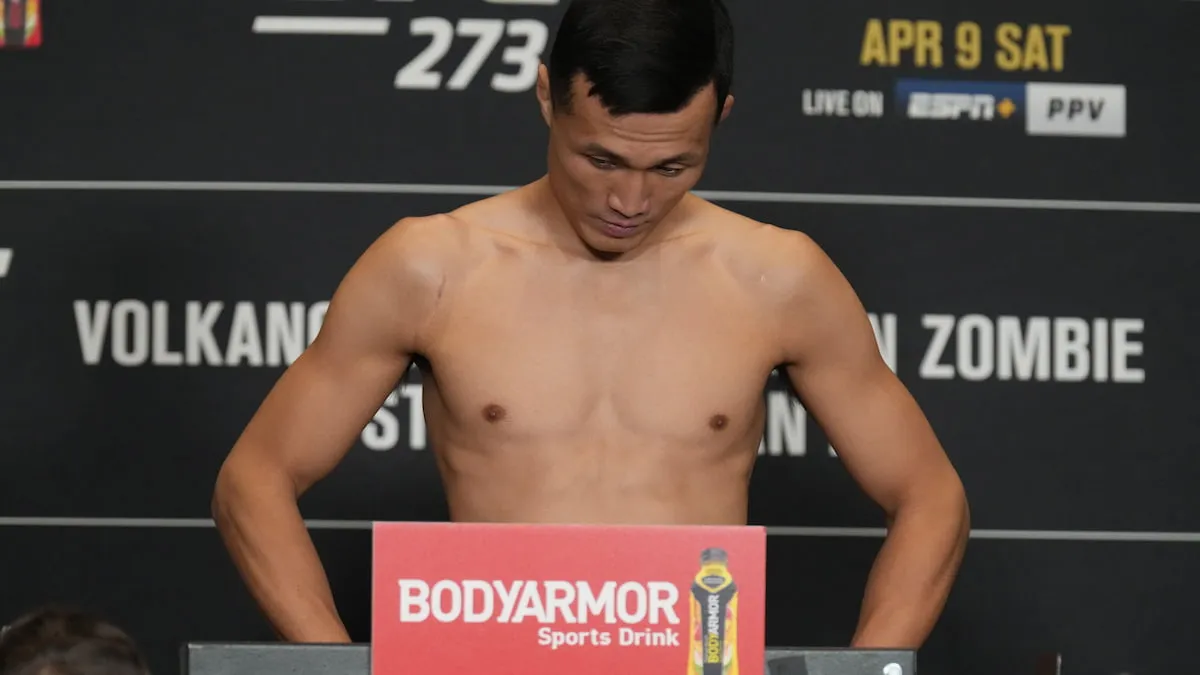 | | | |
| --- | --- | --- |
| Max Holloway | TALE OF THE TAPE | Korean Zombie |
| 31 | Age | 36 |
| 5 ft 11 in | Height | 5 ft 9 in |
| 69 in | Reach | 74 in |
| 24-7 | Record | 17-7 |
In what is guaranteed fireworks, former featherweight champion and number-one ranked challenger Max Holloway will take on the former two-time title challenger and number-eight ranked Chan Sung Jung - better known as the Korean Zombie.
Coming off of a unanimous decision win over Arnold Allen back in April, Max Holloway holds multiple records in the UFC, including the longest winning streak in featherweight history (13), the most wins, knockouts, and finishes in featherweight history, and the most significant strikes landed in all of UFC history - period.
The Korean Zombie is no stranger to UFC records himself, as he holds the record for the fastest knockout in UFC featherweight history (7 seconds) and was the first fighter in UFC history to win a fight via Twister submission.
The Zombie has not fought since his April 2022 title challenge against Alexander Volkanovski, who earned a fourth-round TKO stoppage over the Zombie.
Combined, Holloway and Chan Sung Jung have tallied 17 UFC performance bonuses.
Holloway is a massive favorite heading into this fight - listed at -750 over the Zombie. But you can never count the South Korean out of a fight. The Zombie holds black belts in hapkido karate, taekwondo, judo, and Brazilian Jiu-Jitsu. He will also have a five-inch reach advantage over Holloway.
To find out how to place your bets for this featherweight main event, check out our ultimate UFC betting guide to get started.
Anthony Smith vs Ryan Spann - Light Heavyweight Division
| | | |
| --- | --- | --- |
| Anthony Smith | TALE OF THE TAPE | Ryan Spann |
| 35 | Age | 31 |
| 6 ft 4 in | Height | 6 ft 5 in |
| 76 in | Reach | 81.5 in |
| 36-18 | Record | 21-8 |
Former light heavyweight title challenger Anthony Smith and Ryan Spann have already fought once before. In what capped off a three-fight winning streak for Smith, he submitted Spann in the first round of their main event of their Fight Night bout back in September 2021.
Since then, Smith has gone on to lose two-in-a-row - most recently dropping a decision to Johnny Walker back in May.
Since the loss to Smith, the number-ten ranked Ryan Spann won two straight over Ion Cutelaba and Dominick Reyes. However, he comes into this bout on Saturday following a first-round submission loss to Nikita Krylov.
The eighth-ranked Anthony Smith will definitely be looking to utilize his BJJ black belt against Spann, but it is the latter fighter who has the height and reach advantages and who, at -125, is favored in the eyes of the oddsmakers.
Giga Chikadze vs Alex Caceres - Featherweight division
| | | |
| --- | --- | --- |
| Giga Chikadze | TALE OF THE TAPE | Alex Caceres |
| 34 | Age | 35 |
| 6 ft | Height | 5 ft 9 in |
| 74 in | Reach | 73.5 in |
| 14-3 | Record | 21-13, 1 no-contest |
Looking to rebound from his first UFC loss (a decision loss to Calvin Kattar last January), Giga Chikadze will take on Alex Caceres - a UFC veteran in the midst of a career resurgence.
Chikadze signed with the UFC in 2019 and amassed a seven-fight winning streak before losing to Kattar. However, that loss was still deemed as the fight of the night and was Chikadze's fourth performance bonus in a row.
Alex Caceres, known mostly for his time on the TUF reality show, has been with the UFC since 2011 but saw only mixed success up until 2019. Following a submission loss to Kron Gracie in 2019, Caceres has been on a tear - holding a record of 7-1 since the Gracie loss.
Caceres won five straight before dropping a decision to Sodiq Yusuff, but now finds himself on another two-fight winning streak - having most recently defeated Daniel Pineda back in June.
Chikadze is a -238 favorite but this fight will likely be closer than it appears on paper.
Rinya Nakamura vs Fernie Garcia - Bantamweight Division
| | | |
| --- | --- | --- |
| Rinya Nakamura | TALE OF THE TAPE | Fernie Garcia |
| 28 | Age | 31 |
| 5 ft 7 in | Height | 5 ft 7 in |
| 68 in | Reach | 67 in |
| 7-0 | Record | 10-3 |
If I told you, that at -750, Max Holloway WASN'T the biggest betting favorite on the main card, what would you think?
Coming in at a mind-blowing -900, the undefeated wrestling gold medalist Rinya Nakamura takes the honor of being the safest bet this Saturday.
Nakamura made his UFC debut on February 4, 2023, where he knocked out Toshiomi Kazama in just 33-seconds, making him the first ever winner of the new "Road to UFC" bantamweight season. Out of seven professional fights, only one has gone the distance.
Fernie Garcia debuted for the UFC in 2022 after winning his fight on the Contender Series. However, Garcia has lost both of his UFC bouts via decision thus far and this will be his first appearance in 2023.
Garcia is listed as a +600 underdog.
Erin Blanchfield vs Taila Santos - Women's flyweight division
| | | |
| --- | --- | --- |
| Erin Blanchfield | TALE OF THE TAPE | Taila Santos |
| 24 | Age | 30 |
| 5 ft 4 in | Height | 5 ft 6 in |
| 68 in | Reach | 68 in |
| 11-1 | Record | 19-2 |
Despite losing a split-decision to Valentina Shevchenko in her flyweight title bout, number-four ranked Taila Santos became the first fighter - on paper - to defeat Shevchenko in the eyes of a judge in the flyweight division.
Many believe she would have won the fight had she not taken such significant damage to her eye early on. Santos has not fought since that February 2022 title bout. She was scheduled to main event against Blanchfield back in February but was pulled due to visa issues with her coaching staff.
Blanchfield, who hasn't lost a bout since signing with the UFC, fought former champion Jessica Andrade in her most recent bout, as Andrade stepped in to replace the aforementioned Santos in February.
Blanchfield submitted Andrade in the second-round, earning a performance bonus in the process.
Both women have an equal reach but the former title challenger Santos will stand two-inches taller. However, it is the more active, number-three ranked Blanchfield who is listed as a -148 favorite to win.
Junior Tafa vs Parker Porter - Heavyweight Division
| | | |
| --- | --- | --- |
| Junior Tafa | TALE OF THE TAPE | Parker Porter |
| 26 | Age | 38 |
| 6 ft 3 in | Height | 6 ft |
| 72 in | Reach | 75 in |
| 4-1 | Record | 14-8 |
Brother of fellow UFC heavyweight Justin Tafa, Junior Tafa made his UFC debut earlier this year against another brother - Mohammed Usman, the heavyweight brother to welterweight legend Kamaru Usman.
In what was just his fifth professional bout, Tafa lost the fight via decision.
Tafa competes in just his second UFC bout this Saturday, taking on Parker Porter - an experienced heavyweight who will be making his eighth octagon appearance.
After suffering back-to-back first-round losses, Porter is coming off of a first–round finish of his own, having earned a TKO win over Braxton Smith back in May.
Despite the lack of experience, Tafa will enter the cage this Saturday as a -142 favorite.
How to Watch UFC Fight Night: Holloway vs Korean Zombie
LOCATION: Singapore Indoor Stadium, Kallang, Singapore

WHEN: Saturday, August 26

TIME: 8 AM EST

HOW: ESPN, ESPN+