The numbers released today by the Indiana Gaming Commission represent a new record for the gaming industry in Indiana signaling a full recovery of consumer confidence.
The previous month's revenue figures from September also set a new high figure for sports betting handle in the state with a total betting handle of $207,450,106. The previous record for the state was set way back in February 2020 when the state's sportsbooks managed a handle of $187,186,221 right before the corona-virus pandemic temporarily destroyed the sports betting industry.
The Industry Bottomed Out in 2020
2020 was a rollercoaster ride for everyone and the numbers coming out of the sports betting industry were no exception. If anything the fledgling sports betting industry in the US was hit worse than a lot of other markets due to the newness of the industry and the reactionary nature of sports betting, in general, combining to have a huge negative effect on handle figures across the nation.
Below is a line graph detailing the rise and fall of sports betting in Indiana. Pictured in the graph is the original rise of sports betting, the gut punch the figures took during the pandemic, the eventual rehabilitation, and the return to normal trends as consumer confidence returned to pre-pandemic levels.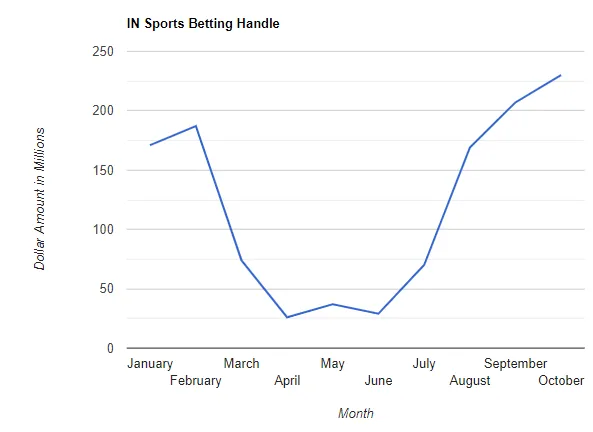 Football was the big winner in October with $84,727,557 being wagered that month on the sport alone in the state. In September, sports bettors in Indiana wagered a total of $48,418,140. Here is a list of how Indianans bet their money in October.
| | | |
| --- | --- | --- |
| Sport | Month | YTD |
| Football | $84,727,557 | $135,025,152 |
| Basketball | $10,800,271 | $106,072,439 |
| Baseball | $26,598,229 | $102,626,166 |
| Other | $45,963,478 | $158,643,546 |
| Total | $229,209,743 | $673,354,521 |
Winners and Losers among Indiana's Sportsbooks
Not all sportsbooks are created equal and competition is fierce in an industry with potentially hundreds of millions on the line. So with that in mind who are the winners and losers coming out of October for the race to be the dominant sportsbook in town?
Ameristar Casino came out on top with a total handle of $97,473,595. Here is the full breakdown.
| | |
| --- | --- |
| Sports Wagering Operator | Handle |
| Ameristar Casino | $97,473,595 |
| Belterra Casino | $20,928,487 |
| Blue Chip Casino | $65,619,083 |
| Caesars Southern Indiana | $2,401,967 |
| French Lick Resort | $8,404,251 |
| Harrah's Hoosier Park | $4,139,689 |
| Hollywood Lawrenceburg | $18,549,115 |
| Horseshoe Hammond | $6,444,361 |
| Indiana Grand | $4,481,740 |
| Majestic Star | $0 |
| Majestic Star II | $0 |
| Rising Star Casino | $295,408 |
| Tropicana Evansville | $2,194,555 |
| TOTAL | $230,932,251 |