If you're a racing fan, the name Brad Keselowski might sound familiar for more reasons than just his own driving accomplishments.
The Keselowski name is a staple of the NASCAR world. Both Brad's father Bob and uncle Ron competed at top levels and so too does his older brother Brian.
Furthermore, the family had their own Camping World Truck Series team called Brad Keselowski Racing. Unfortunately the family suspended operations in 2017.
Cutting his teeth in stock car racing in 2000 at the Factory Stock division, it took Brad just four more years to make it to NASCAR's third-highest level; the Truck Series division.
By the time he graduated to Xfinity and Cup Series events he was already carving out a space for himself in the history books.
Perhaps his most notable achievement is becoming just the second of four drivers to ever win season championships in both the Xfinity Series and the Cup Series.
In this article we'll take a closer look at Brad Keselowski's driving history, career highlights, stats, bio and more.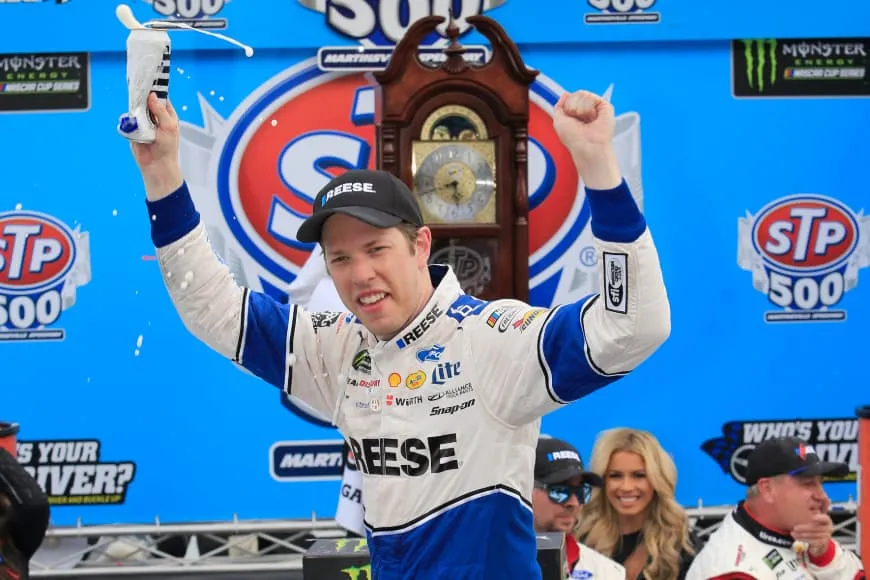 Fast Facts:
Full name: Bradley Aaron Keselowski
Born: February 12, 1984
Hometown: Rochester Hills, Michigan
Height: 5'10"
Close friends with two-time Superbowl champion Ray Lewis
Held lead for 13 laps at 2017 Daytona 500 before crashing
Earned his own team's (Brad Keselowski Racing) first top-10 in Camping World Truck Series competition in 2008
Television and movie appearances include: Sharknado 3: Oh Hell No!, Sullivan & Son and Logan Lucky
Biggest Results:
Brad KeselowskiBio
Brad has come a long way since sweeping the floors and mowing the grass outside his father's race shop in Michigan. It shouldn't surprise anyone, however. The racing gene is in the Keselowski DNA and it was only a matter of time before Brad put his stamp on the sport.
With over 600 career races at NASCAR's top levels, and 67 combined wins, he wins more than one out of every ten races on average. Those are truly incredible numbers.
With a full slate of 2019 Cup Series races lined up with team Penske, plus part-time duties at the Xfinity Series level, we should expect Keselowski's impressive career stats to continue accumulating skyward.
NASCAR Xfinity Series and Monster Energy NASCAR Cup Series
Keselowski's career Xfinity numbers are off the charts. In 13 years on the series he has amassed 254 races. Of those, 128 were top-5 finishes. That's over 50-percent. Take a minute to think about that.
And that's not to say he doesn't know how to finish. He has 39 wins and 22 poles in the division.
At the top level his performances remain impressive. His Cup Series experience totals to 341 over 11 years. He has won 27 times with 14 poles.
First NASCAR Win
BK's first NASCAR win came in the Nationwide (now Xfinity) Series in 2008. He won the Federated Auto Parts 300 at Nashville Speedway.
His first Cup Series win was in Sprint Cup competition in 2009 when he won the Aaron's 499 at Talladega.
His first and only Truck Series win came in 2014 UNOH 200 at Bristol Motor Speedway. A proud moment, indeed, as the win was his first and only driving for his own Brad Keselowski Racing team.
Career-Best Season
2012 was Keselowski's best year with five wins and 23 top-10 finishes at the Sprint Cup Series level. That earned him over $12 million in winnings alone. The season of dominance was good enough to earn his Sprint Cup season champion.
The following season was also his most winningest year at the Nationwide Series level when he took home the checkered flag on seven different occasions.