At 24 years old Chad Finchum is still a relative newcomer in NASCAR racing. So far Finchum has focused his efforts mainly on Xfinity Series racing but he did make one Cup Series appearance in 2018.
At age 7 Finchum started racing go-karts and by 13 had over 200 wins on his record. If his future is anything like his past, it's only a matter of time before we start seeing Finchum's name in the win column in NASCAR's top divisions.
In this article, we'll take a closer look at Chad Finchum's driving history, bio, career highlights and more.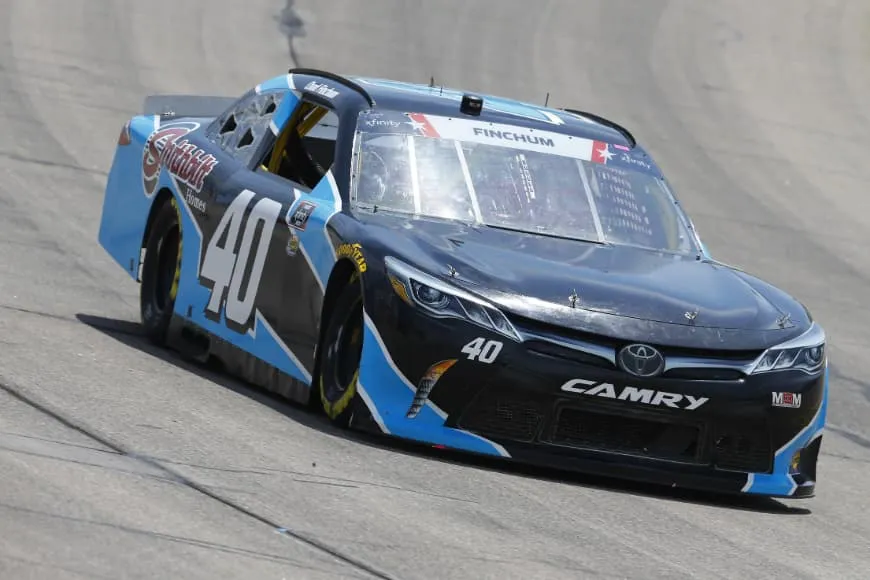 Fast Facts:
Date of birth: September 22, 1994
Hometown: Knoxville, Tennessee
Home track: Bristol Motor Speedway
Drives the No. 40 and No. 66 cars for MBM Motorsports
2010 Tennessee NASCAR Whelen All-American Series champion
200+ dirt and asphalt go-kart wins before age 13
Biggest Results:
2016 PittLite 125 at Bristol Motor Speedway
2017 Zombie Auto 125 at Bristol Motor Speedway
2018 Coca-Cola Firecracker 250
2018 Kansas Lottery 300 at Kansas Speedway
2018 O'Reilly Auto Parts 300 at Texas Motor Speedway
Chad Finchum Bio
As a 16-year-old Finchum won the Tennessee NASCAR Whelen All-American Series championship. Before that, he had already taken home literally hundreds of go-kart trophies.
So far Finchum's stats at the higher levels of the sport aren't as prolific as his early childhood and teenage success seemed to foreshadow. That being said, he's only 24 years old and still an up and coming driver.
Having seen some late-season improvements in Xfinity Series competition in 2018, Finchum and his MBM Motorsports team are optimistic about what 2019 and beyond have in store.
NASCAR Xfinity Series and Monster Energy NASCAR Cup Series
Since Xfinity debut in 2017, Finchum has competed in 39 races over two seasons. In 2018 he made his Monster Energy NASCAR Cup Series debut at the Food City 500 at Bristol Motor Speedway.
Finchum has yet to score any wins or top-10 finishes in Xfinity Series or Cup Series competition. Things are trending positively, however, as Finchum had three top-20 finishes in the second half of the 2018 season.
First NASCAR Win
We are anxiously awaiting Finchum's first top-division NASCAR win so that we can edit this page and describe his first day on a NASCAR podium in full detail.
Right now we can report that in 2016, in just his third K&N Pro Series East race, he took the checkered flag at the PittLite 125 at Bristol Motor Speedway. It was a dominant victory as he got to the front just thirteen laps in and never relinquished the lead.
Finchum and his fans are hoping for similar race successes moving forwards.
Career-Best Season
In his teen years, before going pro, 2010's Tennessee NASCAR Whelen All-American Series championship was by far his most successful and complete year at a NASCAR level.
As a professional, Finchum's lone win came in 2016 at Bristol, which he considers his home track, marked his best result so far.
The latter half of 2018 on the Xfinity Series circuit is arguably his best half-season as he registered three top-20 finishes and ended the season 30th overall in final points standings.