Coming from one of the most prolific racing families of all-time, Jeffrey Earnhardt truly had big shoes to fill.
As a fourth-generation NASCAR driver, Jeffrey has certainly done his part to keep the family name alive and well in racing.
Jeffrey is the younger brother of Bobby Dale Earnhardt, the middle child of Kerry Earnhardt, and nephew of one of the most prolific drivers of all time, Dale Earnhardt Jr.
His grandfather was Dale Earnhardt and his great-grandfather was Ralph Earnhardt, both NASCAR drivers.
While Jeffrey hasn't had the legendary results of some members of his family, he has had a solid career at the sport's most elite levels. Keep reading to learn more about Jeffrey Earnhardt's career, bio, stats, highlights and more.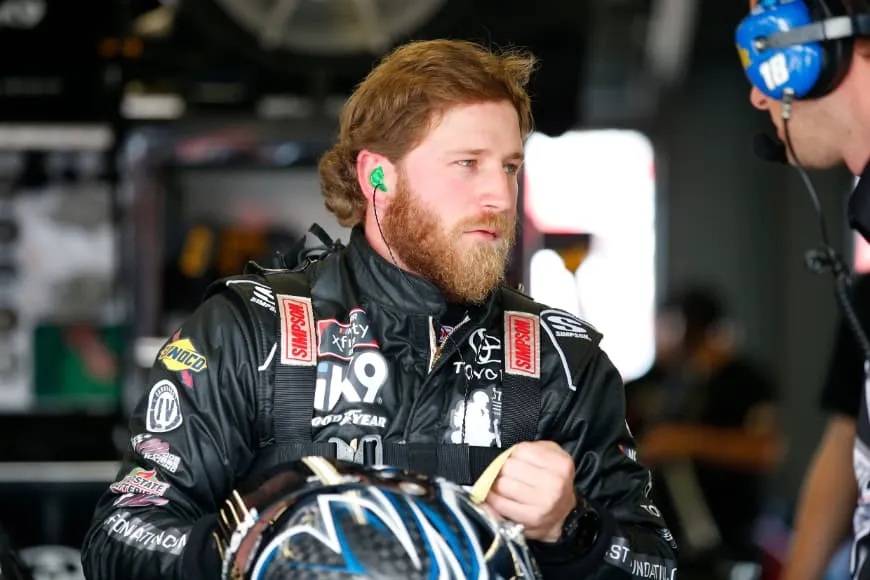 Fast Facts:
Born: June 22nd, 1989
Birthplace: Mooresville, North Carolina
Height: 5'4"
Father: Kerry Earnhardt
Four siblings
Competed briefly in MMA
Career Highlights:
5th overall in 2007's NASCAR K&N Pro Series (formerly Busch Series East).
Xfinity (formerly Nationwide) debut in 2008 at 19 years old.
Best career finish on Xfinity circuit: 12th place at Bristol in 2014, 12th place at Talladega in 2015.
Monster Cup debut in 2015
Best career finish in Sprint Cup: 11th place at Daytona in 2018.
Jeffrey Earnhardt Bio
With the family influence of racing in his life, it's easy to understand why Jeffrey Earnhardt started racing at a young age. He competed early in his teens, and in 2006 was part of the final cut for GMC Motors developmental driver search program. The program was meant to attract and teach the top young drivers in the world.
In 2007 he competed in NASCAR's Busch Series East (in what is now known as NASCAR K&N Pro Series). By the end of the season, he finished 5th overall in the standings and was won the vote for the Busch Series East Most Popular Driver award.
Earnhardt returned for another season in 2008 and also made his NASCAR Nationwide (now Xfinity) debut in the same year as a 19-year-old. However, he was surprisingly replaced by Aric Almirola at Dover in September that year, but the decision paid off as Almirola won the race.
After Earnhardt's former team DEI merged with Chip Ganassi Racing, Earnhardt was dropped as a driver. He ended up joining Rick Ware Racing in 2010 to continue his young and promising career. He raced on the Ganders Outdoor Truck circuit and the Rolex Sports Car Series, before joining the Xfinity Series full-time in 2013.
Earnhardt raised some eyebrows after jumping up from the start to finish 22nd overall at Daytona. His best finish during his rookie season was actually 16th overall during the NNS at Talladega presented by Victory Motorcycles.
2014 ended up being Earnhardt's first and only full season racing in the Xfinity Series. He competed in all 33 races, with his best finish being 12th overall in Bristol. That's tied with his best finish in Xfinity racing, a 12th place finish at Talladega in 2015.
By the time 2015 rolled around, however, Earnhardt was beginning to make the transition to Monster Energy Cup Series, NASCAR's top tier. He only competed in two Sprint Cup races that year, but by 2016 he was a full-time driver on the circuit, racing against the likes of his uncle Dale Earnhardt Jr.
Big Shoes to Fill for Jeffrey Earnhardt
Jeffrey was able to race against his uncle for two seasons but by the end of 2017, Jeffrey became the lone remaining Earnhardt in the NASCAR circuit.
Dale Earnhardt Jr. announced his retirement from NASCAR in April, leaving a handful of races left for him to compete against Jeffrey in. Since 1975, at least one Earnhardt has competed in a Cup Series race each season. At almost 30 years old, Earnhardt still has lots of time to keep the family name alive and well in the sport. There's also 16-year-old Karsen Earnhardt Miller, the cousin of Jeffrey, who is developing in grassroots programs.
Jeffrey Earnhardt competed part-time in the Monster Energy Cup Series in 2019, after joining on with Joe Gibbs Racing on the Xfinity circuit.