There's a reason they call Aric Almirola the Cuban Missile: His driving is fast and explosive. Well, that, and he's of Cuban descent.
The native of Tampa, Florida started dominating race tracks at the age of 8 when he first caught the Go-Karting bug. By the time he was 14 he was a top contender in National karting competitions and had made a name for himself in his debut season winning multiple rookie of the year awards.
With that amount of natural talent, it's no wonder Aric Almirola was destined for NASCAR limelight.
Having made his NASCAR debut in 2002 competing in the Truck Series, Aric has since gone on to represent several teams and raced in multiple NASCAR Series events.
Let's take a look at some more fun facts and details of Almirola's racing career.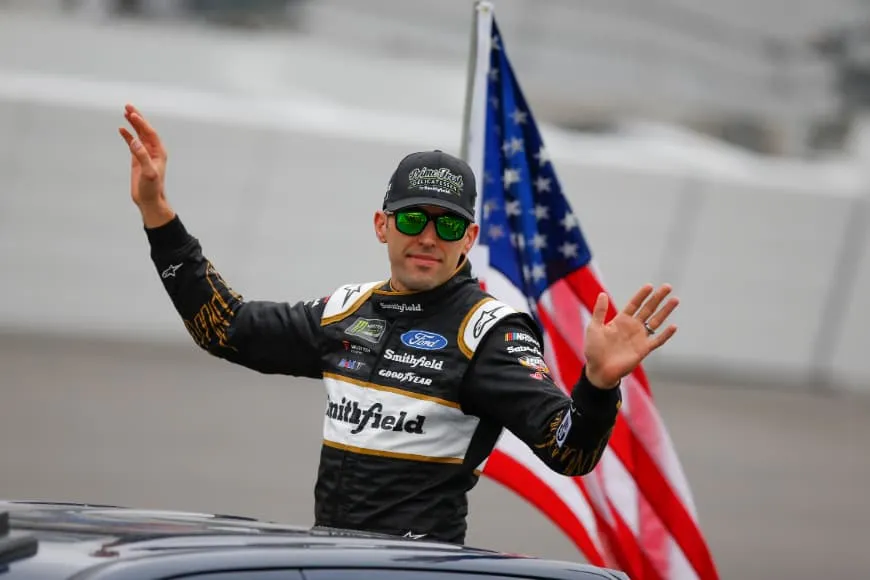 Aric Almirola Fast Facts:
Date of birth: March 14, 1984
Height 6'0"
Married to: Janice Almirola since 2010
Aric learned to drive Go-Karts on a track built by his grandfather who was also a sprint car driver.
Was studying mechanical engineering at University of Central Florida before dropping out to pursue professional racing.
Nickname: The Cuban Missile
Hometown: Tampa, Florida. Although he was born on a naval base at Fort Walton Beach, Florida.
Biggest Results:
2018 Finishes 5th in Monster Energy NASCAR Cup Series championship standings
2018 1000Bulbs.com 500 at Talladega
2017 Fresh From Florida at Talladega
2016 Subway Firecracker 250 at Daytona
2014 Coke Zero 400 at Daytona
2000 Joslin Memorial 100 at Orlando Speedworld
Aric Almirola Bio
Like a lot of drivers who made it to the bigs, Almirola's path to the top began at a young age on the go kart track.
While his first competitive action came at 8 years of age, it was at 14 when he really started to make a name for himself with a 4th-place overall finish in the World Karting Association yearly standings.
By the age of 18 Almirola had stepped up to NASCAR and was competing in the Sunbelt Weekly Racing Division. That year he went on to finish second in rookie of the year voting.
While his career has had its up and downs, including a scary injury sustained at an early age (and another in 2017) his driving has consistently trended upward posting career high results in 2018.
NASCAR Xfinity Series and Monster Energy NASCAR Cup Series
Almirola got his first taste of NASCAR Xfinity Series action in 2006 driving for Spears Motorsports in the Craftsman Truck Series. He recorded a solid first year with three top-10 finishes and an 18th overall standing at year's end.
It only took him a year to register his first win on the Xfinity circuit as his team sipped champagne in Milwaukee at the 2007 AT&T 250.
The win was bittersweet for Aric as it was actually teammate Denny Hamlin who completed the race and enjoyed the checkered flag glory. The substitution was made for sponsorship commitment reasons.
First NASCAR Win
A win at the Coke Zero 400 in Daytona in 2014 marked Almirola's first career NASCAR win in the Sprint Cup series. It was a special moment for Almirola but a turbulent race that had spectacular crashes and was ultimately called to a stop due to rain after 112 laps.
The win came exactly 30 years to the day since the team's last win at Daytona. After the race Almirola said, "It's real special for me to win here. This is not only the 30th anniversary of this team's last win at Daytona, it is my hometown and I remember growing up watching Daytona 500s and Firecracker 400s here."
Career-Best Season
2018 was an intense season for Almirola competing on the Monster Energy NASCAR Cup Series. In his 36 races he has 17 top-10 finishes including a triumphant win at Talladega on October 14. It was his second career Cup victory and his first win with new team Stewart-Haas Racing.
The win and 170 points accumulated throughout the season earned him his first ever appearance in the NASCAR Cup series Round of Eight Playoffs. He finished in a respectable 5th overall position on the season.
As well, the 2018 season marked yet another milestone in his career when, on March 26, he competed in his 250th NASCAR Cup series race.