If you're a NASCAR fan with the need for speed coursing through your blood, then the Michigan International Speedway might just be heaven on earth.
With extended straightaways and long wide turns drivers can reach speeds in excess of 220 mph. Speeds increased, even more, thanks to the track getting repaved in 2012 as well as the speedway's lack of restrictor-plate regulation.
The massive 1,400-acre complex built in southeastern Michigan first opened in 1968. The location was chosen not just for its proximity to Detroit but also to entice visitors from throughout the midwest including Chicago, Indianapolis, Cleveland and even Canadians in Ontario, Quebec, and Manitoba
Over the years the track has undergone a lot of changes in both management and the facility itself. In this article, we'll dig into the track's history and let you in on all the most important stats on Michigan International Speedway.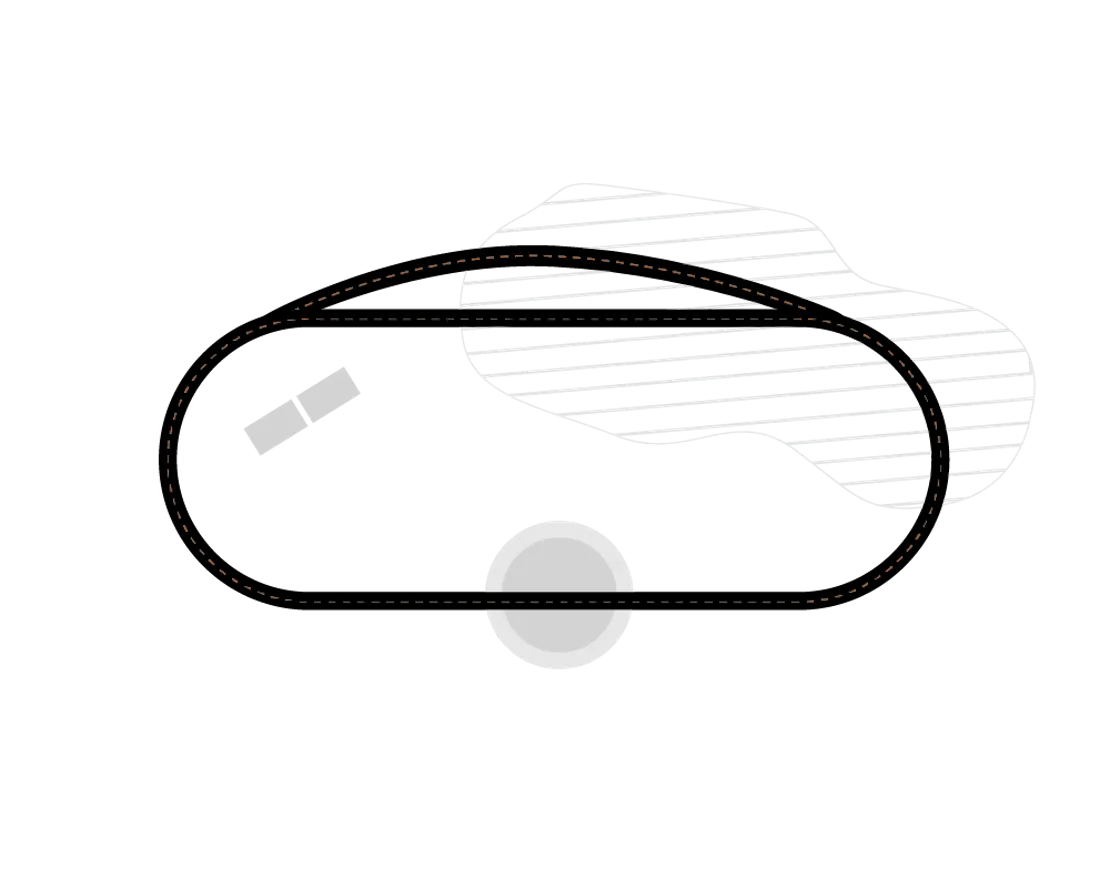 Fast Facts:
Location: Brooklyn, Michigan
Built in: 1968
Owned and operated by: International Speedway Corporation
Track Types: D-shaped oval 2.0 miles (3.2 km)
Oval turns: 4; banked 18 degrees
Start/finish banked 12 degrees
Backstretch banked 5 degrees
Race lap record: 34.857s Jeff Gordon (Qualifying) August 15, 2014
Capacity 56,000
Major Races – Monster Energy NASCAR Cup Series: Firekeepers Casino 400, Consumers Energy 400 | NASCAR Xfinity Series: LTi Printing 250 | NASCAR Gander Outdoors Truck Series: Corrigan Oil 200 | ARCA Racing Series: Corrigan Oil 250
Michigan International Speedway (MIS) at a Glance
While the very first race at MIS was an Indy event, the track today is primarily used for top-tier NASCAR events.
The original design configuration was laid out to accommodate multiple interior/exterior road courses for Formula 1 racing as well as the encompassing D-shaped oval. These days, however, the road courses are used primarily for passenger car testing by local law enforcement. So, for the most part, people come to see the top dogs of NASCAR rip it up on the big, fast, oval track.
In the 51 years of racing at the speedway, Bill Elliott has by far the most experience with 61 starts and a total of 11,212 completed laps. However, the winningest racer at MIS is David Pearson with 9 race wins and 10 poles.
But we'd be remiss if we didn't mention Cale Yarborough who is in the MIS history books with the most top-5 finishes (21) and the most laps led (1308). Perhaps even more significant is that he won the first-ever NASCAR race at the track on June 15, 1969.
That race, at the time called the "500-miler", was an instant classic that came right down to the wire.
In a lengthy battle with fellow experienced racer LeeRoy Yarbrough, Cale Yarborough (no relation) pushed him side-by-side for that race's last 150 laps. On the final turn after they drafted down the backstretch and through turn three, LeeRoy Yarbrough spun out with less than 400 yards to go. Cale seized the opportunity and inscribed his name in the record books as the track's first winner.
Local reporter Benny Phillips wrote afterward, "If they gave an Oscar for NASCAR's most exciting race, it would win hands down."
Michigan International Speedway History
There have been three major transitions in the Michigan International Speedway story.
In the beginning, when the land was purchased and the ground was first broken, it was all under the funding and guidance of original owner Lawrence H. Lopatin. While his tenure at MIS was a success, Lopatin's ambitions for his parent company American Raceways, Inc. were a bit grander than expectations could meet.
The company began to leak money from the various failed operations and was forced to file for bankruptcy in 1971.
That unfortunate sequence of events led to the track's second chapter which came to be known as the Penske era. Former NASCAR driver and businessman Roger Penske stepped in to own and operate the speedway.
Penske's knowledge of racing coupled with his savvy business acumen helped guide the track to multiple improvements over the following years.
Under his control, the complex went from 25,000 capacity all the way up to 125,000 at its peak. He also brought about several changes to the facility including three additional garages, luxury suites, administration buildings, ticket offices, a maintenance warehouse, and much more.
From 1996-2000 the track was known simply as Michigan Speedway. This was a move Penske made to align the speedway's title with his other racetracks that he was accumulating around the country.
Penske's hard work helped grow and develop the speedway for more than 27 years and also paved the way for him to embolden his racing empire. He now owns multiple speedways and his own publicly traded corporation known as Penske Motorsports, Inc.
The final chapter of the MIS legacy begins in 1999 when Penske Motorsports, Inc. was purchased by the current owners of the track: International Speedway Corporation (ISC).
In 2000 the venue's original name was reinstated and an additional 10,800 seats were added.
In keeping with the evolution of the sport and the business behind it, ISC operators decided to build a luxury trackside campsite called APEX and a multi-purpose concert venue area for pre and post-race festivities and live music.
Non-Sports Events at Michigan International Speedway
On race weekends the grounds play host to large scale concerts with classic rock and folk bands whose music spans nearly as many decades as the building itself. Since 2013 the venue has hosted the country music festival Faster Horses
Aside from car racing, the site also hosts a wide variety of non-sports events. The two biggest are probably the Michigan High School Athletic Association cross country track and field finals and the yearly Make-A-Wish Bicycle Tour that pass through the complex.
There is also an annual Formula SAE racing competition for youth drivers which were previously held in the parking lot of Detroit's Pontiac Silverdome.
For wine and beer connoisseurs the annual Wine and Beer Festival has been a big hit at MIS since its debut in 2010.
In 2019 the speedway held its very first MIS Backyard Hockey Tournament to promote and develop youth hockey in and around the surrounding regions.