This exciting NFL Week 2 Thursday Night Football matchup features two undefeated AFC West teams facing off as the 1-0 Los Angeles Chargers take on the 1-0 Kansas City Chiefs, a battle that will help to determine which team will rule that tough divisional roost in the end.
It was a solid Week 1 for the Chargers' who posted three interceptions on Raiders' QB Derek Carr plus six sacks, nine QB hits, and five tackles for a loss, that victory making QB Justin Herbert look awesome (26/34, 279 yds, 3 TD) but now he faces the Chiefs' 8th ranked defense.
The Kansas City Chiefs QB Patrick Mahomes (30/29, 360 yds, 5 TD) proved in Week 1 that he can still play even without Tyreek Hill (Dolphins), and after what he and playmaker TE Travis Kelce did together (8 rec, 121 yds, TD) it could be tough for the Chargers to stop them.
See the best NFL picks against the spread!
Los Angeles Chargers vs Kansas City Chiefs Predictions
Can the Chargers' Secondary Keep Track of the Chiefs' Mahomes Targets?
The fear for the KC Chiefs going into the 2022 NFL season was how they would fare without their best WR target Tyreek Hill who is now suiting up in Miami, and QB Patrick Mahomes proved that the Cheetah's absence will not prevent him from running an effective pass offense.
Mahomes now has a wide range of talented receivers to throw footballs at including JuJu Smith Schuster (6 rec, 79 yds), Marquez Valdes-Scantling (4 rec, 44 yds), and dual-threat RB Clyde Edwards-Helaire (3 rec, 32 yds, 2 TD) all very capable of earning yards after the catch.
The toughest of Mahomes targets to cover is TE Travis Kelce (below), the job that Chargers CBs Michael Davis and Asante Samuel will take on with the help of safeties Derwin James, and Nasir Adderly, a 20th-ranked pass defense after one week that needs to step up to win this one.
Can the Chiefs Defensive Line Scare the Sack out of QB Justin Herbert?
The Chiefs will have to make the Charger's playmaking QB Justin Herbert think twice about taking his time in the backfield, this talented kid having been sacked 63 times in his two pro seasons, a scrambler with a giant arm who can hurt you if you let him run free of danger.
On the defensive front line for the Chiefs are some hungry hippos, large men who are starved for QB attention, sacking machines like DEs Frank Clark and Mike Danna, plus DTs Derrick Nnadi and Chris Jones, a group that had 4 sacks and 6 QB hits in Week 1 in Arizona.
If the Chiefs expect to beat these talented Chargers, the first step is making QB Herbert nervous and this front line can do just that facing a young LA offensive line that features a rookie RG, Zion Johnson, and a LT Rashawn Slater who is now in just his second NFL
season.
Win $200 on BetMGM
Sign up to BetMGM, bet $10 and win $200 if either team scores a touchdown.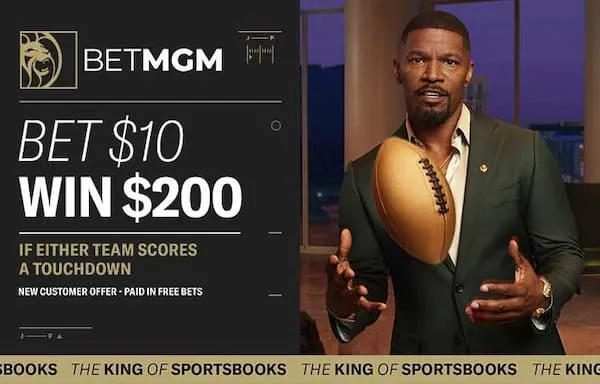 Chargers Key Player: (RB) Austin Ekeler
For the Chargers to beat the Chiefs at Arrowhead Stadium they are going to need some big help from their rushing attack, so expect OC Joe Lombardi to game plan a way from RB Austin Ekeler to do maximum damage, the dual threat back able to run with and catch the football.
Last week, Ekeler had 14 carries for just 36 yards and no scores while catching 4 passes off four targets for another 36 yards, an okay day for most backs but not good enough to make the Chiefs adjust the way they will play defense, something that also helps QB Justin Herbert.
Ekeler has averaged 6.2 yards per touch during his five year NFL career and his ability to find the open hole and fall forward helped him to lead the league in rushing and receiving TDs last season (20), so expect his production to start increasing as this young season wears on.
Chiefs Key Player: (TE) Travis Kelce
The most promising target for Mahomes to hit and for HC Andy Reid to game plan around must be TE Travis Kelce (8 rec, 121 yds, TD) who can get open, run solid routes, and is tough to tackle once he gets moving, all part of this 2nd ranked offense after one week of real play.
Kelce is 32 years old now and his size – 6' 5" and 250 pounds – makes him tough to tackle and his relative speed – he runs the 40-yard dash in 4.61 seconds – makes him tough to cover and then chase down in the open field once he has caught the ball, so far with a trip to the end zone.
What Kelce is good at is taking advantage of the open field created by the threat of the Chiefs deep receivers, his ability to find the open spot in zone coverage and sit there for Mahomes to use as a checkdown is unmatched in the league so watch for him to be the difference Thursday.