Talk about snubbed – wide receiver Adam Thielen was not even invited to the 2013 NFL combine, but his impressive marks at the lesser-known Super Regional Combine in Dallas (40-yard dash: 4.45 secs, 3-cone drill: 6.77 secs) garnered him some attention from the league.
After going undrafted in 2013, the Minnesota Vikings signed Thielen to a three-year, $1.48 million contract but he was waived and then signed to the practice squad and didn't make the actual 53-man roster until the following season in 2014.
From then on, Thielen has caught almost 70 percent of the passes thrown his way, 418 of them for 5,421 yards and 43 touchdowns, numbers that have earned him two Pro Bowl appearances and a Second-team All-Pro nod in 2017.
2) Justin Tucker, Baltimore Ravens, Placekicker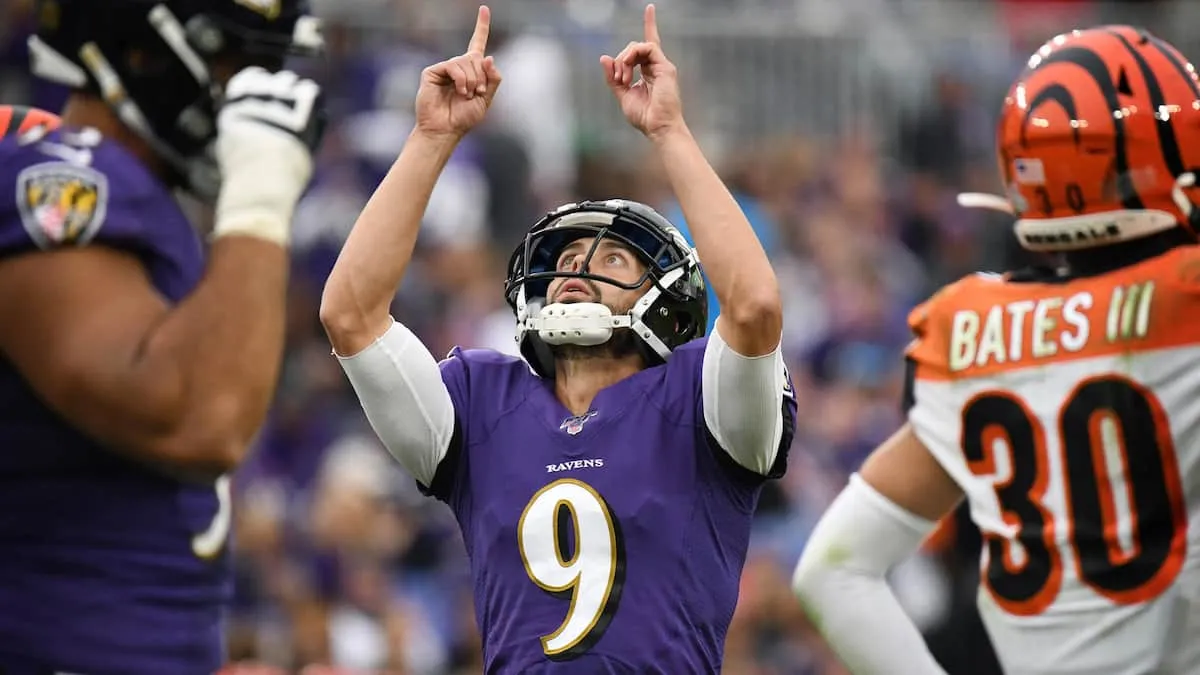 Few kickers are actually drafted by the NFL, and Justin Tucker was no exception, the University of Texas music major going undrafted in 2012 and then signed by the Baltimore Ravens who named him the starter after an impressive camp.
What a ride it has been ever since for Tucker, now a Super Bowl Champion (XLVII) and a 4x First-team All-Pro who is the most accurate kicker in NFL history having converted 90.6 percent of the field goals he's attempted, now with 1,251 points scored.
In Week 3 of the 2021 season, Tucker broke the NFL record for the longest field goal kick with a 66-yard beauty that took a crossbar doink to help it go through, a boot that also broke the records for the longest game-winning field goal in NFL history and the longest kick in a domed stadium.
1) Shaquil Barrett, Tampa Bay Buccaneers, Linebacker
The top undrafted player in the league right now is no doubt Tampa Bay Bucs linebacker Shaquil Barret, the 6' 2" 250 pound 2x Super Bowl Champ (50 & LV) who no pro team selected in the 2014 NFL Draft.
Now Barrett is considered one of the best linebackers in the league, with 277 career tackles and 42.5 total sacks and 15 forced fumbles along with two interceptions, the 28-year old Colorado State alum still posting big numbers for his Bucs.
In March 2021, Barrett signed a four-year contract extension worth $72 million (with $36 million guaranteed), and this season in three games he has already posted a sack, 3 quarterback hits, a pass defended, and 11 total tackles with two of those for a loss.
Top-5 All-Time Best Undrafted Players
Over the years since the first NFL draft in 1936, the league has seen its fair share of undrafted talent, the list far too long to include here.
Below are (arguably) the top-5 undrafted NFL players of all time, these men were selected for their high levels of skill and how important they became to the teams for which they played.
The list, however, goes on and on…
| | | | |
| --- | --- | --- | --- |
| Player | Team(s) | Position | Rookie Year |
| 5) James Harrison | Pittsburgh Steelers, Baltimore Ravens, Cincinnati Bengals, NE Patriots | OLB | 2002 |
| 4) Dick 'Night Train' Lane | L.A. Rams, Chicago Cardinals, Detroit Lions | CB / DE | 1952 |
| 3) Antonio Gates | San Diego / L.A. Chargers | TE | 2003 |
| 2) Warren Moon | Houston Oilers, MN Vikings, Seattle Seahawks, KC Chiefs | QB | 1984 |
| 1) Kurt Warner | St. Louis Rams, NY Giants, AZ Cardinals | QB | 1998 |
For weekly NFL predictions have a look at NFL weekly picks against the spread and also, remember to check out our NFL pick'em contest for a chance to win $600.