We have provided some information about all 20 Premier League stadiums and ranked them from worst to best.
20.London Stadium (West Ham United)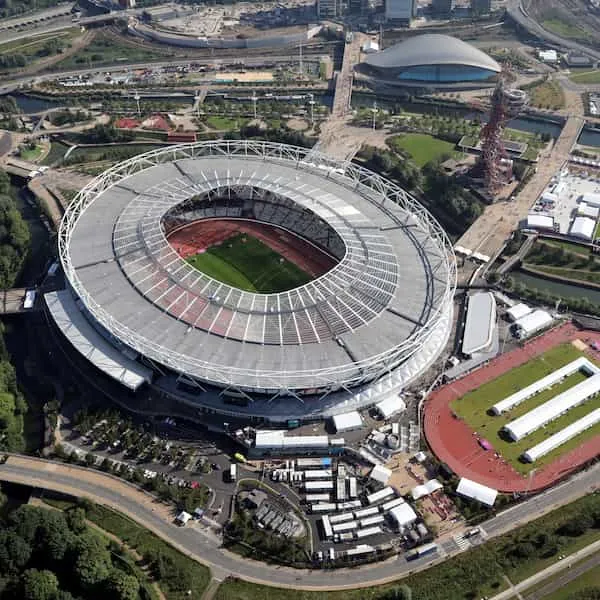 Opened: 2012
Town or City: London
Capacity: 60,000
Built as the centerpiece of the 2012 Olympic Games in London, West Ham inherited the stadium four years later. It remains unpopular with the majority of the club's supporters, who compare it unfavorably to the Hammers' former home, Upton Park.
The London Stadium was not built for soccer. The seats are far away from the pitch, which is a common bugbear of English fans in particular. Its location behind a shopping centre does it no favours either. The very best soccer stadiums are nestled within the heart of the community, and the London Stadium fails miserably on that count.
19.Turf Moor (Burnley)
Opened: 1883
Town or City: Burnley
Capacity: 21,944
With room for just 21,944 fans, Burnley's Turf Moor is the smallest stadium in the Premier League. In many ways that feels apt: the Clarets are also one of the division's smallest clubs and have done extremely well to punch above their weight in recent years.
Burnley have been tenants of Turf Moor ever since it opened in 1883. It is an old-fashioned ground that can produce a raucous atmosphere, but it now feels a little dated and in need of a refresh.
18.St Mary's (Southampton)

Opened: 2001
Town or City: Southampton
Capacity: 32,505
Southampton's former home, The Dell, was anything but nondescript, yet that feels like an accurate description of St Mary's. A modern stadium that celebrates its 20th birthday in 2021, Southampton's ground has little in the way of distinguishing features.
The facilities are good and St Mary's is a pleasant enough place to visit, but it is perhaps the least memorable of all 20 Premier League grounds. The bowl-shaped design, with filled-in corners and no variations between the four stands, is perhaps the main reason for this.
17.Amex Stadium (Brighton & Hove Albion)
Opened: 2008
Town or City: Falmer, East Sussex
Capacity: 30,750
Another relatively new stadium on the south coast of England, the Amex Stadium benefits from a more unique design, with one three-tiered stand and three made up of single-tiers. Its curved roof is another attractive feature.
Brighton's ground loses points for its location, though. Falmer is a small village that hosts the University of Sussex but not much else. Supporters need to get a train from Brighton to reach the out-of-town Amex Stadium.
16.Stamford Bridge (Chelsea)

Opened: 1877
Town or City: London
Capacity: 40,834
Stamford Bridge is the second-oldest stadium in the Premier League, and it is starting to feel that way. The ground is unrecognizable from the 1990s let alone 1877 (or 1905, when Chelsea moved in) but it just does not feel in keeping with the status of the club that calls it home.
Chelsea have been looking at ways to renovate Stamford Bridge in recent years, but plans to expand the capacity to around 60,000 were put on hold in 2018, supposedly because of an "unfavorable investment climate". Speculation suggested the real reason was Roman Abramovich's annoyance at the British government's decision to not renew his visa.
15.Selhurst Park (Crystal Palace)
Opened: 1924
Town or City: London
Capacity: 26,309
Visiting supporters regularly grumble about Selhurst Park's perceived inaccessibility, but that is unfair on a stadium with three nearby railway stations. Other criticisms, such as the relatively large number of restricted-view seats, are much more valid.
Selhurst Park is unashamedly old-school, and those seeking an authentic soccer experience could do worse than head to Crystal Palace's ground.
Selhurst Park has one of the best atmospheres in the Premier League, but that does not alter the sense of shabbiness. Perhaps a planned renovation will smooth over some of the rough edges.
14.Goodison Park (Everton)

Opened: 1892
Town or City: Liverpool
Capacity: 39,414
Everton will soon be playing soccer at a brand new stadium. The club hope to move into a new ground on Bramley-Moore Dock in 2023 or 2024, which means they will soon be bidding farewell to Goodison Park. That will be an emotional moment for a team that has been at its current home since 1892.
Goodison Park has poor sightlines in many places and is rough around the edges, but that is part of its charm. Everton's ground can generate a terrific atmosphere and can be an intense place for opponents to visit, but it is clear why the Toffees are seeking a more modern home.
13.The Hawthorns (West Bromwich Albion)
Opened: 1900
Town or City: West Bromwich
Capacity: 26,850
The highest ground in England at 551 feet above sea level, The Hawthorns is an enjoyable place to watch soccer. West Brom's home can produce an excellent atmosphere when it is packed to the rafters, and every seat in the house offers a good view – something that cannot be said for other stadiums that are more than 100 years old.
The Hawthorns works because its long history lends it character, while recent developments make it more comfortable than the likes of Goodison Park or Selhurst Park. On the negative side, it is not particularly memorable.
12.Emirates Stadium (Arsenal)

Opened: 2006
Town or City: London
Capacity: 60,704
In the late 1990s, Arsenal decided to leave Highbury, their home of almost 100 years, because they felt they needed a bigger stadium to compete at the highest level. The move to the Emirates Stadium was completed in 2006, but the Gunners have not won the Premier League title since leaving their old ground.
Pleasingly, the Emirates Stadium is located very close to Highbury and in among houses, shops and businesses as has traditionally been the way for soccer stadiums.
Unfortunately, the world-class facilities are accompanied by one of the worst atmospheres in the Premier League. The Emirates just does not have the character that Highbury did.
11.Etihad Stadium (Manchester City)
Opened: 2002
Town or City: Manchester
Capacity: 55,017
Like West Ham's London Stadium, the Etihad Stadium was not initially built to host soccer. Its original purpose was to host the 2002 Commonwealth Games, before becoming Manchester City's new home a year later.
The key difference with the London Stadium is that the Etihad Stadium was always going to be converted into a soccer ground. The design is attractive and the sky-blue seats are unique among Premier League teams, but the Etihad is marked down for an average atmosphere.
10.King Power Stadium (Leicester City)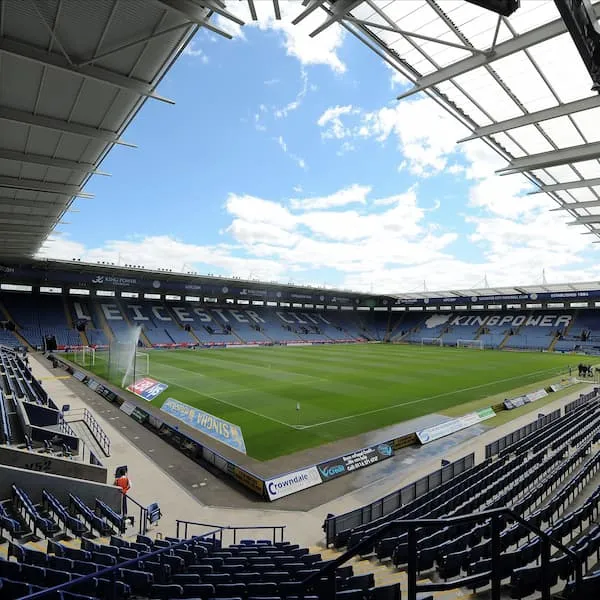 Opened: 2002
Town or City: Leicester
Capacity: 32,312
The King Power Stadium is a good example of a modern stadium done well. Some Leicester fans feared that they would not be able to recreate the atmosphere of Filbert Street at their new home, but the King Power can generate an almighty din.
The England national team have played four games at Leicester's ground, while rugby union matches have also taken place there. It is a little way out of the city center but still walkable for those arriving by train.
9.Old Trafford (Manchester United)
Opened: 1910
Town or City: Manchester
Capacity: 74,140
Manchester United is one of the two biggest clubs in England, so it stands to reason that their ground is one of the most famous in the world. United has now been based at Old Trafford for 111 years, having first moved in way back in 1910.
The largest stadium in the Premier League, Old Trafford is the only ground in the division to house more than 70,000 spectators. A trip to the Theatre of Dreams is on every soccer fan's bucket list, but Old Trafford is beginning to show its age these days.
8.Molineux (Wolverhampton Wanderers)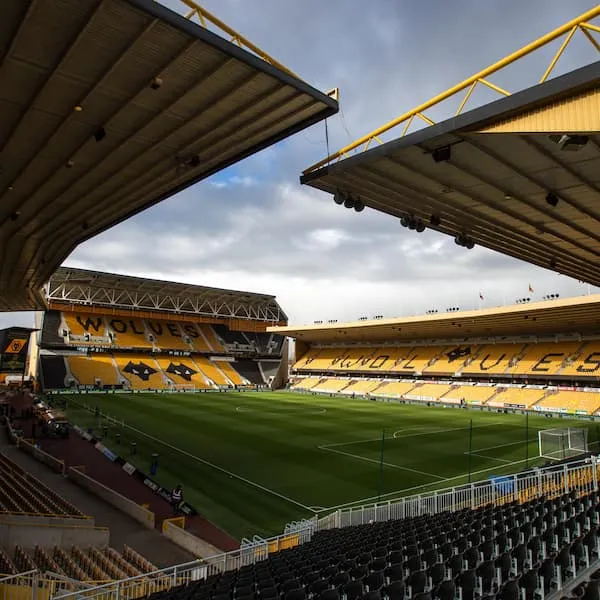 Opened: 1889
Town or City: Wolverhampton
Capacity: 32,050
Opened in 1889, Molineux is another stadium with a rich history. It was considered one of the best soccer grounds in England for a time, and hosted some of the earliest European club games during Wolves' heyday of the 1950s. It was also one of the first stadiums to have floodlights installed, enabling matches to kick off after sunset.
Molineux produces a fantastic atmosphere and the gold seats to match the club's jersey are beautiful. The steep stands allow great views of the action, but pre-game fireworks displays are not to the liking of traditionalists.
7.St James' Park (Newcastle United)
Opened: 1892
Town or City: Newcastle
Capacity: 52,388
There are few cities in England where the football club is as big a part of the local identity as in Newcastle. The Premier League's sleeping giants have one of the most loyal fan bases in the country, and St James' Park crackles with energy and excitement when things are going well for the Magpies.
Perched on a hill in the city centre, St James' literally and figuratively towers over Newcastle. Two of the stands are very tall, though, which means some spectators are miles away from the action.
6.Craven Cottage (Fulham)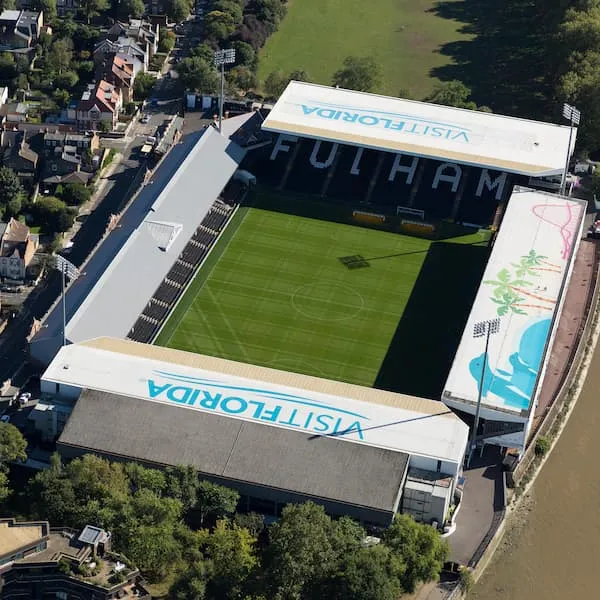 Opened: 1896
Town or City: London
Capacity: 25,700
Located right next to the River Thames, Craven Cottage is the most picturesque stadium in the Premier League. Supporters can arrive at the ground by taking a lovely riverside stroll through a nearby park, while more enterprising fans have been known to hire a boat to transport them to Fulham's home.
Craven Cottage does indeed contain a cottage which traces its origins back all the way to 1780. Fulham's quaint stadium has plenty of charm, but the home fans do not generate the best atmosphere and it is rickety and run-down in places. Work is under way on the expansion of the Riverside Stand.