Many states in the US have wasted no time preparing and in some cases passing sports betting bills. So far, a handful of states have already joined Nevada in offering fully legal sports betting. More states are right on the cusp, and still, more are in the early stages of designing or introducing bills.
Maine is one of those states that's still in the very early stages. There has been some talk from legislators about the possibility of a bill in 2019, but there's work to be done before that happens.
What is clear is that sports betting is a new multi-billion-dollar industry and some politicians in Maine already have their eye on those potential profits and what they can for the state.
The Current Online Sports Betting Situation in Maine
In May 2018 the Supreme Court repealed PASPA, ending the nationwide ban on sports betting. This means that every state has since been given the opportunity to decide their own sports betting laws.
Many, including Maine's fellow east coast, states Delaware and Rhode Island have already introduced fully legal sports betting. Others, such as New York, have recently passed sports betting bills and will be accepting bets soon.
Maine, however, is lagging behind but there are influential people pushing the legal sports betting agenda.
State Rep. Louis Luchini indicated not long after PASPA was repealed that he anticipates multiple sports betting bills to be introduced in 2019. Nevertheless, the 2018 legislative assembly ended with no bills being introduced.
Unlike many states who acted quickly, legalizing sports betting was not really on the radar in Maine before PASPA was repealed.
That was the opinion of Milt Champion, the Executive Director of Maine's Gambling Control Board, who has suggested that Maine will wait to see how things pan out for other states before making any big changes at home.
This is the situation Maine finds itself in right now, taking things slow and considering the options. Expect the ball to get rolling more in 2019, but for now, The Pine Tree state is in no hurry.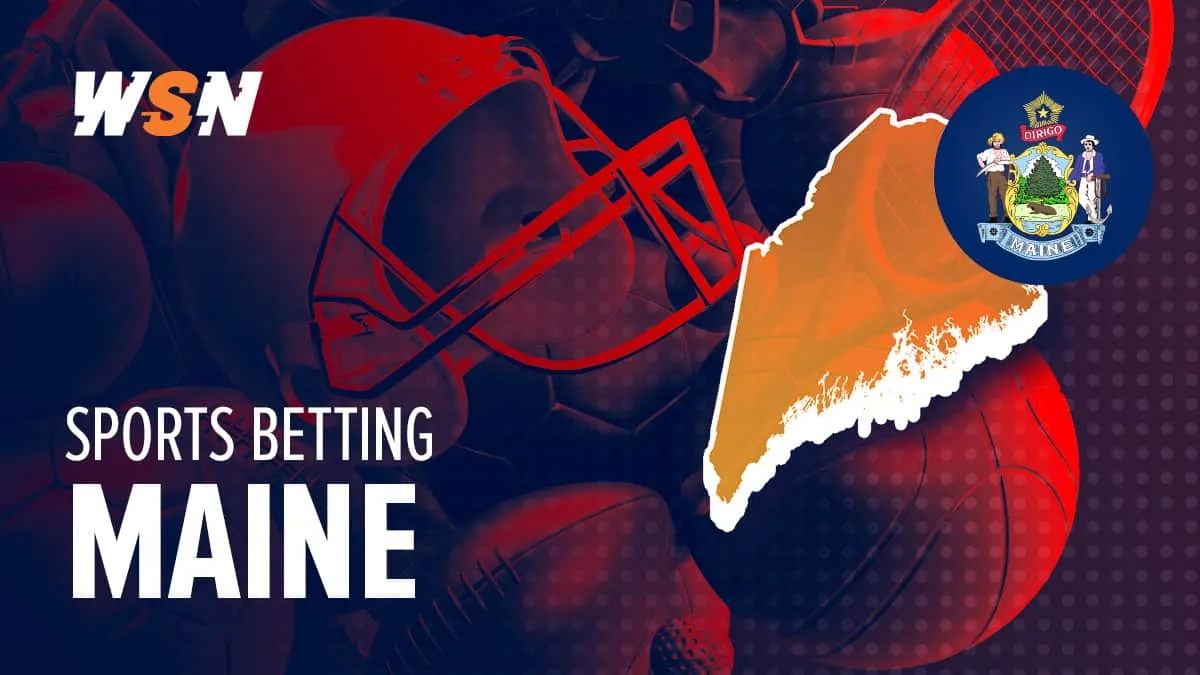 What Is the Future of Online Sports Betting in Maine?
The future for online sports betting looks fairly bright in Maine, although it may take a bit of patience before we see full-fledged legal sports betting industry.
Maine was not one of the states that was poised to take advantage of the repeal of PASPA and has so far avoided making any knee-jerk moves since. Instead, legislators and stakeholders in Maine seem happy to take their time weighing their options.
What this means for the immediate future of sports betting in Maine is that we can expect more debate, and, as Rep. Louis Luchini has suggested, the introduction of one or more bills in 2019. It may well be over a year before any bills are voted on, with the state seemingly in no rush. We can also expect any bill in Maine to be influenced by the success of the sports betting programs being offered by other states.
The repeal of PASPA has opened up a multi-billion-dollar door. Maine looks set to see how other states proceed before determining both whether and how to take advantage of it.
The History of Online Sports Betting in Maine
Although legal sports betting is proving a somewhat slow process in Maine, the state is not exactly without a gambling tradition. There are already a handful of casinos in Maine, offering a variety of table games and slots. Live poker is also legal in Maine.
The Hollywood Casino Bangor is one of the biggest gambling establishments in the region and is also home to a racetrack, where pari-mutuel betting is allowed. This is one of the two tracks in the state, along with Scarborough Downs.
Charitable gaming is also legal in Maine, meaning many local communities will be well used to the organized gambling.
Maine has had a state lottery since 1974, and it recent years it has begun offering nationwide lottery activities such as Mega Millions and Powerball.
All of these forms of gambling mean that sports betting could certainly have a place in Maine. Since 1992, the state has been governed by the Professional and Amateur Sports Protection Act (PASPA), along with almost all the other states in the US. PASPA basically acted as a federal ban on sports betting. However, that ban was to come to an abrupt end.
Which Online Sports Betting Sites Are Legal in Maine?
At the moment, there are no online sports betting sites that are legal in Maine. Among the states that have moved to legalize sports betting, many have adopted online components to their bills. Since Maine wishes to take its time with any sports betting bill, the online question will likely be up for debate in 2019.
It is also the case that some unregulated offshore sports betting sites can be accessed from Maine. Since they are not hosted in Maine, they are not technically illegal, but they are certainly not legal either. Sites like these can be considered something of a risk and are probably best to be avoided.
What Sports Can You Bet on Online in Maine?
As of now, there are no sports that are legal to bet on in Maine. Residents of the Pine Tree States are keen sports fans, even though there are not too many professional teams based in the state.
Nevertheless, there are plenty of sports likely to attract a lot of action if legalized sports betting does arrive to Maine.
Football
Maine does not have a professional football team located in the state. In college football, the Maine Black Bears are a member of the NCAA and have thirteen conference titles to their name.
Due to the lack of major teams in the state, Maine residents often support other teams from the New England area, particularly Boston. In the NFL, the New England Patriots, the most successful NFL team in recent years, have a lot of supporters in Maine.
Basketball
The state is not home to an NBA team. Instead, the Maine Red Claws who play in the NBA G League are the biggest basketball team in the Pine Tree State.
The Red Claws have an affiliation with the Boston Celtics in the NBA, meaning that, like the Patriots in the NFL, the Celtics are widely supported by Maine residents.
Baseball
Although without an MLB team, the Portland Sea Dogs compete in the minor leagues. When gamblers in Maine choose how to bet on MLB baseball, they'll focus on the Boston-based major league team, the Red Sox.
The Sea Dogs have won one minor-league title in 2006, while the Red Sox are one of the more iconic baseballs teams in the US, and have won nine World Series titles. The Maine Black Bears college baseball program has also made a number of trips to the College World Series.
Hockey
The 2018-19 season has seen the debut of the Maine Mariners in the ECHL. They replace the Portland Pirates who became the Springfield Thundercats in nearby Massachusetts.
As the closest NHL team, the Boston Bruins are well supported in Maine. The Maine Black Bears college hockey program is the most successful college program in the state, with two national titles to their name.
Other Sports
Maine also has semi-professional soccer and roller derby teams. However, as in the major sports listed above, Maine residents tend to look further afield around New England for major sports teams. These teams are likely to be the focus of their betting when legal options become available.
Is Betting on Fantasy Sports Legal in Maine?
Yes. Maine moved to clarify its position on fantasy sports with a new law in August 2018. In many states across the US, fantasy sports have existed in something of a legal grey area, with debate arising over whether they should be counted as a game of skill or a form of sports betting.
Maine's law formally recognized fantasy sports as a skill game, and the is regulated by the Gambling Control Unit.
Is There No Deposit Sports Betting in Maine?
It is possible that some offshore sports betting sites may offer no deposit sports betting. However, these are unregulated and not strictly legal, so using them is a risk. Right now, there are no sites that can legally offer no deposit sports betting in Maine.
If online sports betting becomes legal in Maine, expect to see valuable signup bonuses including free bets and so-called "no-deposit" bonuses that allow you to make real money wagers without risking any of your own money.
Will Online Sports Betting Ever Be Legal in Maine?
It is too early to say with certainty but if we had to bet on it we'd say yes. The US is being swept by a renewed interest in sports betting as more and more states move toward legalization every day.
Maine has not made any big moves yet, but a legal sports gambling market is too big an opportunity to ignore for long.
We expect 2019 to be an important time for Maine as the issue is discussed and actual pieces of legislation are brought forward and developed. Make sure to check back on this page for major developments.
Legal Sports Betting's Maine Event
Maine has definitely flown under the radar since PASPA was repealed but what we're hearing from local lawmakers and media in the state is encouraging. We're looking forward to seeing what the first sports betting bills look like and how the conversation around them develops.
With a smaller population than most states and no pro sports teams to speak of, Maine isn't under a lot of pressure to act quickly. State officials are opting to take a "wait and see" approach to learn from neighboring states that are already taking the plunge into legal sports gambling.
Considering the positive revenue numbers coming from those states, we predict Maine will get a lot done towards legalization during 2019.
If and when legalization does happen, browse this page for reviews of the best online sportsbooks in Maine before you sign up.
For more information on what's happening in other parts of the country, read our legal sports betting guides for every US state.