The Current Online Sports Betting Situation in Rhode Island
Rhode Island is a very progressive state in lots of different areas and that's proved especially true when it comes to adopting new sports betting laws. When the US Supreme Court overturned the federal ban on sports betting in May of 2018, Rhode Island was one of the fastest states to respond with laws regulating it.
Rhode Island was officially the eighth state to legalize sports betting but essentially did it at the same time as Delaware, New Jersey, West Virginia, and Mississippi.
Since there were already two major land-based casinos operating in Rhode Island it was easy to incorporate sports betting.
The possibility of state-wide internet sports gambling is on the radar but for now, it's taking a backseat to the brick and mortar sportsbooks and sports betting kiosks that will be in the state's two large casinos; the Twin River Casino and the Twin River Tiverton Hotel and Casino.
Once those in-person sports betting portals are established, many believe it's only a matter of time before they start offering online betting options.
Sports betting will be regulated by the Rhode Island Lottery with 51% of the revenue going to the state, 32% going to International Game Technology, the company that runs the betting itself, and 17% to the casino.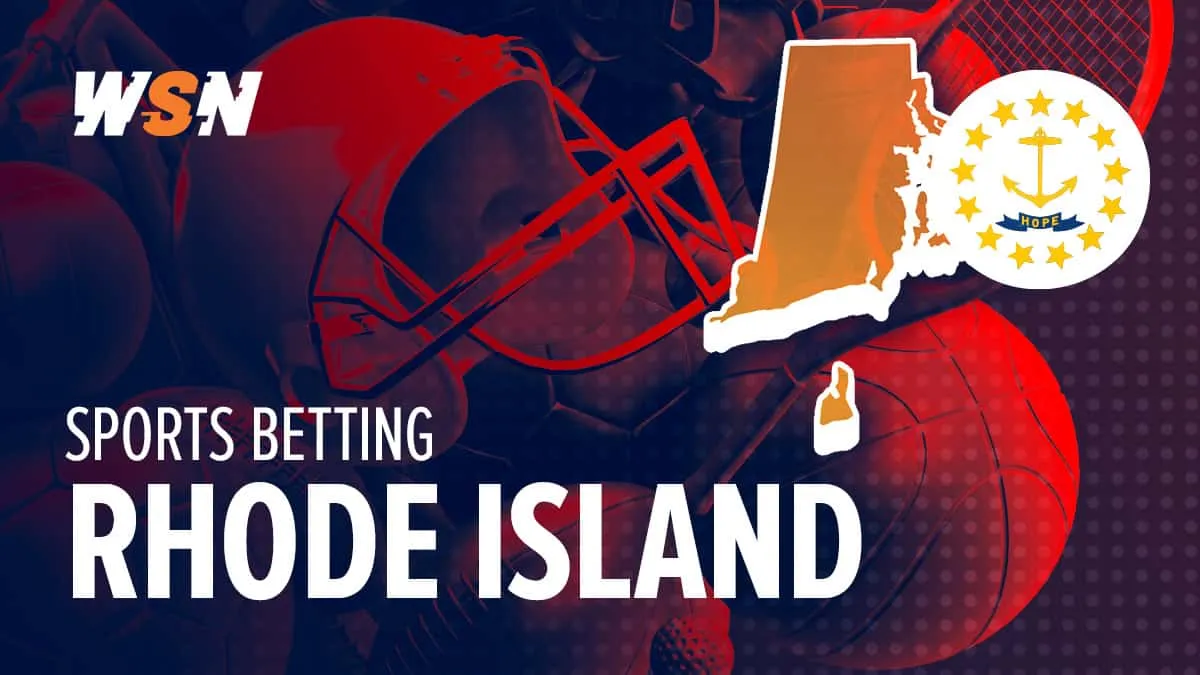 The History of Online Sports Betting in Rhode Island
Rhode Island, small of a state that it is, prides itself on listening to its citizens and historically, residents of the state have clearly been in favor of legalized gambling.
In 1934 voters approved a bill to allow betting on pari-mutuel horse betting and opened two horse racing tracks.
The locals also voted to introduce a state lottery in the 70s, pull-tab lotto tickets, bingo machines and, in the early 90s, video lottery terminals.
Citizens voted yes to legalized casino gambling in referendums in 2012 and 2016 which led to the land-based casinos operating today.
This bodes well for the potential of online gambling in the state. It's not legal yet but will likely be voted on soon. As well, in January of 2018 state representative Charlene Lima introduced a bill for online scratch-off ticket sales. Although this bill did not make it to vote, it shows that efforts are being made to bring online gambling, including online sports gambling, towards legislation.
With regards to land-based sports gambling, Rhode Island is all-in.
Just weeks after the SCOTUS ruling gave each state the authority to legalize sports gambling, Rhode Island became one of the first states to get in on the action.
The repealed federal law, called The Professional and Amateur Sports Protection Act (PASPA), was first instituted in 1992 and lasted precisely 26 years until New Jersey saw their appeal to overturn it successfully passed on the 14th of May, 2018.
What Does SCOTUS Decision Mean for Rhode Island?
Being able to legally bet on sports in Rhode Island is 100% thanks to the US Supreme Court Decision to repeal PASPA.
The state had previously held referendums on casino gambling in 2012 and 2016 and each time residents voted in favor of regulated betting. The same attitude holds true for sports gambling and the state wasted zero time getting things started.
The immediate impact is already apparent at the state's two land-based casinos. The larger of the two, the Twin River Casino, will hold a full-scale sportsbook when it is complete. The smaller Twin River Tiverton Hotel and Casino has a kiosk where people can place sports wagers.
Since they are both owned and operated by the same company (Twin River Management Group), it is likely that if/when online sports betting is legalized and instituted, it will be this company that is first to market.
Which Online Sports Betting Sites are Legal in Rhode Island?
At the moment only in-person land-based casinos allow sports betting in Rhode Island and to place wagers you need to physically be at the sportsbook. While the law still states online sports gambling is illegal, that's likely to change soon.
The plan is to develop the casino sportsbooks to full operation and then, depending on how citizens vote in an upcoming referendum, introduce full-scale online sports betting operation.
If it does happen, it will most likely be offered by the state's two land-based casinos.
Is Fantasy Sports Betting and DFS Legal in Rhode Island?
Fantasy sports is a booming industry and luckily for residents of Rhode Island, betting on it is completely legal. The giants of the industry, DraftKings and FanDuel, both accept players from Rhode Island.
The following is a quote from David Boes, an attorney for Draftkings, who makes it clear that all concerns and issues are met with proper planning and legislation:
"We are working actively with legislators in Rhode Island and across the country to enact thoughtful and appropriate regulations that allow our fans to continue enjoying the contests they love."
Since fantasy sports became mainstream, much has been made about the legal disparity between games of chance versus games of skill. Games of skill are not subject to anti-gambling laws and as such have been available to many US players across almost states for a number of years now.
What Sports Can You Bet on Online in Rhode Island?
As long as you're physically at one of the Twin River Casino sportsbooks, you can bet on a wide variety of professional and amateur sports. That includes major leagues like the NFL, NBA, MLB, and NHL as well as other sports like tennis, golf, college ball and tons more.
For Rhode Islanders, in particular, most of their sports allegiances lean towards New Boston teams like the Red Sox, Bruins, Patriots, and Celtics.
The following is just a taste of some of the most popular teams and sports bets that are available to Rhode Island residents:
Football
Rhode Island doesn't have an NFL team of their own and the stats say that the Pittsburgh Steelers are the most popular team in RI. Also getting support in the state are the New England Patriots based in the Greater Boston region.
Baseball
Although they don't have a pro team of their own, residents of Rhode Island are surrounded by some big-time MLB teams. However, most baseball fans in the area root for the Red Sox, especially since Pawtucket Rhode Island is the home of Boston's affiliate Triple-A team, the Pawtucket Red Sox or the Pawsox for short.
While it is a guarantee that MLB wagering will be popular in Rhode Island, there may also one day be the potential to bet on minor league teams.
Basketball
Rhode Islanders are most passionate about their collegiate teams, especially the Providence Friars. But when it comes to the pro league stuff, allegiances tend to be with the Boston Celtics as they are the nearest team to visit and support and have a storied history of success.
College Basketball
The Providence Friars, who play in the highly competitive Big East conference somehow always exceed expectations and perform at a high level. It's like a David vs Goliath story on repeat. The small state, with no professional teams to cheer for, really rallies behind their beloved Friars and are often proudly represented, somewhat surprisingly, at the NCAA March Madness Final Four tournament.
We anticipate a decent amount of betting action on the Friars this year, especially if they continue to do well.
Other Sports
From hockey to golf, Rhode Island residents are passionate sports fans. Whether it's enjoying the resurrection of Tiger Woods' career at nearby Augusta National or waiting to see if Tom Brady can win another Super Bowl in his 40s, sports betting will find a busy home in Rhode Island's future.
And even though RI doesn't have major professional sports teams, it does have a number of non-marquee teams in other sports. The Rhode Island Reds FC plays in the National Premier Soccer League and the Rhode Island Rebellion competes in the USA Rugby League. Finally, the Providence Bruins play in the American Hockey League.
Is There No Deposit Sports Betting in Rhode Island?
Currently, there are no online betting promotions available in Rhode Island because online sports gambling has not been sanctioned or authorized. Look for this to change in the near future, however, because residents of the state have voiced a positive opinion on the matter and might vote in favor of it at an upcoming referendum.
When online sports betting comes into effect, keep an eye out for no deposit promotions like we're already seeing in more established sports betting markets.
What Is the Future of Online Sports Betting in Rhode Island?
There's no doubt that sports betting has a bright future in Rhode Island. The state has already included $23.5 million in projected tax revenue from the industry in their budget planning and since casinos are already accepting bets, it's all systems go from here on out.
Expect the existing sportsbooks to become more established and hopefully expand to more locations.
One major development we're watching for is the introduction of online sports betting options. A common strategy for other states has been to start with live sportsbooks at existing casinos and then expand to offer options for betting online using gambling websites. This is likely to happen in Rhode Island too and when it does, WSN.com will have comprehensive reviews of all the best online casinos and sportsbooks to bet on in RI.
In the meantime, take a look at the best online sportsbooks and sports betting apps available in the states where online sports betting is legal.
Start Betting Sports Live Now, Online Soon
If you live in Rhode Island and you love betting on sports, you're in luck. You can already do it at two of your state's land-based casinos and chances are you'll be able to do it online soon too.
For now, visit the Twin River and Twin River Tiverton Casinos to place your bets. Then keep an eye on this page for updates on important developments as they happen. We'll update this guide with anything big that happens and when online betting becomes available, we'll have a lineup of the best bonuses to get you started.
For more information on sports betting laws in other parts of the country, check out our state by state guide to legal US sports betting.