Quick Facts about Online Sports Betting in New Hampshire
Population:
1,356,458
Median household income:
$73,381
Online sports betting legal since:
June, 2019
Licensed sportsbooks:
DraftKings
For more information on other states, read our state by state guide to sports betting laws in the United States.
The Current Online Sports Betting Situation in New Hampshire
WSN is happy to announce that legal sports betting in New Hampshire is now a reality.
Let's take a look at the major rules in bullet form and then we'll dig into the details:
NH Sports Betting Laws Summary
New laws allow for 10 retail and 5 mobile sportsbooks in New Hampshire.
Minimum age requirement of 18 to participate in sports betting. One of the youngest age thresholds in the US.
No wagering on High School sports or High School athletes or anyone under the age of 18.
Professional and college sorts are allowed with a restriction on wagers on college games involving universities in New Hampshire.
DraftKings won the sale contract to manage mobile betting and the 10 retail sportsbooks but agreed to give the state 51% of its online revenue and 50% of its retail revenue.
DraftKings officially launched mobile betting in NH on Dec 30th, 2019.
NJ law states individual cities must approve retail sportsbooks. So far 6 cities have approved sports betting. Those cities are Berlin, Claremont, Franklin, Laconia, Manchester, and Somersworth.
The New Hampshire Gaming Regulatory Oversight Authority was tasked with overseeing the new market.
Horse Race betting is legal but not many tracks remain after mass closures several years ago.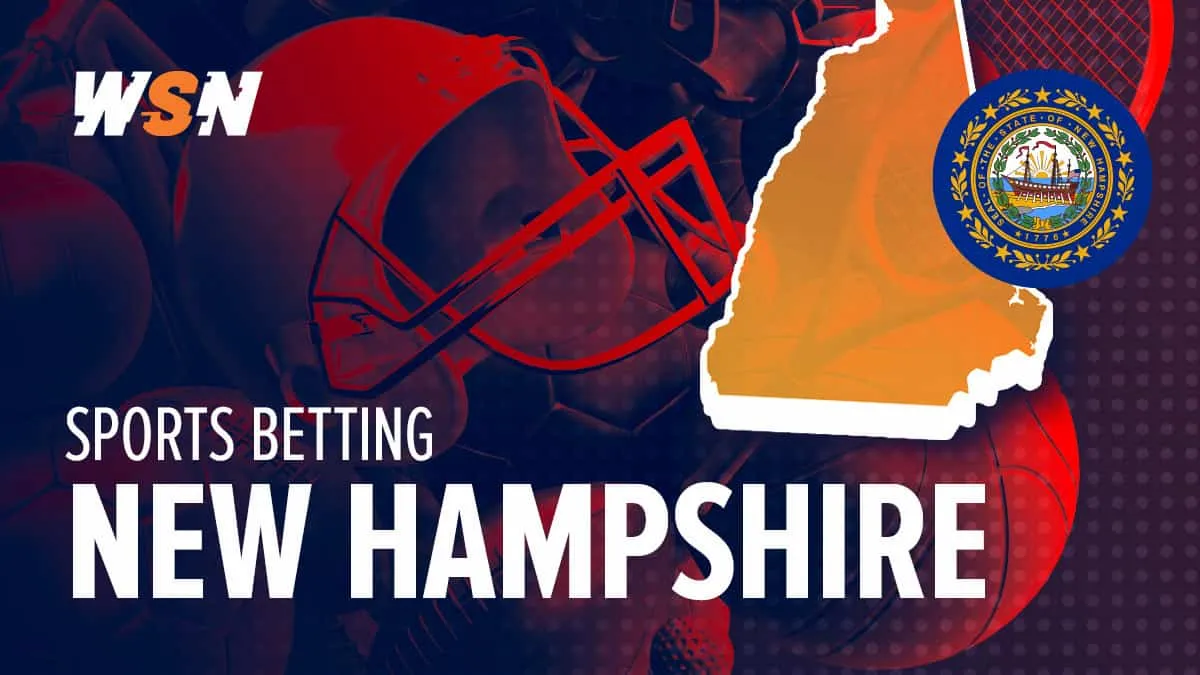 The History of Online Sports Betting in New Hampshire
There's no history of online sports betting in New Hampshire because sports gambling has never been legal in the state. New Hampshire does have a unique gambling history, however, as they have the country's oldest state lottery which began all the way back in 1963 to help raise money for state education programs.
Here are the key events in New Hampshire gambling history you should be aware of:
1933– Legalization of horse race gambling with Pari-Mutuel betting begins. The industry ground to a halt in 2012 but residents are still allowed to make simulcast wagers from other racetracks.
1963 & 1964– The lottery is legalized in 1963 and officially sells its first ticket in 1964 making it the first legalized lottery in the nation and longest standing.
1971– Similar to horse racing brought to the state in 1933, Greyhound racing was legalized but sees the industry diminish and eventually come to an end.
2009– The main reason for the demise of the horse and dog racing industry in the state stems from a massive 10% tax hike imposed on all winning tickets. That law was repealed in 2011 but it was ultimately too late to fix the declining local industry.
2012– Officially the last live horse race in New Hampshire.
2014– Multiple gambling and casino bills are submitted to the state legislature and all but one were denied. The only one to still be determined changes to state charity gambling law.
2017 – June if that year NH legalized fantasy sports after Gov. Chris Sununu signed HB 580 into law.
2019 – New Hampshire legalized sports betting in June.
PASPA, which was first initiated in 1992, was put in place as a federal law to ban sports gambling across America with only Nevada was given an exemption.
For more on PASPA check out also "PASPA – Everything you need knows."
2011 Referendum on Sports Betting
The current status of New Hampshire sports betting is where it is at because of the progress made by legislators in New Jersey, a state that has always been more permissive towards gambling than most other states.
Everything changed for New Hampshire in August 2019 when the state followed New Jersey, Mississippi, Nevada, and Delaware to legalize online sports betting as of June 2019.
Which Online Sports Betting Sites are Legal in New Hampshire?
New Hampshire has diverged from other states when it comes to approving sports betting platforms. Instead of agreeing to allow multiple mobile sportsbooks they have opted to allow just one after DraftKings offered to split all revenue 50/50 with them.
As a result, DraftKings gets sole exclusivity outside of the state lottery ensuring that they will have a monopoly on Sports Betting in the State, but NH gets a massive 50% share of all revenue generated by the Sportsbook. This will result in much higher revenue for both DraftKings and the State Treasury as opposed to other states where sportsbooks are taxed anywhere from 9%-36%.
| | |
| --- | --- |
| Sportsbook | Launch Date |
| DraftKings | Jan, 2020 |
To deter competition from illegal betting sites New Hampshire has commissioned the New Hampshire Gaming Regulatory Oversight Authority with two full-time Enforcement Investigators to regulate gaming in the state of New Hampshire.
What Sports Can You Bet on Online in New Hampshire? Is Horse Racing Allowed?
Almost all sports are available for betting in New Hampshire, including major leagues like MLB, NFL, NBA, and NHL. For the most part, college sports like NCAA are available too, but there are some exceptions, no collegiate games involving teams from NH or teams in NH can be wagered on. High school sports and events with competitors under the age of 18 are prohibited as well.
To give you an idea of what's available, check out the following sports offered by DraftKings Sportsbook, which offers spread betting, live betting, money line betting, futures, prop bets, and more:
Football
Basketball
Baseball
Hockey
Soccer
Boxing/MMA
Auto Racing
And many more
Hopefully, with pro sports betting legislation New Hampshire will once again become a horse racing scene as it was in the beginning half of the 20th century.
New Hampshire Sports Betting Land-Based Sportsbooks
Retail sportsbooks are likely to appear in the Spring, with 10 in total being allowed under the current sports wagering law. Here is a map with the five cities that have already preapproved their location.
Retail Sportsbooks in New Hampshire
There are currently no brick and mortar sportsbooks in The Granite State but the new wagering laws stipulate that there can be a maximum of 10 physical sportsbooks and they will be operated by DraftKings. The DraftKings sportsbook app is up and running with the physical locations likely to follow behind in the early Spring.
Here is a list of the cities and towns in New Hampshire that have already approved the construction of physical sportsbooks so you can expect to see them in these locations in the Spring.
Berlin
Claremont
Franklin
Laconia
Manchester
Somersworth
As of now no direct sponsorships between teams and sportsbooks have been announced in New Hampshire yet but that may change. Several New Jersey teams have announced partnerships including the NHL team the New Jersey Devils who have partnered with Caesars and FanDuel and it may not be long until other states such as NH follow suit.
The State of Sports in the Granite State
Horse Racing
Although horse racing has a storied history in NH with its famous Rockingham Park Track (where Seabiscuit raced) horse racing in the state has a rough time in the latter half of the 20th century when public opinion on gambling became harsher.
Football
Gambling on Collegiate teams within NH or teams from NH is strictly prohibited within the state, however, wagering on teams from other states in other states is allowed. So, unfortunately, New Hampshirites will not be allowed to wager on their beloved Wildcats, and since no NFL team currently calls The Granite State home New Hampshirites will have to continue making do with the nearby New England Patriots.
Basketball
New Hampshire is not represented in the NBA and a ban sports wagering on college teams in the state will put a damper on the local sports wagering scene. However, residents can feel free to wager on any pro basketball games or college games not involving NH college teams.
Baseball
New Hampshire does not have any major pro sports teams, but it is home to the Fisher Cats, a Double-A baseball team affiliated with the MLB's Toronto Blue Jays. The Fisher Cats have a devoted following that gathers in the historic Gill Stadium to see them play. This would be the most popular professional team in the state, as every other prominent sports team is from the collegiate ranks, specifically from Dartmouth and the University of New Hampshire.
The Fisher Cats won the Eastern League Championship in 2004 then again in 2011 and then once more in 2018.
Hockey
New Hampshire does not have a huge tradition of hockey teams but does play home to the Manchester Monarchs (American Hockey League), and Dartmouth's Big Green hockey team plays in the top college division and has four frozen four appearances to their name, with the last one coming all the way back in 1980.
Is Betting on Fantasy Sports Legal in New Hampshire?
Yes. New Hampshire's 2917 HB 580 law allows for fantasy sports betting in NH. The law allows major daily fantasy sites already in operation the ability to continue offering their services.
New Hampshire's new sports wagering laws do not mention sports betting, so the older HB 580 is still in effect.
How to Bet on Fantasy Sports Legally in New Hampshire
Fantasy sports betting has been legal in New Hampshire since 2017 and with the introduction of the DraftKings mobile sports betting app it has never been easier to start sports betting than it is now.
If you're a sports betting beginner, make sure to check out our guides to betting for tons of valuable information.
The second way to place bets is to physically go to a casino or sportsbook. There are lots of different options including the ones we listed above that are an affiliate with the online betting sites.
Going to a live sportsbook is a great experience since you can watch the games with a big group of other gamblers. The atmosphere is electric, and it adds a different dimension to the gambling experience.
How to Bet on Sports Legally in New Hampshire
If you're a resident of New Hampshire or visiting the state, there are a few ways to place bets on your favorite sports all of which are convenient.
The easiest way is to sign up with the DraftKings sportsbooks which are the only mobile platform sportsbook available in the state.
The signup process is quick and easy. During the signup phase, you'll have to provide some personal information, choose a username and password and confirm that you're 18 years or older.
If you're a sports betting beginner, make sure to check out our guides to betting for tons of valuable information.
The second way to place bets is to physically go to a casino or sportsbook, however, none of the 10 approved sportsbooks have yet to open in the state.
Going to a live sportsbook is a great experience since you can watch the games with a big group of other gamblers. The atmosphere is electric, and it definitely adds a different dimension to the gambling experience.
There will also be a maximum of 10 retails locations in which to place physical bets. These locations have been approved by several NH cities.
What Kind of Withdrawal Processes are Available in New Hampshire?
There is currently 1 sportsbook operating in NH and that is unlikely to change.
If you're looking for sportsbooks in other states as well then check out our Fastest Payout Sportsbooks guide for everything you may want to know about the various payout processes and betting lines.
In May 2018 the US Supreme Court overturned a long-standing federal ban on sports betting and gave each state the authority to create their own laws governing it.
The decision has opened up a multi-billion-dollar opportunity in the US, and many states have wasted zero time jumping on board.
More and more states are joining Nevada in offering fully legal and regulated sports betting all the time.
Plenty more states have been debating the issue and preparing legalization bills. New Hampshire is currently in this latter stage of the process.
The movement towards legalized sports betting was led by the state of New Jersey after a poll conducted found that over 90% of residents approved of legalization.
However, legalization met legal troubles and the case went all the way to the Supreme Court that eventually sided with New Jersey and legalized the Professional and Amateur Sports Protection Act (PASPA)
This decision left it up to individual states to decide for themselves to allow sports betting within their territory. To learn more about New Jersey's legal struggles to gain the right to sports betting click here.
New Hampshire Problem Gambling Help Resources
The NH Legislature added lots of language into HB 480 concerning problem gambling when drafting the legislation. The language includes the creation of a plan to tackle problem gambling including imposing options for player limits, problem gambling, and self-exclusion. All of which have proven to help problem gamblers.
The New Hampshire Council on Problem Gambling is a private non-profit agency created to address the social, financial and emotional costs of problem gambling. The Council provides information, education, advocacy and prevention services as well as referrals to treatment for problem gambling to those affected, their loved ones and the community.

Source: nhproblemgambling.org
New Hampshire Online Sports Betting FAQs
Here are answers to the New Hampshire sports betting questions we are asked most frequently:
Is sports betting legal in New Hampshire?
Yes.
Sports betting became legal in 2019 with the passage of House Bill 480-FN and when Governor Chris Sununu signed the bill into law.
Do you pay taxes on sports betting in New Hampshire?
No. Instead of a traditional tax being levied on all sports wagering New Hampshire has instead opted to grant sole operation privileges to DraftKings (after a competitive selection process) in exchange for a 50/50 split of all proceeds.
Where can I bet on sports in New Hampshire?
As of the writing of this article sports wagering in NH can only be done on the DraftKings mobile sportsbook. Ten physical sportsbooks (to be operated by DraftKings) are approved to open as early as Spring 2020 and will likely be located in these cities.
Berlin
Claremont
Franklin
Laconia
Manchester
Somersworth
What sports can I bet on online in New Hampshire?
New Hampshire's legalization of sports has included a huge array of sports that have been approved for betting. Nearly every sport you can think of has been approved for betting aside from those with participants that are minors.
What sports are illegal to bet on in New Hampshire?
Some sports betting is not allowed, including:
Sports with minors (anyone under 18)
High school sports
Sports involving college teams withing NH
Is it illegal to bet using offshore sports betting websites?
No. The use of offshore sports betting platforms is legal in New Hampshire although safer options are now available.
Engaging in offshore sports wagering is considered dangerous for bettors who win since there is no enforcement to ensure that you'll even be able to cash out your winnings.
Soon it may be even more difficult to participate in offshore gambling since the FBI has filed a lawsuit against multiple overseas Internet companies.
What other states is sports betting legal in?
Online gambling is currently legal in Nevada, Delaware, New Jersey, Mississippi, West Virginia, Pennsylvania, Rhode Island, Arkansas, New York, Iowa, and Indiana with more to come in the coming months and years.
New Mexico and Oregon also have some forms of legal sports betting with Native American Tribes and state lotteries getting into the action.
What Is the Future of Online Sports Betting in New Hampshire?
Mobile betting is a huge advantage to the state. Most US states that are legalizing sports betting have introduced limits on the allowance of mobile betting with some now allowing it at all. There is an argument to say that mobile betting is the best way to counteract black-market betting and New Hampshire will be a testing ground for its rollout.
The state government is hoping that the option of mobile betting combined with the partnership with DraftKings will bring many bettors from neighboring states into NH.
References:
New Hampshire Gaming Regulatory Oversight Authority