Are you wondering if SugarHouse CT is a good online sportsbook to sign up with?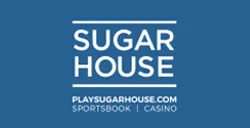 In this in-depth review our experts bust open SugarHouse Connecticut's online sports betting site and sports betting app to find out for sure if it's a good place to bet on sports legally in Connecticut.
We dig in to all the most important parts of the site and app including:
Software
Selection of bets
Quality of odds
Bonuses
Safety and security
We'll also take a closer look at what sports you can bet on and what banking options SugarHouse CT accepts for deposits and withdrawals.
Our experts have completed a thorough review of the platform and have tested out everything that affects the user experience. In this review, we report what we like about SugarHouse's sportsbook, as well as where we think it can be improved.
If you like what you hear, we can also help you sign up and get your hands on exclusive bonuses and promotions.
SugarHouse Sportsbook CT at a Glance
SugarHouse Sportsbook Facts
SugarHouse CT bonus promo code
SPORTS
Welcome bonus
2nd Chance Bet up to $100

Land-based partner
Monmouth Park Race Track, Atlantic City
Website URL
https://www.playsugarhouse.com
The SugarHouse CT sportsbook actually gets its name from the SugarHouse Casino in Pennsylvania. However, the online sportsbook is licensed in New Jersey thanks to a deal signed with the Monmouth Park Race Track in Atlantic City.
Here are the headlines about SugarHouse:
SugarHouse CT is fully licensed and regulated by the New Jersey Division of Gaming Enforcement.
The site has a full program of sports from around the world available, as well as an impressive live betting set up.
Although you can create an account from anywhere, you need to be physically located in Connecticut in order to place a bet.
SugarHouse CT has a website and an app, both of which also feature online casino games. When you sign up for the sportsbook, you get easy access to those too.
Our experts found a lot to like about SugarHouse. The range of bets really is second to none and the customer interaction in terms of support and convenient banking transactions is great too.
Although we think the digital platforms could be improved, we are big fans of the sportsbook overall.
Next up, we're going to take more of an in-depth look at the various feature of the SugarHouse online sportsbook.
SugarHouse CT Software and Mobile Sports Betting App
Our experts had somewhat mixed feelings about the SugarHouse website.
We found that the different sports and markets were all easy to navigate through, with a column on the left hand side of the page. We liked that the number of bets available in each section was included beside the heading. Our experts were able to find the specific bets and leagues they were looking for with no trouble.
We liked the betslip, which hides when not in use and allows you to add different bets to build your parlays smoothly.
We were impressed with the wide range of online sports betting options available for the major sports, with plenty of interesting props on the go. The live betting section is easy to find and works well, with loads of in-play bets also available.
On the downside, we found the site to be quite crowded. The site requires you to disable any ad-blockers on your browser, and there are a lot of ads visible on the page – often trying to direct users to the casino. The app has the same issues.
There is also a live "Newsfeed", showing the bets that are being won on the site in real-time. In our opinion, this is something of a gimmick and just takes up space.
We found some formatting issues too, with some parts of the site being blocked by others.
Overall, we would like to see both the website and app streamlined, with less ads and more white space. The sportsbook has great betting options, and they deserve to be presented a little better. Check out our ranking of the best real money sports betting apps to how SugarHouse compares to other sportsbooks.
Software and App Highlights
Easy to navigate around, with good headings to help you find exactly what you are looking for.
The betslip works well, and beginners and experts alike will have no problem placing bets.
We like the daily specials section on the homepage, offering bets with enhanced odds.
You can choose the style of odds that you prefer.
Access to the casino and sportsbook from the same app, for users who like to bet on sports and play casino games.
Things to Improve
Both the app and the website could do with much fewer advertisements, and a more streamlined theme.
Some of the panels and ads move around on the page, which can be distracting. The "Live Chat" icon blocks out the betting market behind it.
We found the app response time to be slightly slow when toggling between the casino and sportsbook.
We would like less overlap between the casino and sportsbook in general, for those users who are only interested in one or the other.
Bonuses and Deals at SugarHouse CT
A big part of attracting new members, and retaining existing ones, is offering great bonuses and deals. With SugarHouse's extensive experience in the casino industry it's no surprise that the sportsbook serves up plenty of juicy promotions as well.
Since the online casino and sportsbook are linked, you will automatically qualify for casino bonuses if you decide to sign up for the sportsbook.
The exact bonuses and offers vary depending on when you sign up, but there's usually a valuable welcome bonus and some form of free bets. Here are a selection of the bonuses that our experts have seen at SugarHouse CT.
First Deposit Bonus
This is SugarHouse CT's bonus for new members. Get 2nd Chance Bet up to $100 when you make your first deposit of $10. Use promo code 'SPORTS' to claim the offer.
iRush Rewards Loyalty Program
SugarHouse's loyalty program comes in the form of iRush Points, which are earned every time you place a bet. You also earn iRush Points when you play casino games.
Depending on how many points you have earned over a given time, you are assigned a loyalty level which entitles you to a variety of bonuses such as risk-free bets, or VIP entry into SugarHouse's Philadelphia casino.
The bonuses tend to encourage customers to use other SugarHouse services, like playing online casino games or visiting its physical casino. The iRush Rewards Loyalty Program is therefore likely to appeal to users who intend to use more than just the sportsbook.
Other Bonuses
SugarHouse's bonuses all tend to focus more on the casino side of things. Members get regular free games and spins in the casino. There are also physical prizes, such as tickets to live sporting events.
These types of bonuses are likely to be great for some users, but not for those who are solely interested in betting on sports online in CT.
Kinds of Bets and Odds
The variety of bets on offer is always one of our biggest considerations when reviewing a sportsbook. Our experts are happy to report that SugarHouse scores very highly in this section.
If you want to stick to the most popular bets – moneylines, totals and point spreads – SugarHouse has got you covered in a wide variety of sports.
However, the sportsbook really comes into its own with the array of props on offer. Basically every game from major sports like NBA, NHL, NFL, MLB and Soccer has hundreds of interesting bets available – from betting individual players to the team possession stats.
Here are our main takeaways after exploring the kinds of bets you can make with SugarHouse:
The site and app have a huge selection of interesting bets available for major sports
The most popular bets are also available for a huge variety of less-popular sports.
There's a good live betting section, with hundreds of live props typically available.
Both US and international sports are well covered.
During our tests, the odds and betting lines were very good, more than competitive with other main sportsbooks.
Popular Bets
Ultimately, the vast majority of bets are placed in a small number of markets which include money lines, point totals, points spreads and futures for major tournaments.
SugarHouse has all of these well covered, and they are among the first bets you see when you drill down into a specific sport or league.
We would love it if the some of the advertisements and extraneous content could be cleared away form the site so that the most popular markets could be even more prominent.
You can still find them but they're less clear than other less ad-heavy sportsbook interfaces.
Prop Bets
Prop bets are undoubtedly one of SugarHouse New Jersey's strong points and our experts loved the amount of props available. Major sports had literally hundreds of markets associated with each game, meaning we could happily browse the options for hours.
The range of prop bets will really appeal to the people looking to go beyond the more common betting markets we mentioned in the last section.
One minor thing we noticed is that the prop market for games does tend to greatly expand in the 24 hours before it begins. It would be nice to have it open a little earlier. In general though, we love the props on SugarHouse CT.
Live Betting
Even though more and more sportsbooks are offering live betting these days, they often only offer the simpler bets and only a few options for each game. This is definitely not the case with SugarHouse.
There were tons of bets available for a wide variety of live games. Our experts also loved the little graphics visible when you click into games which show game statistics and updates.
Once again, the live betting platform would benefit from some streamlining, and like the rest of the site feels a bit crowded. However, the range of live bets is excellent.
Other Betting Options
Overall, we are super impressed with the betting options at SugarHouse CT.
Parlays, teasers, buying points – chances are if you can think of a bet you will find it on SugarHouse.
We also like that there is a daily specials section on the homepage, offering enhanced odds on pre-selected parlays.
Another unique offering is the "Jackpot Parlay" feature, which essentially randomly generates parlays. We found this to be something of a gimmick, but the fun element might appeal to some users.
Sign up with SugarHouse here: