Headed into the holiday season, New Jersey has posted record-setting sports betting handle for the fourth month in a row posting $931,620,415, a 16% increase from October.
New Jerseyans Have Wagered $10,850,873,475 Since Sports Betting Launched in 2018
Outside of Nevada, where sports betting has long been legal, New Jersey is far and away the leader when it comes to the total amount of bets being placed since legalization. As of last month's figures, New Jersey had over five times the total amount of all bets placed than the next runner up Pennsylvania.
Other states that have legalized since New Jersey have also been creeping up their handle totals. Excluding Nevada, some runners up are Pennsylvania with $4,048,118,487, Indiana with $1,892,156,777, and Mississippi with $780,346,716.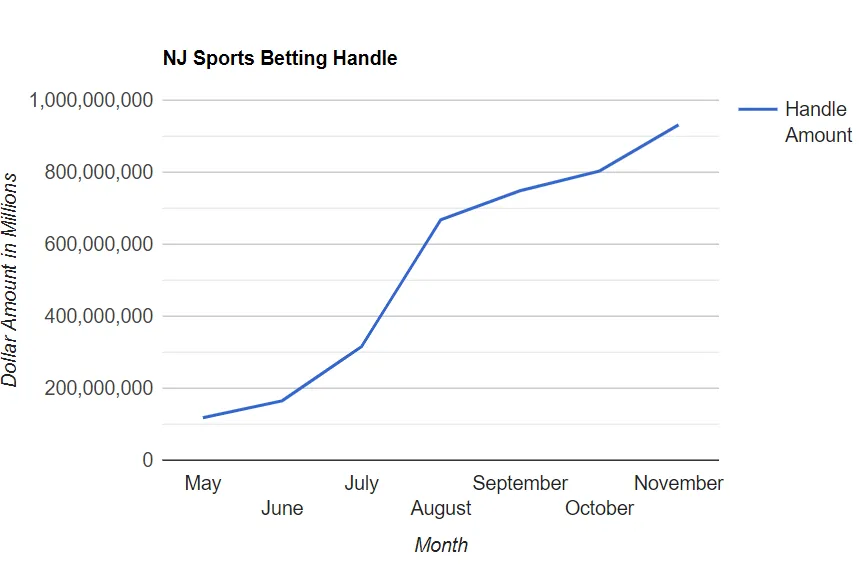 What Is in the Monthly Handle Report?
The monthly handle, which is administered by the New Jersey Division of Gaming Enforcement (DGE) serves as a monthly temperature reading for the gaming industry in the state. The report includes tax information, total handle wagered, a breakdown of where money was wagered (online or in person, and where), as well as other information such as which sports people chose to bet on.
Most states that have legal sports betting release monthly reports to keep the public informed about how much taxable revenue is going into the state's coffers and also to instill a sense of accountability and trust in the newly minted system. These reports are also used by economists and market watchers to get a sense of how much the average consumer is comfortable with spending on leisure betting.