Mississippi launched legal sports betting less than three months after the Professional and Amateur Sports Protection Act (PASPA) was repealed by the US Supreme Court.
August 1st saw the Beau Rivage in Biloxi and the Gold Strike in Tunica become the first two casinos to accept sports betting in the state. Dozens more have since followed suit and legal sports betting is already prospering throughout Mississippi.
At the moment, sports betting is limited to licensed casinos. After the repeal of PASPA, the Mississippi Gaming Commission was established. Casinos wishing to offer sports betting must apply for a license from the Commission.
Electronic sports betting is possible in Mississippi, as long as you are on the grounds of a licensed casino and at least twenty-one years old. Online sports betting outside of a licensed casino is not currently legal in Mississippi. It is possible to bet on online sports using unregulated sites that are located offshore, but this is not strictly legal in the state and gamblers who choose to deposit and bet with these sites do so at their own risk.
While Mississippi can be considered a pioneer in how quickly it has moved to legalize sports betting, it is worth remembering that this is a highly traditional state with strong religious roots. While sports fans might be loving the new situation, other residents are likely still getting their heads around it. As more people realize that sports betting is safe, fun and exciting, the more receptive they will be to further legalization.
While online sports betting outside of a casino is not currently legal, politicians have indicated that it will be considered in the future.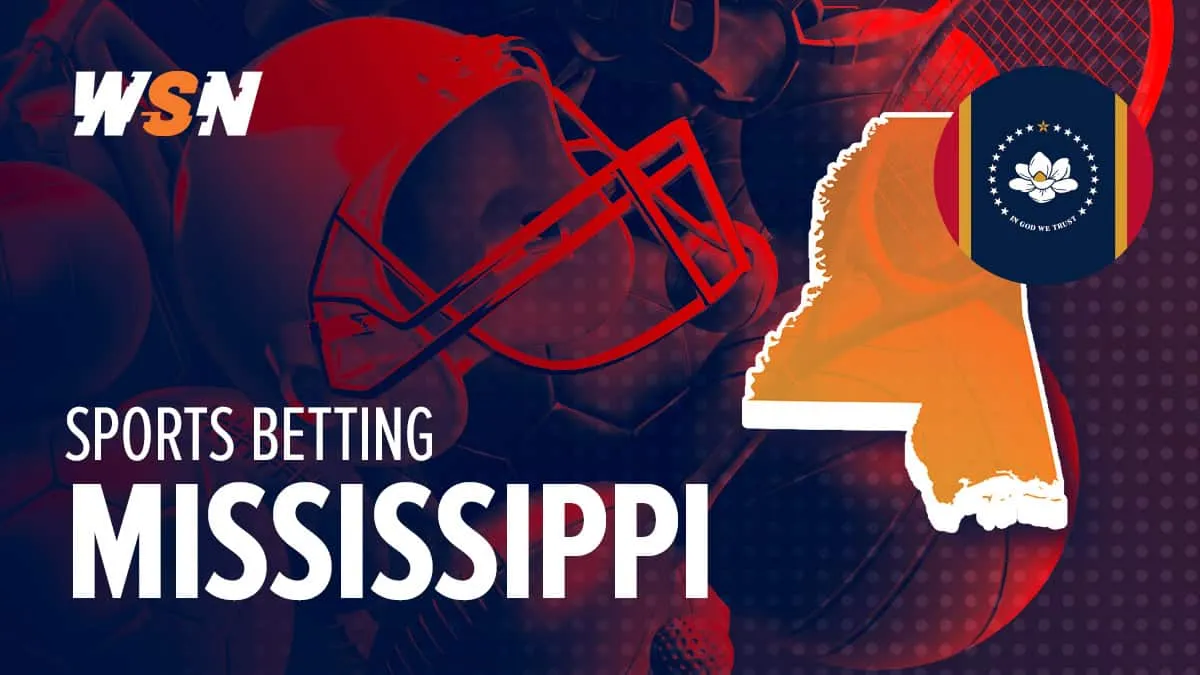 The History of Online Sports Betting in Mississippi
Until recently, betting on sports in Mississippi, like the vast majority of states in the US, had been governed by the Professional and Amateur Sports Protection Act (PASPA). This Act was signed into law by the Supreme Court in 1992 and stopped states from providing legal and regulated sports betting.
However, the history of gambling in Mississippi means it was more ready than most to take advantage of the autonomy afforded to all US states.
There's been gambling, whether legal or illegal, in Mississippi at least as long as Europeans settled the region. Since then the Mississippi River has become synonymous with riverboat gambling.
Like many states, gambling has been outlawed and allowed countless times over the last two centuries.
It wasn't until 1990 and the Mississippi Gaming Control Act that casinos became fully regulated in various regions including Tunica, Biloxi and other parts of the Gulf Coast.
In 1992 PASPA was written into law and officially clamped down on the casinos' freedom to offer sports gambling.
Following PASPA there was no way for residents of Mississippi to bet legally on sports, either live or online.
In 2017 the state passed the Fantasy Contest Act which made betting on fantasy sports legal while continuing to uphold the ban on traditional sports betting.
Which Online Sports Betting Sites Are Legal in Mississippi?
Right now, there are no legal online sports betting sites available if you are not on the grounds of a licensed casino.
Electronic betting on sports is possible in the casinos, and some have even developed their own apps which you can download to your phone and use to bet on sports while on casino grounds.
This page will be updated as the situation changes.
Is Betting on Fantasy Sports and DFS Legal in Mississippi?
Betting real money on fantasy sports and DFS is completely legal in Mississippi. The legal distinction was made between fantasy sports wagering and traditional sports betting with fantasy sports finding themselves classified as a game of skill and therefore exempt from gambling laws like PASPA.
Taking it one step further, Mississippi passed the Fantasy Contest Act in 2017 which specifically made betting on fantasy sports legal and provided a regulatory framework for the industry borrowed from other states which had already adopted fantasy sports gambling.
All major fantasy sports betting sites are open to players from Mississippi. You can bet real money on a variety of sports and until recently, it was the number one way people in the state could put some action on their favorite teams and players.
What Sports Can You Bet on Online in Mississippi?
Mississippi has a great sporting tradition. One of the most significant aspects of the legalization of sports betting in the state was the inclusion of betting on collegiate sporting events, as well as professional ones. This is in contrast to some other states like New Jersey that have relaxed their gambling laws but only include professional sports.
College Football
College football is very popular in Mississippi. The Ole Miss Rebels program representing the University of Mississippi in Oxford have a few National Titles to their name from the early 1960s. Their heated rivals are the Mississippi State Bulldogs program from Mississippi State University.
The legalization of sports betting means that residents of Mississippi can bet on their teams throughout the year in the Southeastern Conference. The big derby game between the two is known as the Egg Bowl, and will definitely see some major betting action from within Mississippi this year.
Baseball
Although lacking in Major League teams, Mississippi does have a healthy history of baseball. The Biloxi Shuckers, a Minor League team based in Biloxi, are the Double-A affiliate of the Milwaukee Brewers.
The Mississippi Braves, the Double-A affiliate of the Atlanta Braves operate out of Pearl, near Jackson. All of their games, and the games of the other baseball teams in the state, are available to bet on now.
Other Sports in Mississippi
Mississippi has plenty of other sports teams and competitions, from the Mississippi State Bulldogs basketball team to the many college soccer teams. The recent legalization means that all of their games are legally available to bet on as long as you go to a casino.
Sports Outside Mississippi
Quite apart from the range of teams that exist within the state, the legalization of sports betting means that residents can bet on a whole range of sports from across the US and all over the world.
You can combine your college football bets with putting some action on an NFL game. As the seasons go on they throw up new sports events to bet on. You can throw a few bucks on the Superbowl in the new year, wait for the NBA Playoffs in the spring, or even hang around until the Olympics rolls around. Sports betting offers something for every fan.
Is There No Deposit Sports Betting in Mississippi?
Online sports betting outside of licensed casinos is not currently legal in Mississippi.
Some unregulated offshore sites may offer no deposit sports betting, but we recommend waiting until online sports betting becomes legal, which is very likely to happen sooner rather than later.
In the meantime, electronic sports betting is possible on the grounds of licensed and regulated casinos.
What Is the Future of Online Sports Betting in Mississippi?
Mississippi has shown more than almost all other states that it is ready to lead the way as sports betting laws around the United States get more relaxed. It was practically a matter of weeks after the repeal of PASPA that casinos in the Magnolia State started accepting their first sports bets. With that in mind, it looks like sports betting, including online sports betting, is only going to become more accessible.
It is an exciting new time for sports betting fans in Mississippi. At the moment, sports betting is only legally allowed on licensed casinos. However, that will almost certainly be subject to change. As more states look to follow the lead of Mississippi in cashing in on the multi-billion dollar sports betting market suddenly available to them, it is not hard to imagine Mississippi relaxing sports betting laws even further to stay ahead of the game.
There have already been rumblings of a move to relax the laws surrounding online gambling in the state. A bill to introduce a state lottery was finally passed in August 2018. You don't have to look far to see that all across the state, gambling is becoming more accepted.
Will Online Sports Betting Ever Be Legal in Mississippi?
With Mississippi leading the way in relaxing gambling laws, it looks likely that online sports betting will come in the next couple of years. There is no guarantee that this will happen, but the winds of change are blowing firmly in that direction.
Start Betting on Sports in Mississippi Now
This is an extremely exciting time to be a fan of sports betting in the US and in Mississippi in particular. The repeal of PASPA has given each state the chance to decide their own laws around gambling, and Mississippi has wasted no time embracing the world of sports betting.
Sports fans all over the state are being given the chance to get into the world of sports betting 100% safely and legally. Despite its traditional roots, Mississippi has proved itself to be open to change and ready to take a leading role in the new regulated US sports betting industry. The decision to include collegiate sports in betting programs shows that the state is more progressive than many had previously believed.
As more casinos open, Mississippi residents will get more and more comfortable with how sports betting works, and more states across the US will follow their lead. We expect sports betting in Mississippi to only get easier in the coming months and years – and legal online sports betting is surely the next step.
Bookmark this page and check back for major developments including the legalization of online sportsbooks and casinos in Mississippi. We'll list the best betting options for people in Mississippi when they become available.