Alex Bowman's meteoric rise started in quarter midget at age seven. By age 13 he had 165 wins and nine National Championships to his name.
At 19 Bowman made his NASCAR debut in Nationwide Series after just two years in full stock cars. He would go on to take his first career NASCAR pole position later that year at the O'Reilly Auto Parts 300 in Texas.
While people call him 'Bowman the Showman' he's actually a humble character in the racing world and usually prefers to downplay what his nickname suggests.
In this comprehensive guide to Alex Bowman's racing career, we'll run down his history in more detail and shine the spotlight on the successful driver's biggest results.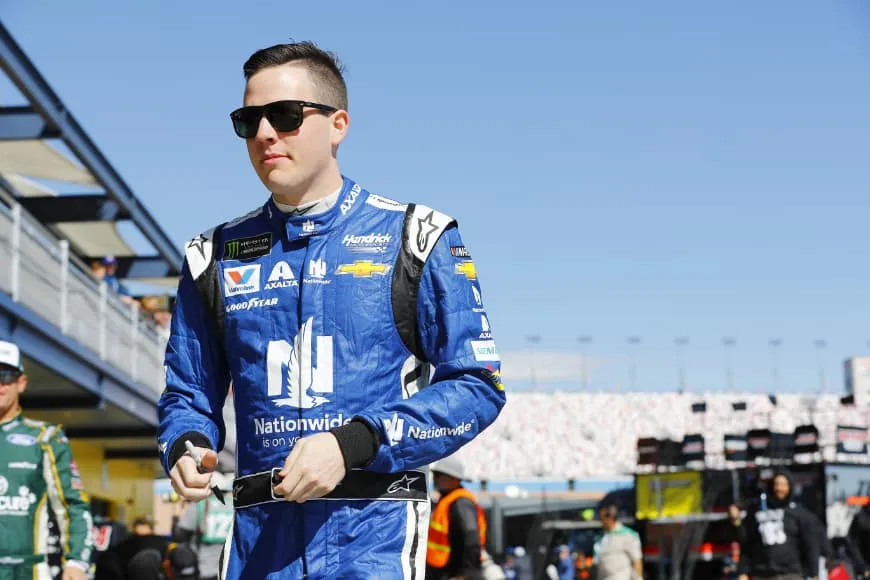 Fast Facts:
Born: April 25, 1993
Hometown: Tuscon, Arizona
Favorite movie: Ted
Favorite food: Italian
Favorite track: Iowa Speedway
2009 United States Auto Club Rookie of the Year
Recovered from scary 2010 crash in quarter midget and returned to compete in full stock cars
2011 K&N Pro Series East Rookie of the Year
2012 ARCA Racing Series Rookie of the Year
Won 2018 Daytona 500 pole
Biggest Results:
Alex Bowman Bio
2019 will mark Bowman's second season with Hendrick Motorsports driving the No.88 Chevrolet. Bowman replaced retired legend Dale Earnhardt Jr. in that vehicle which is certainly saying something.
Bowman had an excellent 2018 season in which he set several new personal bests. He also qualified for the Monster Energy NASCAR Cup Series playoffs thanks to three impressive top-5 finishes on the year including 3rd overall at Pocono Raceway.
NASCAR Xfinity Series and Monster Energy NASCAR Cup Series
Bowman made his debut on the Xfinity Series in at the age of 19. His best years on the circuit came a year later when he had six top-10 placings and took home two pole positions.
He continued his good results in 2016 with seven top-10s with three of them being in the top-5.
2018 was his best year by far in the Monster Energy Series. Bowman finished in the top-10 eleven times including a pole win at the Daytona 500 driving for Rick Hendrick and Nationwide Insurance.
First NASCAR Win
Bowman's first taste of podium victory champagne at the Xfinity level came in 2017 racing in the No. 42 for Chip Ganassi Racing at the Charlotte's Drive for the Cure 300.
Along with that milestone, Bowman also lists the 2016 Can-Am 500 in Phoenix, where he won the first career Sprint Cup pole position, as his best career race.
In front of his hometown fans, on his hometown track, the lead for 197 laps and had a chance for the win late if not for a tangle up that spun him out of contention. He ended up finishing in 6th place.
Career-Best Season
2018 was Bowman's best season by a NASCAR mile.
He started the year with a bang, taking the pole position at the Daytona 500 and consistently posting solid results throughout the season. His solid performance took him into the Round of 12 playoffs but that's as far as his year of good fortune would take him. His final point total saw him finish in 16th place.
We have no reason not to believe that 2019, with Hendrick Motorsports, won't be as good if not better for the talented young driver. We can't wait to find out.
If you live in a state that already has legal sports betting, check out our reviews to find the best online sportsbooks to bet on NASCAR.