With a disproportionately large number of NASCAR racing teams hailing from North Carolina it's not surprising that Charlotte Motor Speedway, formerly known as Lowe Motor Speedway, is known as the home track of NASCAR and boasts the slogan "America's Home for Racing".
The massive 2000-acre venue plays host to some of NASCAR's biggest yearly races including the Coca-Cola 600, the Bank of America Roval 400, and the epic NASCAR All-Star Race.
The complex is also famous for two other tracks: a clay oval that hosts dirt racing's annual World of Outlaws finals and second, the country's only all-concrete four-lane drag racing track called the ZMAX Dragway.
In total the speedway has a few main racing layouts.
The 1.5 mile main quad oval used in all of NASCAR's top three divisions.
Inside the larger oval are two more tracks: an inside quarter-mile oval and a 2.25 mile road course.
Across the road from the main track is the previously mentioned world famous ZMAX Dragway.
Needless to say, there is a lot to see and do for all sorts of racing fans. In fact, even non-race fans are drawn to Charlotte Motor Speedway. The 380 annual events make the complex one of the busiest sporting arenas in all of America. It hosts concerts, football games, festivals, trade shows and more.
The venue even played host to auditions for season twelve of American Idol and in 2006 the track hosted the world premiere of Pixar's movie Cars. For fans of old-school racing flicks, you may recognize the track from the Tom Cruise 90s hit Days of Thunder.
For history buffs who like a bit of trivia, the Busch brothers each hold track records at the speedway for fasting qualifying times. Kurt Busch set the Cup Series record driving for Chevrolet in 2014. Kyle Busch set the Truck Series record in the same season driving for Toyota.
Now that we've got the intro out of the way, let's take a closer look at some of the most important dates and moments of the tracks near half-century history. We'll kick things off with some fun facts, statistics and measurements.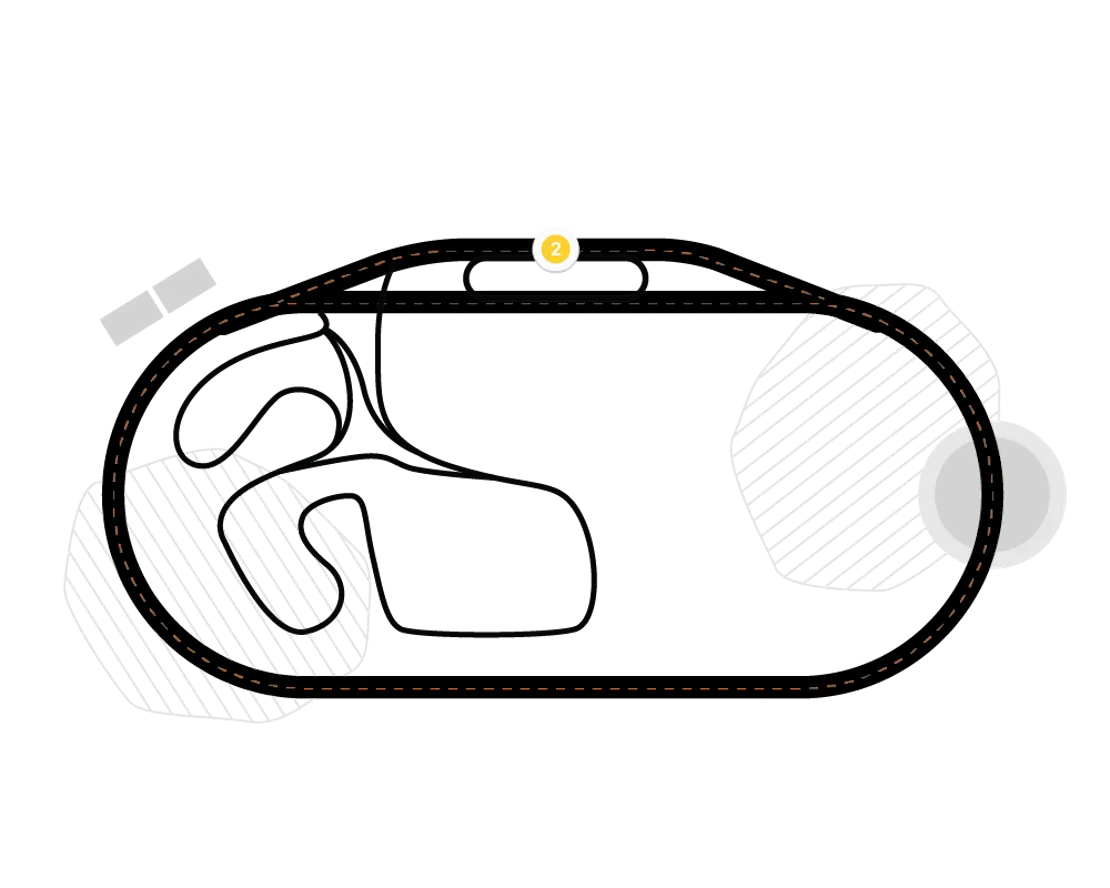 Fast Facts:
Location: Concord, North Carolina
Built in: 1960
Owned by: Speedway Motorsports Inc.
Track Type: Quad Oval (asphalt), Road course and oval (asphalt), ZMAX Dragway (asphalt), NASCAR Roval (asphalt), The Dirt Track (clay)
Track length: NASCAR Quad oval is 1.5 miles (2.4 km)
Turns:4, banked 24 degrees
Straightaways: banked 5 degrees
Race lap record: 0:24.490 (Tony Stewart, Team Menard, 1998, IndyCar Series)
Capacity: Ranges from 94,000 to 171,000
Major Events: Monster Energy NASCAR Cup Series, NASCAR Xfinity Series, NASCAR Gander Outdoors Truck Series, NASCAR Whelen Modified Tour, NHRA Mello Yello Drag Racing Series, World of Outlaws
Charlotte Motor Speedway History
Charlotte Motor Speedway broke ground in 1959 and held its first race, the World 600 NASCAR, on June 19, 1960. To this day the 600-mile race, now called the Coca-Cola 600, is the longest on the NASCAR schedule.
The 600 is also unique in the sense that it begins in daylight, passes through dusk, and finishes under the lights. The change in conditions, from both light to dark and from the sweltering Carolina heat to nighttime cool, is extremely challenging on drivers and their teams.
The winner of that inaugural race in 1960, whose name will forever remain in the history books, was Joe Lee Johnson.
Unfortunately, just a year and a half later the track had to file for bankruptcy. It took the emergency assembly of a team of large scale stockholders to restructure management and ownership, plus some substantial loans, to eventually resolve the financial concerns and set things back on course.
In the late 70s and early 80s, once operations had time to regain balance and show consistent profits, large scale improvements were made in several parts of the complex and added stadium seating increased attendance capacity.
In fact, in 1984 the stadium built apartment condominiums off of turn 1 and became the first sporting complex in America to have built-in housing. Expansions to the condominium complex were added in 1991.
The following year the stadium added full-scale lighting around the entire track which made it the first superspeedway to host night racing. It was the largest lighted stadium in all of NASCAR for six years before Daytona added lighting fixtures to their much larger 2.5 mile track.
Safety Regulations Born in Charlotte
Due to some unfortunate events involving crashing and fatalities among both drivers and spectators, some important and historic changes in safety regulations were set in place.
At an IndyCar Series race in 1999, three spectators died when a tire detached from a crashed vehicle and catapulted into the grandstand. In response, track owners Speedway Motorsports Inc (SMI) made it a rule that tethers must be attached from cars to wheel hubs and the catch fences heights increased by more than 6 ft across the grandstand.
In recent years the track has been forced to remove some of the lavish additions that had been put in place over the years. The main reason was to recoup losses and reduce seating capacity due to decreases in attendance. The lower viewership numbers have been felt across NASCAR as a whole and several other venues have had to make similar financial adjustments.
Record Setting Changes and Additions
Already accustomed to setting records and precedents, in 1999 the Charlotte Motor Speedway made history again when it changed its name to Lowe's Motor Speedway. In doing so, the site became the first racing complex in America to have corporate sponsorship. The deal was signed for ten years and in 2009 the company opted not to renew. Subsequently the track reverted back to its previous title.
In yet another record-setting moment, the track partnered with Panasonic in 2010 and built the world's largest high-definition video display which stretched 200 ft wide and 80 ft tall. Not to be outdone, Texas, where everything is bigger, took the lead in this category a few years later at their Texas Motor Speedway.
A Series of Tragic Events
Just one year after the 1999 tragedy that transpired at the IndyCar Series race which killed three spectators and injured 8 others, the venue suffered what many consider the worst accident in NASCAR history. The incident occurred after the NASCAR All-Star race on a pedestrian bridge that connects the track to a nearby parking lot.
107 fans were injured when an 80 ft section of the walkway collapsed and fell onto the highway below. The drop was nearly 17 ft. Several lawsuits were filed and many were settled out of court. Investigations that followed cited faulty chemical additives in the concrete filler which subsequently cause structural steel bridge cables to corrode.
In both cases a precedent was henceforth set to insure that safety for both drivers and spectators was tantamount. Not only did these tragedies lead to improvements at the Charlotte Motor Speedway but across NASCAR as a whole.