Legendary NASCAR driver Brendan Gaughan is in semi-retirement but that doesn't mean his life, or the way he drives, has gotten any slower.
The 43-year-old competed in both Cup Series and Xfinity Series races in 2019. He represented Bear Motorsports in the No.62 Chevrolet Camaro ZL1 at Monster Energy events and part-time in Xfinity races for Richard Childress Racing in their No. 3 Camaro.
In this article, we'll explore Brendan Gaughan's legendary driving career including bio, stats, career highlights and lots more.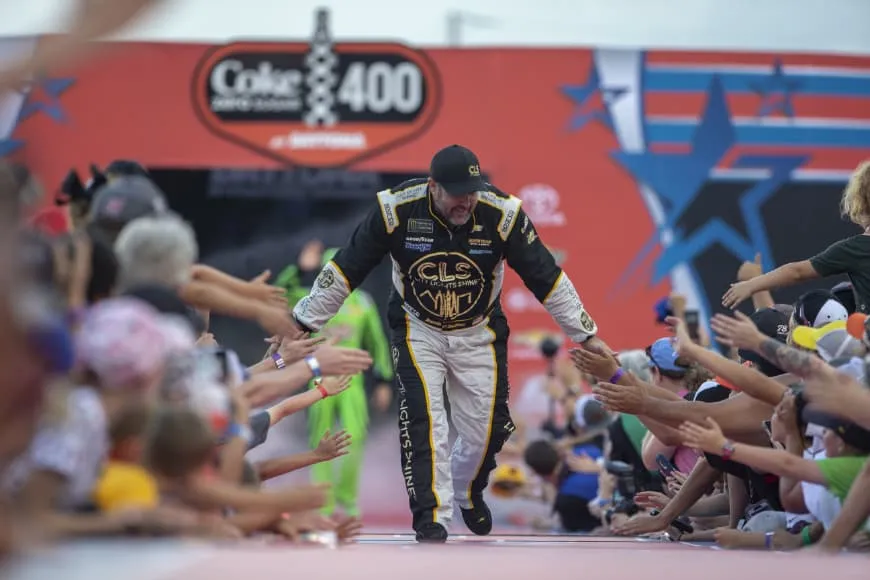 Fast Facts:
Full name: William Brendan Gaughan
Born: July 10, 1975
Hometown: Los Angeles, California
Was a collegiate basketball walk-on at Georgetown.
Placekicker on Georgetown Div I-AA football team.
Grandfather John Davis Gaughan Sr, owned multiple Las Vegas casino properties.
Father Michael Gaughan owns the South Point Casino Hotel, Casino and Spa in Las Vegas.
Biggest Results:
2000 & 2001 Winston West Series champion
2002 Craftsman Truck Series Rookie of the Year
2004 Auto Club 500 at California Speedway
2004 EA Sports 500 at Talladega
2004 Ford 400 at Homestead-Miami Speedway
2014 Gardner Denver 200 at Road America
2014 – VisitMyrtleBeach.com 300 at Kentucky Speedway
Brendan Gaughan Bio
In his early years, Brendan Gaughan honed his driving skills mainly in off-road racing and pick up truck competitions. It wasn't until the late 90s that he decided to make the switch to pavement and transitioned into racing stock car vehicles.
It turned out to be the best decision he ever made because he went on to serious success at NASCAR's highest levels.
Brendan Gaughan's NASCAR debut came in 1997 in a Las Vegas Truck Series race but the pivotal moment in his career was when he made the change to professional stock car vehicle competition in 1999 and went on to win back-to-back championships in the Winston Series West division.
That success carried forward into the 2002-2003 season when Brendan teamed up with his father to create their very own racing team. The move paid off big as he steered the team's No. 62 Orleans Dodge to six wins in 2004 alone.
NASCAR Xfinity Series and Monster Energy NASCAR Cup Series
Gaughan is still looking for his first ever Cup Series level win. To date, his best performances at the top level were four top-10 showings in 2004 and a 7th place finish at the 2017 Coca Zero 400 at Daytona Speedway.
At the Xfinity (and previously Busch) Series level, Gaughan has accomplished considerably more, statistically. In ten years of racing, he has 67 top-10 finishes including one pole position win in 2009 and two race wins that both came in 2014.
First NASCAR Win
Gaughan experienced his first top-level NASCAR win in the Truck Series when he took the checkered flag at the O'Reilly 400k in Fort Worth Texas.
His two Xfinity (then Nationwide) wins in 2014 came just three months apart and marked perhaps the most successful stretch of racing in his entire career.
Of course, if we include his early success at the K&N Series West division then there would be eight additional victories to include.
Career-Best Season
The answer to this question is pretty subjective, depending on which divisions are more important to you:
Monster Energy NASCAR Cup Series – Gaughan's 2004 season had four top-10 finishes and nearly $3 Million in earnings.
Xfinity Series – Gaughan had two wins in 2014 but in the next two seasons, he had his most ever top-10 finishes with 14 in 2015 and 16 in 2016.
Truck Series – He was a man on fire in 2003 in the Truck Series division with six wins and 18 top-10 results.