Brett Moffitt's young racing career has definitely had some ups and downs although it is safe to say that there have been more positives than negatives for the Iowa native.
Moffitt took an unusual path in NASCAR compared to most, but he seems to have paid off for him so far. After winning Rookie of the Year in the Monster Energy Cup Series in 2015, many people might have been surprised to see him only compete in seven races since then.
Much of that was circumstantial, but Moffitt has done his best to carve out a decent career for himself since earning those accolades. That success has mainly come on the Gander Outdoor Truck circuit, where Moffitt was recently crowned 2018 series champion.
Keep reading to learn more about Brett Moffitt's unique journey, along with his career achievements.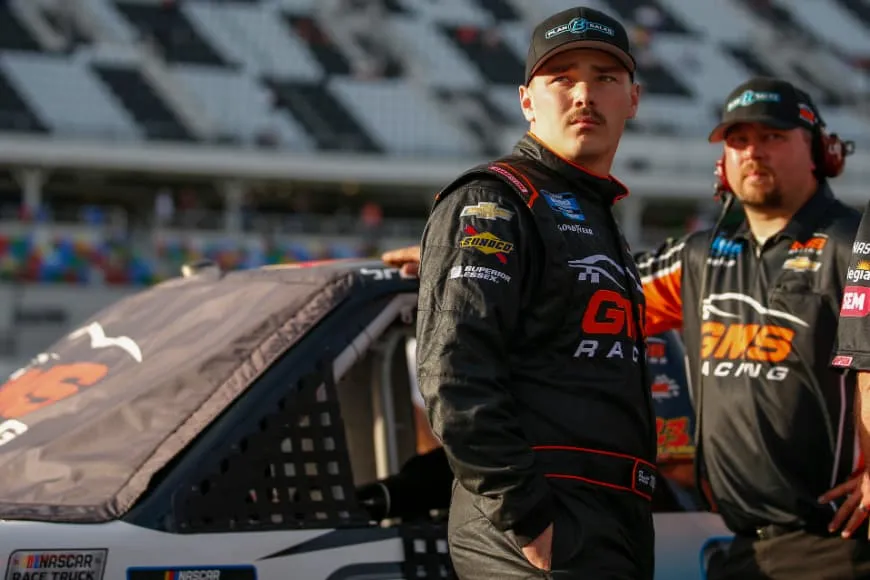 Fast Facts:
Born: August 7th, 1992
Birthplace: Grimes, Iowa
Parents: Dick Moffitt & Betty Moffitt
Sister: Alle Moffitt
Height: 5'9"
Weight: 177 pounds
Career Highlights:
Multiple karting wins in Iowa, Missouri, and Oklahoma
2008 American Speed Association late model series Rookie of the Year
Was the previous record-holder for youngest NASCAR K&N driver to win a race
Xfinity debut in 2012 at Iowa (finished 9th)
Cup Series series debut in 2014 at Dover International Speedway
2015 Cup Series Series Rookie of the Year
2018 Gander Outdoors Truck Series Champion
Brett Moffitt Bio
It didn't take long for Brett Moffitt to show off his racing prowess outside of his hometown of Grimes, Iowa. The youngster got his start go-karting, where he raked in multiple wins in not just his home state of Iowa, but in Missouri and Oklahoma as well.
Moffitt continued to race go-karts and dirt bikes until he was 16 years old and then moved up to larger vehicles. He raced in the American Speed Association's late model series events in 2008 and was eventually named Rookie of the Year for his efforts.
From 2009-2013, Moffitt competed in K&N Pro Series East races and had great results. Moffitt scored a top-3 finish in each of his five series there. All in all, he had 10 wins and 45 top-ten finishes in 62 career K&N races.
Moffitt Makes an Early Impact
While Moffitt might only have two Xfinity Series races under his belt during his career, he made one of them count as a 19-year-old. During his first Xfinity race at his home track in Iowa, Moffitt raced to a 9th-place finish.
He had a similarly hot start to his Cup Series career as well. After competing in a few races during the 2014 season, Moffitt announced that he would be in the running for Rookie of the Year during his first full season in 2015. He started out hot with his first top-ten finish on the circuit in Atlanta. Even though it was his only top-ten finish of the season, Moffitt still did enough to take home Rookie of the Year honors.
You would think that would be enough to keep him on the circuit, but in a sport like NASCAR that's dominated by deep pockets, Moffitt found himself out of a gig by the 2015 season.
Moffitt Takes A Different Path
You know what they say. Sometimes, you have to forge your own path. That's exactly what Moffitt did after being dropped by Front Row Motorsports following his Rookie of the Year season.
While most drivers would take that news and move to Xfinity, Moffitt actually moved to the Gander Outdoor Trucks Series instead.
After some solid part-time performances in 2016 and 2017, Moffitt had his best season to date in 2018. He jumped up the leaderboards with an improbable six wins and 13 top-five finishes in 23 races while driving for Hattori Racing Enterprises. However, his strong performance couldn't stop him from being dropped once again by a floundering organization that was bleeding money.
After that stellar season, Moffitt wasn't going to go unsigned for long. He was quickly swooped up by GMS Racing, which had to drop a good driver in Johnny Sauter in order to snag Moffitt. In 2019 Moffitt is expected to continue posting huge results in the Gander Outdoor Truck Series.