Canadian DJ Kennington is a 41-year-old professional stock car driver who's spent most of his career dominating races at the NASCAR Pinty Series level which is NASCAR's Canadian racing series.
With over 21 years of experience, DJ Kennington is a true journeyman of the sport.
Kennington also made a name for himself at NASCAR's top level when in 2017 he became the first Canadian in 29 years to qualify for the Daytona 500. For the cherry on top, he qualified and raced again in 2018. He's just the 8th Canadian to ever compete in Daytona's 58 race history.
Kennington, who grew up in Ontario racing go-karts on a strip of asphalt his father helped transform into the St. Thomas Dragway in 1962, is one of Canada's most decorated drivers.
To think, he has accomplished all of that in racing while still working part-time for the local roads department. In fact, upon returning from his first Daytona 500 appearance, his colleagues at work got him a plaque that reads "Fastest snowplow driver in Ontario."
Let's take a closer look at his racing accomplishments.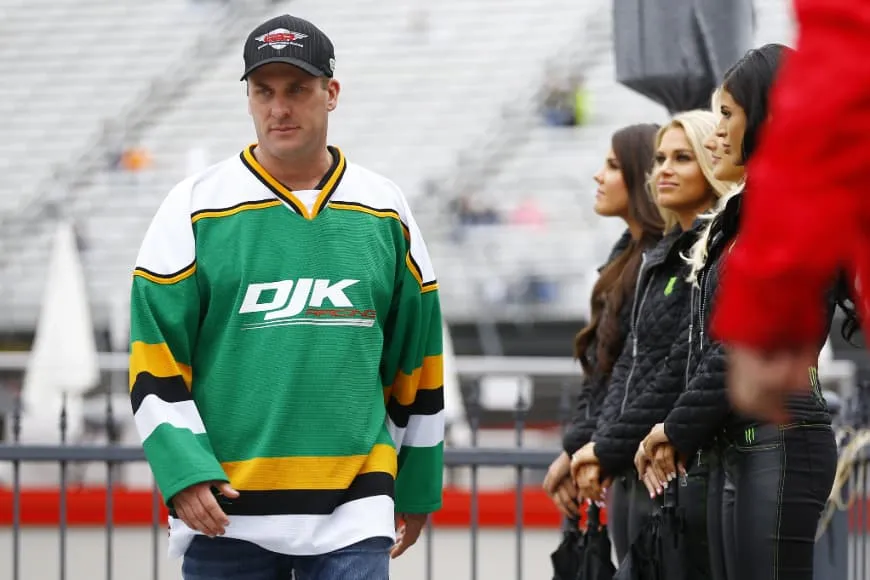 Fast Facts:
Full name: Douglas James Kennington
Born: July 15, 1977
Hometown: St. Thomas, Ontario
Father Doug Kennington was a famous NASCAR driver and is the founder of St. Thomas Raceway Park in Ontario.
Married to Jaime Kennington and they have a son named Chase.
Has not missed a Pinty's Series race in over twelve years.
Biggest Results:
20-time Pinty's Series race winner
7-time CASCAR Super Series race winner
1999 – CarQuest 200 at New Brunswick International Speedway
2005 – Mopar 300 at Race City Speedway
2005 – Sun Valley 300 at Sun Valley Speedway
2008 – NASCAR Canadian Tire Series Most Popular Driver
2010 & 2012 NASCAR Canadian Tire Series champion
DJ Kennington Bio
In terms of Canadian stock car racing, DJ Kennington is a legend and guaranteed future inductee into the Canadian Motorsport Hall of Fame. Kennington will go down in history not just as a prolific driver and athlete but also as an ironman of the sport who barely ever missed an event.
There are famous stories about how Kennington made his debut race the day after his 16th birthday, and when he skipped his collegiate senior prom in order to race at the Delaware Speedway in London. Ontario. A race he won.
After all these years he's still as committed and crafty as he was as a kid on his father's modified Speedway in St. Thomas.
NASCAR Xfinity Series and Monster Energy NASCAR Cup Series
Kennington has competed in 15 Cup Series races with his debut coming in 2016. His most proud Cup Series memories are of his 2017 and 2018 Daytona 500 appearances.
At the Xfinity Series level he has 50 races with the first coming in 2006. His best showing was the 11th place finish in 2010 in the NAPA Auto Parts 200 in Montreal.
First NASCAR Win
Kennington's only wins have been in Canadian Pinty's Series events but he has many of them (20). The first ever taste of sweet victory came in the 2007 Mopar 300 at Barrie Speedway in Ontario.
It should be mentioned that he does have 7 CASCAR Super Series race wins as well as two CASCAR West Series victories in 2005 and one CASCAR East Series victory in 1999.
Career-Best Season
2012 was DJ Kennington's best season by miles. He had 11 top-5 finishes in Pinty's Series competition and seven of those eleven were wins. He also earned one pole position that season.