From the moment he was born, Gray Gaulding loved to race. It just took him awhile to realize that he loved racing in NASCAR.
Growing up, Gaulding's passion was dirt biking which he started at the incredibly young age of three.
Years later he started racing cars and had immediate success, winning four of the five races he competed in during the 2008 season. At that point Gaulding was just 10 years old and people were already speculating about a career behind the wheel.
In 2013 at the age of 15 Gaulding made his NASCAR debut at the K&N Pro Series. It earned Gaulding the honor of being the youngest driver to start in the series and helped him realize his lifelong dream of becoming a professional racer.
Now, at the age of 20, Gaulding has competed in two Monster Energy NASCAR Cup Series seasons, which included his first Daytona 500 in 2018.
In this article we'll look at the story of Gray Gaulding, a talented young driver, including his history, bio, stats, career highlights and lots more.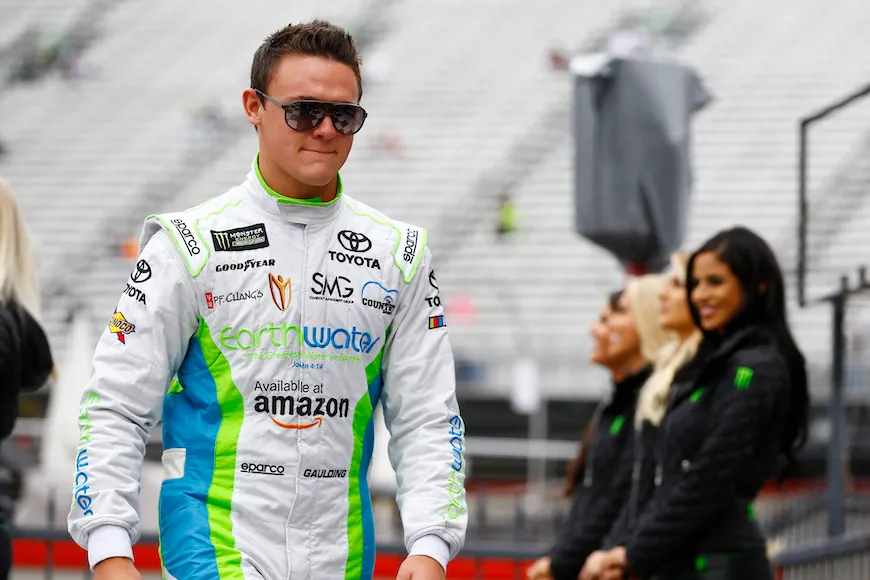 Fast Facts:
Born: February 10, 1998
Hometown: Colonial Heights, Virginia
Height: 5'6"
First started racing on dirt bike circuit.
The youngest winner ever in a NASCAR sanctioned series at 15.
Ran his 50th cup race at his hometown track in Richmond, Virginia.
Youngest entrant into the the 2018 Daytona 500.
Finished third overall in NASCAR K&N Pro Series East in 2014.
Father Wayne Gaulding worked in NASCAR while he was growing up.
Youngest pole sitter in NASCAR history (15 years, 2 months, 15 days).
Biggest Results:
2013 Casino Arizona 50 at Phoenix International Raceway
2013 Talking Stick Resort 60 at Phoenix International Raceway
2014 Chevrolet Silverado 250 at Canadian Tire Motorsport Park
2014 Canadian Tire Motorsport Park
2014 Casino Arizona 100 at Phoenix International Raceway
2017 Alabama 500 at Talladega
Gray Gaulding Bio
Gray Gaulding has made a habit of breaking records. Gaulding currently owns seven different records for being the youngest competitor, pole sitter, or winner of a competitive racing event.
Gaulding has been part of 12 different teams since 2013, racing for BK Racing at the 2018 Daytona 500 and racing for NXT Motorsports in the NASCAR Xfinity series. Gaulding has racing in his blood. His father Dwayne Gaulding was the Vice President at NTS Motorsports, the team Gray raced for in 2014.
This past year, Gaulding competed in his 50th career race at his hometown track in Richmond, Virgina, despite being just 20 years of age.
NASCAR Xfinity Series and Monster Energy NASCAR Cup Series
NASCAR Xfinity Series: In his career, Gaulding has competed in eight Xfinity Series races, never registering a top 10 finish and never winning a pole. His best finish has been 13th (twice), both of which took place in 2016. In 2018, he only competed in one race and finished 38th.
Monster Energy NASCAR Cup Series: In his career, Gaulding has competed in 47 Monster Energy NASCAR Cup Series races, across two seasons. He has one career top 10 finish (9th place) and finished in 34th place overall in 2017 and 36th place overall in 2018.
First NASCAR Win
Gaulding's first NASCAR win came at the Phoenix International Raceway during the 2013 Pro Series West.
Career-Best Season
Gaulding's best season was in 2014 when he finished in third place in the NASCAR K&N Pro Series East.
This was an interesting year for Gaulding, as he had a career best overall finish, yet did not win a single race the entire year. He had four top five finishes, with his best result taking place at Bristol Motor Speedway, where he placed second.
His career best Monster Energy NASCAR Cup Series season had him finish 34th in the overall standings during the 2017 season.