Like many great NASCAR drivers, Iowa native Landon Cassill was racing shortly after he learned to walk.
Cassill was racing quads by the time he was just three years old, and by 10 he was competing in go-kart racing circuits. He was winning state championships for go-karting at 12 years old, and by 16 he was winning state championships.
Racing was from his blood from the very beginning and it eventually propelled him all the way to NASCAR competition in 2011. Over his eight years in one of the world's top racing leagues, Cassill has enjoyed moderate success driving for a number of different teams.
Keep reading for more information on Landon Cassill including career highlights, stats and a detailed biography.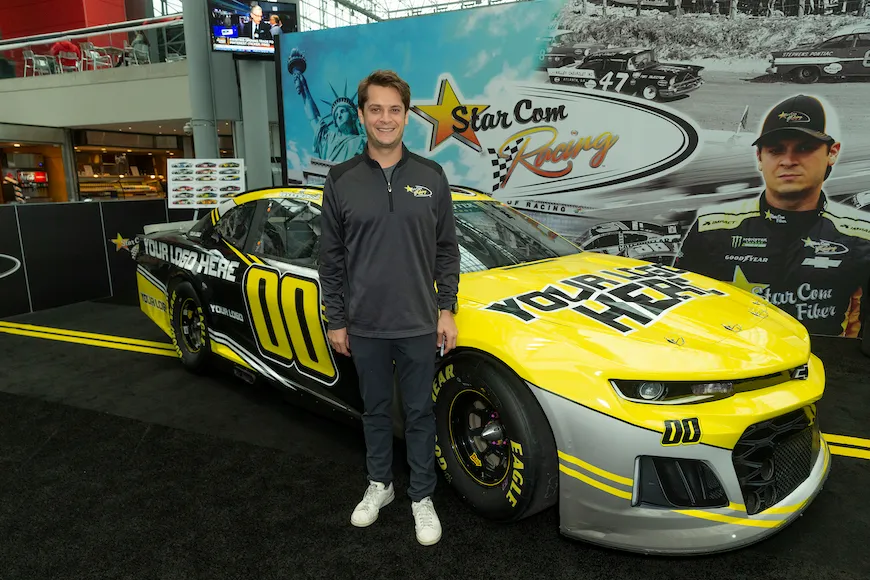 Fast Facts:
Full name: Landon Cassill
Hometown: Cedar Rapids, Iowa
Date of birth: July 7th, 1989
Height: 5'7"
Weight: 155 pounds
Married to: Katie Linsted (married in 2012)
Career Earnings: $20,535,474 (Monster Cup & Xfinity)
Biggest Results:
2011 XFINITY NASCAR Nationwide Series at Daytona, 3rd place
2011 NASCAR Sprint Cup Series Michigan: 12th place
2011 Talladega (October: 16th place (started 38th)
2012: NASCAR Sprint Cup Series Showdown: 9th place (first Monster Cup top-ten finish)
2014: Talladega (May) 11th place (started 41st)
2014: Talladega (October): 4th place (started 29th)
2016: Sprint Showdown: 8th place
Four International Kart Federation (IKF) championships
ASA Late Model Series (ASALMS) Champion at age 16 in 2006. Youngest in league history until 2010.
Landon Cassill Bio
It's fair to wonder what came first: Landon Cassill wrapping up toilet training, or Cassill hopping on a quad for the first time.
In his early days, Cassill was already operating motor vehicles in his hometown of Cedar Rapids, Iowa. Like many young drivers beginning to perfect their craft, Cassill moved on to go-karts and was soon hearing his name called to the podium.
Cassill placed second during the Pro Kart Tour in Atlanta at the age of ten. By the next year, Cassill was cleaning up with two Kart Series National Championships and three International Kart Federation titles, He also won three state championships for go-karting in Iowa before moving onto bigger and better things.
Cassill also made history in the ASALMS circuit, winning a championship at the age of 16 in 2006. He was the youngest to do so until Erik Jones beat that mark in 2010, winning at the age of 14. Cassill was also the first driver to win both the Northern and Southern Divisions in the ASALMS circuit.
Early NASCAR Days
Cassill made his mark early in NASCAR, joining the Nationwide circuit back in 2007. He competed in 32 of 36 races in 2008, where he was awarded Rookie of the Year honors after five top-ten finishes while driving for JR Motorsport and Phoenix Racing.
By 2010, Cassill was a mainstay in the Cup Series, even if he was bouncing from team to team. His first Cup series race was a 38th place finish in Michigan, and his best Cup series finish of the season was 33rd.
Cassill started the season with a 3rd place finish in the DRIVE4COPD 400 at Daytona in the Nationwide Cup. It was his only Nationwide race that year, as he had primarily moved to the Sprint Cup Series by that time.
Landon Cassill the Real Ricky Bobby?
There always tends to be that one course that drivers love most, and usually, that love is based on results.
You might just want to start calling Landon Cassill "Ricky Bobby" instead because Talladega Superspeedway has produced his best career results on the Monster Sprint Cup circuit by far.
His success at this iconic race track started in 2011 when he finished 16th after a 38th place start. That was his highest jump from a starting position to date.
2014 also brought more success at Talladega. In May that year, Cassill jumped from 41st to 11th place. Then, in October, he had his best career finish, a 4th-place result.
To date, that is Cassill's best (and only) top-10 finish in the Sprint Cup Series, although he does have 12 top-ten finishes on the Xfinity circuit.
Cassill is about to enter his tenth season as a full-time driver in the Sprint Cup Series. While Cassill has bounced around with a number of teams, he seemed to have found a home with StarCom Racing where he drives the No. 00 Chevrolet Camaro.