There really isn't much that Martin Truex Jr. has not accomplished in NASCAR. The 38 year old's career is filled with triumphs and trophies at all levels.
Having started go-karting at a young age and growing up watching his father compete in NASCAR races, Truex Jr. knew early on that he was destined to race. By 2000, he achieved a dream of competing alongside his dad in a NASCAR K&N Series East race in New Hampshire.
The senior Truex also helped his son hone his work ethic by employing him on a clam boat helping out the family-owned seafood business.
These days he's one of the most successful NASCAR racers of all-time and one of it's most charitable as well. The Martin Truex Jr. Foundation raises millions of dollars each year for childhood and ovarian cancer research.
Let's take a quick peek at what else Martin Truex Jr. has accomplished in his legendary driving career.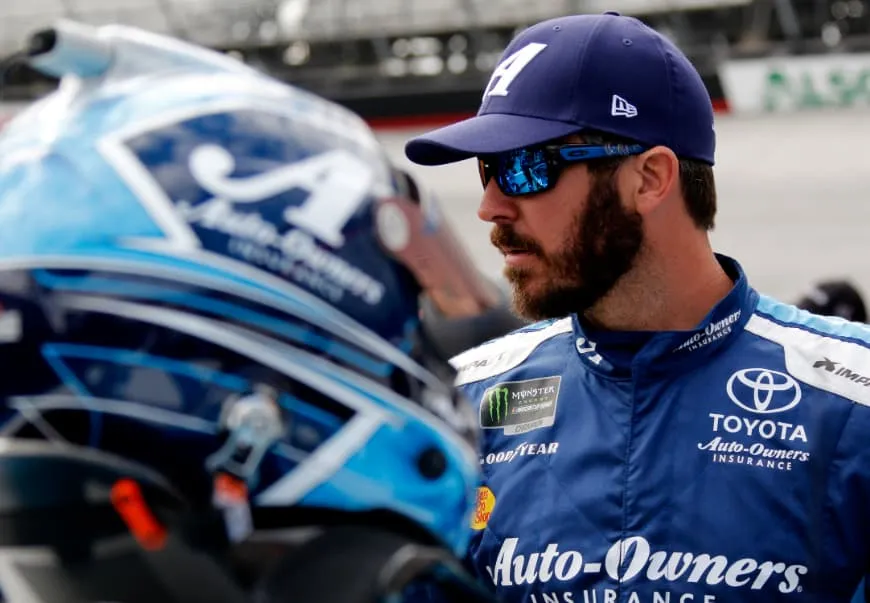 Fast Facts:
Full name: Martin Lee Truex Jr.
Born: June 29, 1980
Hometown: Mayetta, New Jersey
Height: 5'11"
His brother and father both competed in NASCAR.
Won 2018 ESPY for best driver.
Voted most popular driver in Busch Series in 2004 and 2005.
Winner of Busch Series championship in 2004 and 2005
2017 Monster Energy NASCAR Cup Series champion and regular season champion
2007 and 2010 NASCAR All-star Race Open champion
Biggest Results:
19 Cup Series victories
13 Xfinity Series victories
5 K&N Pro Series East victories
2016 Coca-Cola 600 at Charlotte Motor Speedway
2016 Southern 500 at Darlington Raceway
Martin Truex Jr. Bio
Truex Jr. was a native of Trenton, New Jersey and grew up loving all sorts of sports. As a kid he was an avid fan of the Philadelphia Flyers and Philadelphia Eagles.
Truex's competitive nature comes out in all manner of competition as his former team, Furniture Row Racing, can attest to. In fact, it's what makes him so great.
Of the 18 victories the FRR team has to its name, 17 came courtesy of Truex's driving talents and that was in just five years.
Currently Truex Jr. is signed with Joe Gibbs Racing and is slated for a full season on the Monster Energy NASCAR Cup Series circuit in 2019.
NASCAR Xfinity Series and Monster Energy NASCAR Cup Series
The numbers for Truex Jr. are truly incredible. In 15 years of Cup Series racing he's been in 477 races. In those races he has 19 victories as well as 19 pole positions.
Add to that an impressive 181 top-10 finishes and you can see why he's a threat to win every time he's on the track.
He also has 103 races in ten years of Xfinity Series competition. During that time he scored 13 wins, 10 pole positions and 61 top-10 finishes.
First NASCAR Win
His first official NASCAR race win came in the K&N Pro Series East division. It was the ThatLook.com 100 back in 2000.
Truex's first Xfinity Series win (at the time Busch Series) came in 2004 when he won the Sharpie Professional 250 at Bristol Motor Speedway.
His first Cup Series win came in 2007 when he won the Autism Speaks 400 at Dover International Speedway.
Career-Best Season
Truex Jr. has had single seasons that other drivers would consider a fantastic career.
He had back to back impressive Xfinity Series seasons in 2004 and 2005 when he won six times each year on his way to earning consecutive season championships.
Even more impressive was his 2017 Monster Energy NASCAR Cup Series season. On his way to winning the championship, he pulled down an incredible eight wins, 19 top-5, 26- top-10s and three pole positions.
To put things in perspective, Martin Truex Jr's combined earnings in the Cup Series alone are over $54 Million dollars.