Parker Kligerman hasn't had the longest NASCAR career, but he's already had some eye-popping results.
Like many young drivers, Kligerman started driving at a young age. When most kids finish up high school, they start thinking about University. Kligerman, however, was getting ready to take the wheel at Penske Racing's developmental driving program in 2008.
Shortly thereafter, Kligerman found himself racing in some of NASCAR's top leagues. He made his debut on the Xfinity Series in 2009 and then made his way to the Gander Outdoor Truck Series in 2010.
Keep reading to learn more about Parker Kligerman's racing career including his bio, stats, highlights and more.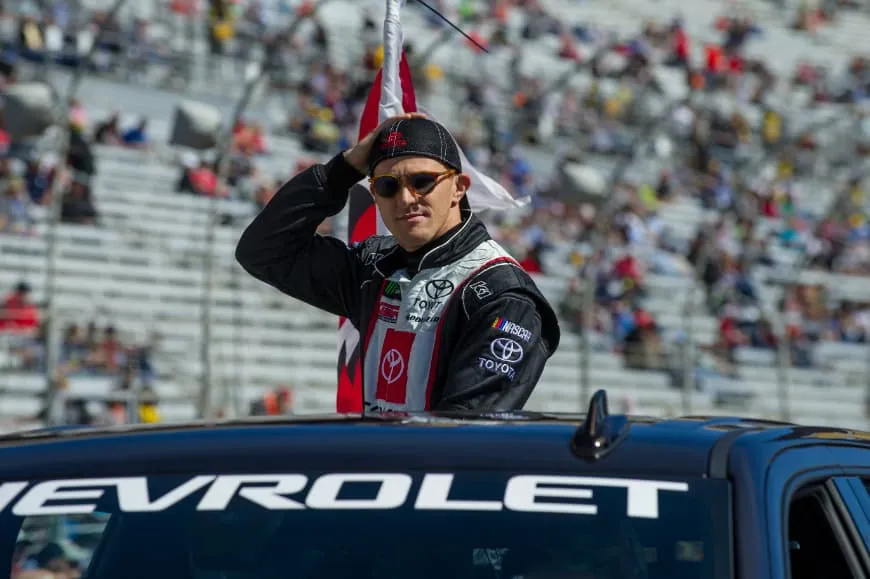 Fast Facts:
Born: August 8th, 1990
Birthplace: Stamford, Connecticut
High School: Staples High School (Westport, Connecticut)
Auto blog writer for Jalopnik and NBC Sports.
Pit reporter for NBC Sports and recurring guest for NASCAR America.
Hosted "Kickin' It with Kligerman" podcast in 2014-15.
President and Co-Founder of Focus 7 Shot, a natural energy drink.
Career Highlights:
2006 Formula TR Pro Series champion
2009 ARCA Rookie of the Year
15 top-ten finishes during 22 Gander Outdoors Truck races in 2012
Two career Gander Outdoors Truck wins (2012, 2017)
13 top-ten finishes during only full Xfinity season (2013)
Parker Kligerman Bio
Parker Kligerman was racking up wins in open-wheel racing circuits long before his focus shifted to NASCAR.
In 2006, Kligerman was named the 2006 Formula TR Pro Series champion at just 16 years old. He won 11 of 14 races that year. He was the second to last champion before the league folded in 2007.
His stellar performance on the now-defunct circuit prompted Penske Racing to enlist Kligerman in their developmental program in 2008. With Penske, Kligerman raced in the ARCA circuit and finished the season second overall in point. That performance earned him ARCA Rookie of the Year honors.
It wasn't long before Kligerman's Xfinity Series debut in 2009, but it was in 2010 where he really started to make his mark in the NASCAR world.
Great Gander Performances for Kligerman
Kligerman teased his potential in 2010 with two top-ten finishes in eight Xfinity races but shifted his focus to the Gander Outdoors Truck circuit in 2011.
That turned out to be a good decision for Kligerman, where he ended the season with eight top-ten finishes in 22 races. He had two rewarding but heartbreaking weeks during the middle of the season, where he finished 2nd overall in back-to-back races (Texas, UNOH 225).
After ranking 11th overall in the final standings in 2011, Kligerman upped the ante in 2012 with arguably his best season to date.
He won his first career NASCAR race at Talladega Superspeedway late in the season, after three more second-place finishes in 2012. By the end of the season, Kligerman was 5th overall in the final standings, with 15 top-ten finishes in 22 races.
To Xfinity and Beyond
After the 2013 season, Kligerman hasn't settled down in one league. He's competed part-time in Cup Series, Gander Outdoors Truck and Xfinity sporadically over the years. Kligerman did add one more win to his resume, in 2017 on the Gander Outdoors Truck circuit.
Kligerman Outside of Racing
Right now, Kligerman is only a part-time race car driver in a few different NASCAR leagues. However, he is involved with the sport and dabbles in a few other activities aside from driving.
Kligerman joined NBC Sports in 2014 as a NASCAR analyst, working in multiple circuits including the K&N Pro Series. That same year, he also hosted a podcast that ran for about a year, called Kickin' It With Kligerman.
He's also offered his expertise as a part-time writer with NBC Sports.
Aside from the racing realm, Kligerman also co-founded a product called Focus 7 Shot, a natural energy drink designed to improve memory and attention.