Most drivers who have made it to the top of the game to compete in the NASCAR circuit were on karts, buggies, or bikes practically by the time they could walk.
Ray Black Jr.'s path might surprise you. He didn't get into racing until the age of 14 because he loved to play speed racing video games.
Black may have been a relatively late bloomer compared to his peers, but he was certainly a quick study and became one of the best Junior All-Star racers in all of Florida. In fact, he won the overall championship by finishing in the top-5 in every race he entered.
By the age of 23, he had earned a spot in the NASCAR Camping World Truck Series and just two years later saw action in his first-ever Xfinity Series race. By September 2018 he was racing with the best in the world in the NASCAR Monster Energy Cup Series and to date has a total of four races under his belt there.
The following are some fun extra tidbits about Ray Black Jr and his career statistics so far.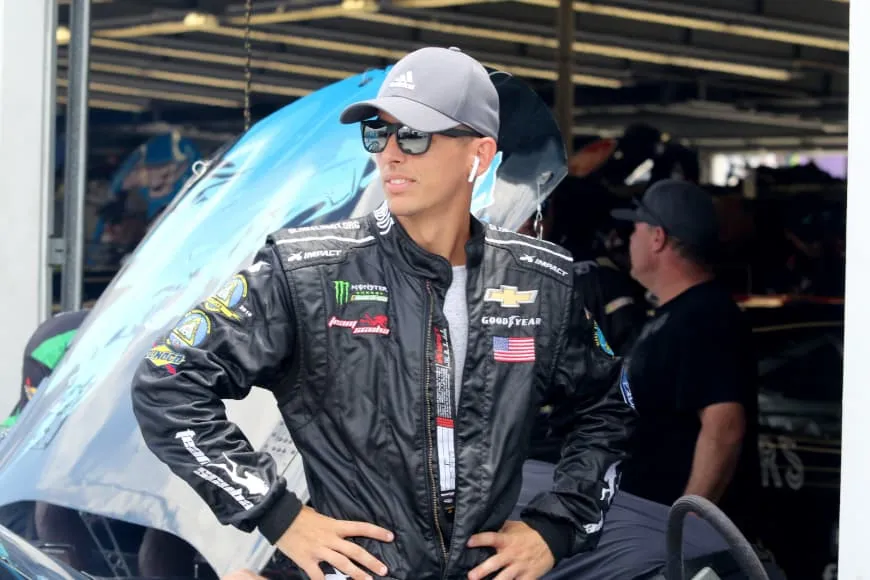 Fast Facts:
Born May 17, 1991, in Montgomery, Alabama
Only started racing at 14
Hobbies include deep-sea fishing, spearfishing, lobstering and scuba diving
2006 Florida Mini Cup Racing Association Rookie of the Year
Currently a free agent
Ray Black Jr. Biggest Results:
2018 Monster Energy Cup Series – Coke Zero Sugar 400 at Daytona
2018 Xfinity Series – DC Solar 300 at Las Vegas Motor Speedway
2017 Xfinity Series – Coca-Cola Firecracker 250 at Daytona
2016 Xfinity Series – Food City 300 at Bristol Motor Speedway
2016 Xfinity Series – Road America 180 at Road America
Ray Black Jr. Bio
Although he hasn't had a typical path to the top of the NASCAR world, Black has never been someone to count out of a race. The fierce competitive drive that allowed him to make such an immediate impact as a teenager is certain to help him cut his teeth in the upper echelon of the sport too.
Black made swift moves through the NASCAR Camping World Truck Series posting impressive statistics as a rookie where he earned a top-15 efficiency ranking and top-10 passing ranking.
Logically he moved up to Xfinity and Monster Energy shortly after where he's had the chance to test his skills against the top dogs in the sport.
He's been through many sponsors and teams but is currently a free agent looking for representation.
With a lifelong passion for many things aquatic, it's no surprise that Ray Black Jr's teamed up with ScubaLife as a sponsor in 2015.
NASCAR Xfinity Series and Monster Energy NASCAR Cup Series
To date, Ray Black Jr. has not posted any wins or top-10 finishes in either series.
First NASCAR Win
Black's best performance so far in NASCAR was in one of his first races.
On February 20, 2015, he finished 5th in the NextEra Energy Resources 250 at Daytona Speedway. It was a promising start to his young career and put a lot of people (and sponsors) on notice.
So far Black has not recorded any outright NASCAR victories.
Career-Best Season
Black's recent 16th-place finish at the Coke Zero Sugar 400 at Daytona is probably regarded as the most important and impressive performance of his career. Having only three other Monster Energy Cup Series events under his belt, and never finishing better than 34th, this is a huge confidence booster for RBJ.
This is especially true given his 2018 sponsorship issues that have led to some big question marks and uncertainties regarding where his future is headed and who will sign him on as a teammate.