Solely in terms of Rookie of the Year Awards, William Byron is potentially the most successful driver ever.
In four consecutive seasons, moving up a level each time, Byron won Rookie of the Year honors.
First in 2015 in the K&N Pro Series East, next for Truck Series in 2016, then Xfinity Series in 2017 and then again in the Cup Series in 2018. Truly remarkable.
What's even more remarkable is that after first becoming interested in stock car racing at the age of 6, he went on to hone his skills digitally by becoming one of the most renowned and talented iRacing competitors in the world.
It wasn't until 2012 that he and his father decided it was time to take his driving skills offline to compete in real-life races.
William Byron's racing story is really interesting and in this article, we're going to break down all the most important parts including Will Byron's bio, history, career highlights and lots more.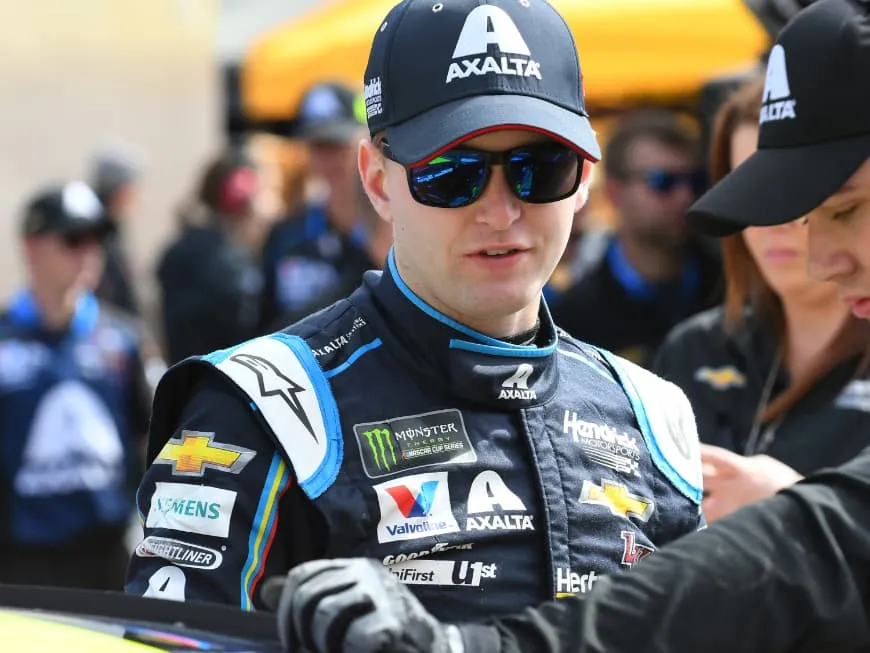 Fast Facts:
Born: November 29, 1997
Hometown: Charlotte, North Carolina
Became an Eagle Scout in 2015 (highest boy Scout ranking)
Avid fan of Charlotte Hornets and Carolina Panthers
Favorite actor: Tom Hanks
Favorite movie: Forrest Gump
Currently studying online courses at Liberty College in Virginia
Biggest Results:
2017 Xfinity Ethanol E15 250 at Iowa Speedway
2017 Xfinity Coca-Cola Firecracker 250 at Daytona
2017 Xfinity Lilly Diabetes 250 at Indianapolis Motor Speedway
2017 Xfinity Ticket Galaxy 200 at Phoenix International Raceway
William Byron Bio
2019 will be Byron's second year racing with Hendrick Motorsports in the No. 24 Chevrolet.
He's coming off an impressive rookie season at the Cup Series level where his four top-10 finishes landed him in 23rd place in the overall standings and was good enough for Sunoco Rookie of the Year honors.
In years prior he shot through the ranks with an outstanding championship run at the Xfinity level in 2017 and a rookie record-setting number of Truck Series wins in 2016 with seven.
As we told you before, he was Rookie of the Year each time.
NASCAR Xfinity Series and Monster Energy NASCAR Cup Series
Byron breezed through his first year of Xfinity racing like very few others have before him.
The incredible results and championship will go down in history as one of the best rookie campaigns ever. He had 22 top-10 finishes taking down 2 pole positions and 4 race wins along the way. It's no wonder he's now moved up to being a full-time driver at the Cup Series level.
The move to Monster Energy NASCAR Cup Series came in 2018 after Hendrick Motorsports made him their official driver of the No. 5 car, although just three weeks later he switched to the No. 24.
It was an exciting time for the young driver and he made his debut on NASCAR's grandest stage at the Daytona 500.
The season as a whole was a successful one and his 23rd overall placing earned him Rookie of the Year honors yet again.
First NASCAR Win
2016 was an incredible season for Byron at the Truck Series level. He had seven wins with his first-ever coming in the Toyota Tundra 250 in Kansas on May 6.
He experienced his first Xfinity win a year later at the American Ethanol E15 250 at Iowa Speedway.
Career-Best Season
Byron has had two stand-out seasons so far in his young career. The first was in 2016 when he had seven victories in the Gander Outdoors Truck Series setting a record for a rookie.
The momentum of that success carried over.
Driving the No. 9 Chevrolet Camaro SS, Byron then went on to take home the checkered flag four separate times in 2017 at the Xfinity Series level, earning himself the title of Series Champion and Rookie of the Year.