Mock 2023 NFL Draft - First-Round Picks
#1: Bryce Young (QB, Alabama) - Carolina Panthers (Grant)
There was speculation that C.J. Stroud could go number one to the Panthers, but the latest reports and betting odds suggest that Alabama's Bryce Young will be the man honored with the first overall pick.
Young's production cannot be argued. He threw for 8,200 yards, 79 touchdowns and 12 interceptions in his sophomore and junior seasons and finished as runner-up in the 2021 college football season. He also won the Heisman Trophy that season.
The concern for Young is his size—he is only 5-foot-10 and 204 pounds, and for context, the shortest Hall of Fame quarterback ever is 6-foot Fran Tarkenton. Aside from that, Young can make every throw on the field and has elite anticipation and great footwork.
#2: C.J. Stroud (QB, Ohio State) - Houston Texans (Tanner)
C.J. Stroud is the best overall quarterback prospect in this draft. The biggest concern with Bryce Young is his size, but this isn't a problem for the 6'3" quarterback out of Ohio State. Stroud is a better prospect coming out of school than fellow Buckeye Justin Fields.
Stroud's ability to get the ball out quickly and make good decisions are his best qualities. He can read defenses, and consistently picked apart quality opponents in the Big 10. He was a two-time Heisman Trophy Finalist, and recorded the most passing touchdowns in a two-year span in Big 10 history.
The biggest critique of Stroud is his hesitation, which can be displayed when having to fit the ball into tight windows. The quarterback has the ability to make every necessary throw in the NFL, but he needs to get out of his head for high leverage throws.
#3: Will Anderson Jr. (LB, Alabama) - Arizona Cardinals (Grant)
Kyler Murray is injured heading into the season and has underperformed but is on a quarter-of-a-billion-dollar contract and won't be replaced. J.J. Watt just retired, Budda Baker requested a trade, and DeAndre Hopkins is skipping town…
The Cardinals need an injection of energy and spirit, and that's exactly what Anderson will provide. He notched 27.5 sacks in his last two seasons at Alabama and has elite bendability and pursuit angles and can get to anyone in his path if he so chooses.
The knock against Anderson is that he struggled against longer offensive tackles, but he is likely to play in a 3-4 system that will allow him to play in space and dig into his deep bag of tricks. He will be a huge help for a team that ranked bottom 10 in sacks in 2022.
#4: Will Levis (QB, Kentucky) - Indianapolis Colts (Tanner)
Will Levis is the most intriguing quarterback prospect in this draft. Some analysts have projected him to have Josh Allen's upside, while others think he is the next Jake Locker. It's never easy to say any first round pick will be the next franchise quarterback. However, Levis has all the physical intangibles that can't be taught.
Yet, his intangibles haven't matched his on-field production. Levis had a quality junior campaign after transferring to Kentucky from Penn State, but his senior season was atrocious. In his defense, he didn't have any help on offense, and the Wildcats play in the SEC.
The physical size and arm strength will stick Levis in the top five, and he is more game-ready than Anthony Richardson. The question is, will he live up to the hype or be the next bust. It could go either way with the quarterback.
#5: Tyree Wilson (EDGE, Texas Tech) - Seattle Seahawks (Grant)
The Seahawks will not be deprived of options with the fifth overall pick. They could take a quarterback, defensive tackle, offensive lineman, or basically anyone they fancied, but an edge rusher makes a ton of sense.
Jalen Carter's reported character issues could be a sticking point for Pete Carroll, and Wilson is no slouch to beat him out for the spot. He is a talented pass-rusher and equally capable of filling holes in the running game and getting the ball carrier on the ground.
Wilson had great production at Texas Tech and, at 6-foot-6, 271 pounds, has more than enough size to be a headache for offensive coordinators. His next step to becoming a bonafide NFL star will be developing explosiveness at the initial contact on his pass rushes.
#6: Jalen Carter (DT, Georgia) - Detroit Lions (Tanner)
Jalen Carter is an All-Pro caliber player coming out of the University of Georgia. He was extremely dominant in the SEC, but there have been some questions of his work ethic. Additionally, he has tons of off the field issues, including a reckless driving case in 2022.
Any player with off-the-field issues is a massive risk for NFL teams. Yet, Carter's talent is going to give him a chance to go high in the draft. He hasn't met with any team outside the top 10, but he has stated that his reckless driving will likely cause him to slightly drop in the NFL Draft.
Carter has tremendous balance and a quick first step. It's hard to run in between the tackles because of his interior presence. The one part of his game that needs development is pass rushing. He was limited once he got in the backfield, and was unable to put together multiple moves in his pass-rush sequence.
#7: Peter Skoronski (OL, Northwestern) - Las Vegas Raiders (Grant)
The Raiders could use a long-term solution at quarterback but have a stop-gap in Jimmy Garoppolo. Their secondary is also shaky at best, and the entire offensive line could use an overhaul.
Skoronksi gives the Raiders flexibility. He protected the blind side in college but has the frame and skill to move inside if that's where the Raiders opt to place him. He doesn't have the best lateral quickness to react to extended pass rushes but is a brick wall when he keeps the defender in front of him and is especially dominant in the running game.
Josh Jacobs was one of the best backs in the league last year despite the line being average at best, and Garoppolo is frequently injured. Beefing up the line with the most talented prospect is a win-win here.
#8: Devon Witherspoon (CB, Illinois) - Detroit Lions (Tanner)
*Lions trade the 18th, 48th and 152nd pick to the Atlanta Falcons for the eighth pick*
The Lions could be a greater trade prospect for the Falcons at number eight. Atlanta isn't playing for anything this season, as they're in the middle of a rebuild. The Lions established themselves as a playoff contender last season, and are looking to make a statement. If Detroit improves on defense, they could have one of the best teams in the NFC North this year.
Devon Witherspoon fits the Detroit mold. A corner who played at Illinois, Witherspoon is an elite tackler in space. This is something the best of corners can struggle with, and it's an invaluable skill in the NFL, especially as running quarterbacks enter the equation.
Witherspoon's aggression is clear on tape, but he needs to add a little weight to his six foot frame. NFL receivers will be able to power their way through catches with Witherspoon's current build, but the first team All-American will be a day one starter in any scheme.
#9: Paris Johnson Jr. (OL, Ohio State) - Chicago Bears (Grant)
And so the run on linemen is solidified. The Bears would be wise to protect their asset, third-year quarterback Justin Fields, who was tied for the league-high in sacks taken at 55.
Johnson, a fellow Buckeye alongside Fields, is one of the more speedy and agile linemen in the draft and also has the versatility to play tackle or guard. He hasn't been the best at securing blocks but has room to improve and a 6-foot-6 frame that can't be taught.
Johnson might be a little raw, but he will be a first-year starter for a Bears team that suddenly has weapons and impact defensive players. NFC North title on the way?
#10: Bijan Robinson (RB, Texas) - Philadelphia Eagles (Tanner)
The NFL stands for NOT FOR LONG, and this is even more evident when it comes to running backs. The lifespan of a running back in the NFL isn't long. I think back to Todd Gurley, who was the league's biggest star one season, and then he was no longer a professional athlete. For this reason, franchises are starting to forget first round running backs.

However, Bijan Robinson has turned heads throughout the winter. After a great season at Texas where he won the Doak Walker Award, Robinson performed well at the combine. Robinson's downhill rushing style would be a perfect fit for the Eagles after Miles Sanders departed in free agency.
Jalen Hurts style would be a perfect fit for Robinson. It would also help Robinson's development as he makes the transition because it would lighten his rushing workload.
#11: Anthony Richardson (QB, Florida) - Tennessee Titans (Grant)
The biggest question of the first round is which team will draft Anthony Richardson. Our answer? The Tennessee Titans.
Tennessee is in football purgatory. They have a great coach in Mike Vrabel that makes them look better than they are, which isn't that great anyway. They also have a mostly unimpressive defense (with a few exceptions), their best player is a running back in a quarterback-driven league, and they can do worse than but also can't win with Ryan Tannehill.
Richardson fits the timeline of the Titans. He will be given time to develop and still win some games on the back of Vrabel's intelligent coaching and will probably get a new number-one receiver in the offseason. Malik Willis was drafted last year for this very reason but looked awful when he played and could also benefit from competition.
#12: Jaxon Smith-Njigba (WR, Ohio State) - Houston Texans (Tanner)
Jaxon Smith-Njigba is one of the shiftiest prospects in the NFL Draft class. He led all wide receivers in three-cone drill and 20-yard shuttle. This speaks to his ability to create big plays after the catch. Smith-Njigba played at Ohio State, where he owns the single-season receiving record with 1606 yards in 2021.
Smith-Njigba has great YAC ability which is the most dangerous quality in the NFL at the position. Receivers like Tyreek Hill can catch a ball one yard down the field and turn it into an explosive play because of their speed. Smith-Njigba isn't as fast as Hill, but his balance and ability to juke out defenders puts him in a similar class of receivers.
The biggest knock on Smith-Njigba has been his build. He can only play slot receiver in the NFL, but his agility is good enough to make him one of the best pass catchers in the draft.
#13: Darnell Wright (OT, Tennessee) - New York Jets (Grant)
Wright was one of the few players to seriously trouble Will Anderson Jr. and has a ton of upside. He's also a bruiser of a blocker at 6-foot-5, 333 pounds, and was the best lineman on a Tennessee offense that scored more points per game than any school.
Wright's size and power come with pros and cons. On the plus side, he can overwhelm defenders and is a wrecking ball when he gets moving downhill.
On the downside, he is offered problems by fast and bendy edge rushers that beat him off the first step.
#14: Broderick Jones (OT, Georgia) - New England Patriots (Tanner)
The New England Patriots love offensive line prospects out of the University of Georgia. Brodderick Jones is raw as he's only a RS sophomore, but he is still entering the draft. New England has been notorious for taking a chance on Georgia offensive linemen, and Jones age is a plus for the 2022 First-Team All-SEC hog.
Jones is a physical freak, running a 4.97 at 311 points. He has a great first step and natural strength where can win tough battles. Yet, his footwork and technique need work, which is to be expected based on his age.
Jones will need some coaching, but if the Patriots were willing to draft Cole Strange last season, this should be an easy selection.
#15: Christian Gonzalez (DB, Oregon) - Green Bay Packers (Grant)
Admittedly, Gonzalez fell from where he could be taken in this draft board. This is a player with top-10 potential that will change the complexion of a defense the day he steps into camp.
Gonzalez has all of the physical and mental tools a team could want: solid size, 4.3 speed, agility, and desire. All of that makes him a nightmare when pressing up on receivers.
Gonzalez's drawback is that he doesn't always have the best awareness and ability to interfere (legally) with passes. That will come with more time and film study, but the overall package is invigorating.
#16: Deonte Banks - (DB, Maryland) - Washington Commanders (Tanner)
Deonte Banks has a great chance of staying home with the Commanders. The University of Maryland defensive back, stands at 6'0" tall and 200 pounds. He is a natural fit at corner in the NFL with his size and 4.35 speed.
Banks is injury prone as he only played in two games last season. However, he was still effective in his time on the field. He is a strong tackler that explodes through ball carriers.
The physicality is a plus, but it takes away from his downfield coverage. He can get handsy in coverage instead of using his speed and leverage to make plays. This will lead to some PI penalties, but once he figures this out, he can have a successful career in the NFL.
#17: Brian Branch (DB, Alabama) - Pittsburgh Steelers (Grant)
Branch, another defensive back, could also go earlier in the draft, but he could also fall. His test scores at the combine were less than impressive (4.58 40, 14 bench reps, 34.5" vertical leap, etc.), but he was simply outstanding at Alabama.
Any backend Nick Saban product is going to come into the league with a high level of intelligence and feel for the game. At 17, it makes perfect sense that a team like the Steelers (or even the New England Patriots at 14) would take him.
Another 'Bama DB, Minkah Fitzpatrick, has thrived in Pittsburgh's system. Mike Tomlin has a knack for developing these types of players, and the Steelers could also use depth at the position behind Fitzpatrick and Damontae Kazee.
#18: Bryan Bresee - (DT, Clemson) - Atlanta Falcons (Tanner)
*Lions trade the 18th, 48th and 152nd pick to the Atlanta Falcons for the eighth pick*
The Atlanta Falcons need a lot of help, and a prospect that could help them with this trade is Bryan Bresee. He isn't ready to be an All-Pro in his first season, but very few players have this ability. Bresee is a physical freak at 6'6", 298 pounds. He ran a 4.86 at the combine, and once he gets going, he'll run sideline to sideline. Yet, there are some flaws in his game when it comes to pass rushing.
Bresee has an average first step, and his rush moves aren't the best. This will be critical for the interior defensive linemen if he wants to play on second/third and long.
#19: Anton Harrison (OT, Oklahoma) - Tampa Bay Buccaneers (Grant)
Harrison is not graded as high as other first-round linemen but could benefit from the run on the position.
The Buccaneers' Super Bowl core is slowly disintegrating, and the linemen are victim number one of that. Ali Marpet retired, Donovan Smith was released, and Alex Cappa now plays for the Cincinnati Bengals. Harrison has a nice feel for the game but average physicality and will be a work in progress.
#20: O'Cyrus Torrence - (OT, Florida) - Seattle Seahawks (Tanner)
The Seattle Seahawks have their franchise quarterback for the next few seasons in Geno Smith. Seattle's defense was atrocious, but I fully expect them to take a defensive player with their initial first round selection.
Offensive linemen are going to fly off the board in the draft, and there shouldn't be many quality selections remaining at this point. If the Seahawks don't grab O'Cyrus Torrence, they run the risk of not getting someone who can start immediately in the NFL.
Torrence performed well at Florida, and his physicality shines on tape. He must work on his technical skills in the run game as he gives up his chest, but is strong enough to recover.
#21: Quentin Johnson (WR, TCU) - Kansas City Chiefs (Grant)
*Chiefs trade the 31st and 63rd pick plus a 2024 first and 2025 second-round pick to the Los Angeles Chargers for the 21st pick and Austin Ekeler*
With all respect to Isiah Pacheco, this blockbuster trade sees the reigning Super Bowl champions get the consistent running back they've been after and add an explosive number-one receiver to take the pressure off 33-year-old Travis Kelce, and for cheap, too.
Johnson was a victim of his team's failure in the national championship against Georgia but was electric in the semifinal against Michigan and uses his 6'4 frame to consistently haul in big plays. Sounds perfect for the Kansas City system.
#22: Zay Flowers (WR, Boston College) - Baltimore Ravens (Tanner)
Zay Flowers is one of the most underrated players in the NFL Draft. He should still go in the first round, but Flowers did a lot of good things at Boston College. He caught 78 passes for 1077 yards with 12 touchdowns
Flowers has All-Pro ability in the future because of his limited flaws. He has top end speed that can beat most corners and strong YAC ability. The problem with Flowers is his catch radius, but he is going to make plays because of his athleticism to overcome his small stature.
#23: Joey Porter Jr. (DB, Penn State) - Minnesota Vikings (Grant)
Porter Jr. is a sleeping giant in this draft. Son of the elite Joey Porter, he is graded behind Devon Witherspoon and Christian Gonzalez (and in this draft, Deonte Banks) but has the potential to be a multi-time Pro-Bowler.
Porter Jr., like his father, is one of the most physical players in his position. He doesn't have the best top-end or transition speed but is a great leaper that can disrupt lobbed balls.
#24: Myles Murphy (EDGE, Clemson) - Jacksonville Jaguars (Tanner)
The Jaguars need to improve on defense. If it wasn't for the offense meshing last season, the Jaguars wouldn't have been a playoff team. Jacksonville's defense got better as the season went on, but they still lack a strong pass rush.
I believe they'll look to Myles Murphy at this point if he's still on the board. Murphy is the perfect size at 6'5" 270 pounds to rush the passer. He is a natural athlete who is quick off the ball and not tipping his gap. However, his sense of urgency isn't always at 100% and will often be caught not chasing the football.
#25: Jordan Addison (WR, USC) - New York Giants (Grant)
Addison, a former Biletnikoff winner, actually had a down year once he transferred from Pitt to USC to play with the Heisman Trophy winner, Caleb Williams. However, he was one of the most productive receivers in college football and can run nearly anything in the route tree.
The Giants need to truly evaluate Daniel Jones to figure out what their future holds. He had the sixth-best quarterback rating but only threw 15 touchdown passes in 2022 and now gets a shiny new toy to expand the playbook.
#26: Michael Mayer (TE, Notre Dame) - Dallas Cowboys (Tanner)
Michael Mayer would be the perfect fit in Dallas, as he resembles a young Jason Witten. Dak Prescott needs all the weapons he can get, and Mayer would be a perfect fit into his arsenal. The Cowboys rely on running the football to open up the passing game
Mayer can block and thrive against larger opponents in the trenches. He also has one of the softest pairs of hands in the NFL Draft. His flaw is making defenders miss down the field, but he'll get open and possess the football.
#27: Jahmyr Gibbs (RB, Alabama) - Buffalo Bills (Grant)
The Bills are a one-dimensional offense since Josh Allen is basically the entire offense. Gibbs won't be the bruiser between the tackles that could force the defense to become more compact, but he has other invaluable assets.
Another Bama product, Gibbs' 4.3 speed and ability to make cuts in the hole make him a home-run threat on every play. He also catches the ball very well and even returned kicks which helped him learn how to find gaps in the open field.
#28: Dalton Kincaid (TE, Utah) - Cincinnati Bengals (Tanner)
Dalton Kincaid hauled in 70 catches for 890 yards and eight touchdowns at Utah as a senior. He was a First-Team All Pac-12 selection, and his athleticism is clear all over the tape. He will mix it up as a blocker, but this isn't a strong suit of his game.
However, he will be a perfect fit for Joe Burrow in Cincinnati as the Bengals rely on throwing the ball. Kincaid will also turn 24 in October, which is old for a rookie. This may deter teams from the investment early in the first round.
#29: Lukas Van Ness (EDGE, Iowa) - New Orleans Saints (Grant)
Van Ness was part of an Iowa defense that gave up just over 14 points per game, the third-lowest in the nation. His 6-foot-5, 272-pound frame and long arms are great for an edge he dominates with his raw power.
Van Ness doesn't have the widest array of tricks but will get to learn from one of the game's best, Cameron Jordan, in a division that he could help the Saints win his first time asking.
#30: Calijah Kancey (DL, Pittsburgh) - Philadelphia Eagles (Tanner)
Calijah Kancey is the first unanimous All-American at Pittsburgh since Aaron Donald. He was second in the ACC in pressure rate at 18%, terrorizing quarterbacks all year. His biggest flaw is that he looks like Aaron Donald and plays the interior defensive line.
There are very few defensive linemen that can survive in between the tackles being undersized in the NFL. However, Kancey has shown his ability to win in the ACC, and he would help the Eagles already loaded defense.
#31: Adetomiwa Adebawore (DL, Northwestern) - Los Angeles Chargers (Grant)
*Chiefs trade the 31st and 63rd pick plus a 2024 first and 2025 second-round pick to the Los Angeles Chargers for the 21st pick and Austin Ekeler*
Adebawore heads to the Chargers with the final pick in the first round and as part of the huge trade between the Chargers and Chiefs.
He was inconsistent at college but had takeover games and, most importantly, ran 4.4 at the combine despite weighing over 280 pounds. The Chargers have an affinity for unique defensive players (a la Derwin James) and would be taking an appropriate risk grabbing him at 31.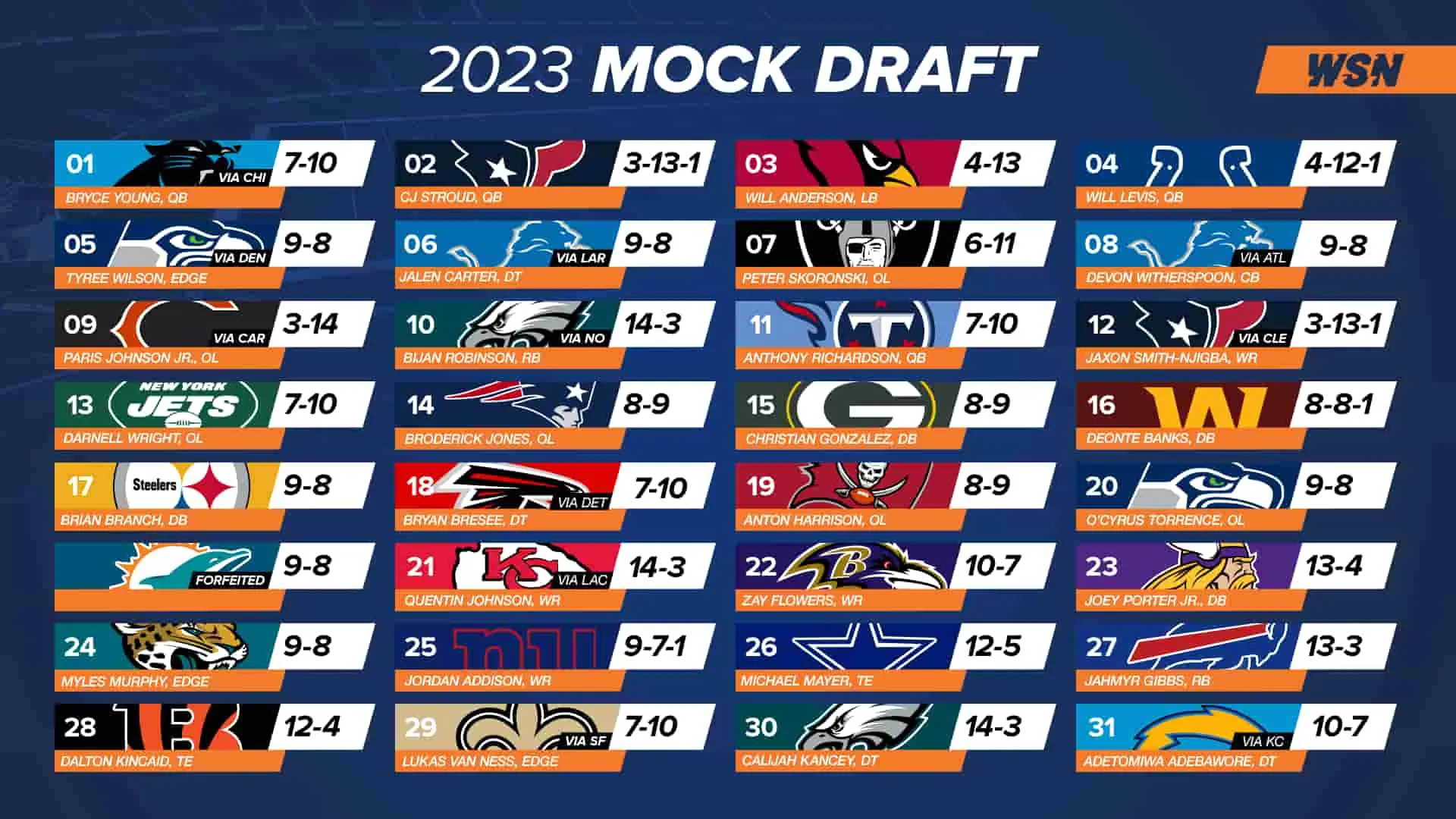 Which Teams Had the Best Mock 2023 NFL Draft?
Grant
The Eagles would have a slam dunk with Robinson at 10. Sure, running backs don't have the longest shelf life, but the position is the easiest to translate to the NFL, and they need an every-down back to fill the void left by Miles Sanders.
The Lions would have a phenomenal draft if they can pair Jalen Carter with Aidan Hutchinson on the line and add Witherspoon to the secondary and continue their youthful revolution. The Quentin Johnson and Jordan Addison pick-ups by the Chiefs and Giants would also be intelligent moves.
Tanner
The Houston Texans had the best draft with the most question marks. C.J. Stroud is the best quarterback prospect in the NFL Draft, and it will be huge for the Texans to grab him at number two. They would also take his teammate Jaxon Smith-Njigba with their second first round selection.
However, first-round quarterbacks are always questionable, so it's too early to tell if Houston picked a winner. Another team that had a great draft was the Ravens, who grabbed Zay Flowers. Flowers combined with OBJ in Baltimore will really help Lamar Jackson in the passing game, if he remains a Raven.