The Current Alaska Online Sports Betting Situation
Alaska has a reputation for taking a hard line on gambling and that includes sports wagering. Residents of America's largest state won't currently find licensed casinos or sportsbooks around their town (or any part of the state for that matter).
Alaska doesn't even run a state lottery which means its ability to offer gambling services is extremely limited. Other States that run state lottery systems have found a large influx of real money from taxes being pumped into their school system.
Right now the only land-based gambling options allow you to bet on bingo and some dogsled racing contests on Native American reservations when it's being run by a charitable organization, making it the most legal gambling option in a state full of frustrated bettors in the absences of legal Alaska sportsbooks.
The only form of legal online wagering is offered by major fantasy sports websites FanDuel and DraftKings. For more on these two DFS sites, take a look at our comparison, DraftKings vs FanDuel.
Alaska allows full real money wagering on fantasy sports since it has been designated as a game of skill and not a game of chance.
Although sports gambling doesn't have much of a toe-hold in Alaska, changes could be coming following the US Supreme Court's historic 2018 ruling to overturn the Professional and Amateur Sports Protection Act (PASPA) and give every state in the country the authority to regulate its own sports wagering industries.
It's important to understand that the SCOTUS ruling in New Jersey's court case against the NCAA has not made sports betting legal across America, rather it allows each state to make its own decisions and legislation on the matter.
Except for the expired lottery bill SB 188 and HB 246, Alaska, at this present time, has not acted in any clear direction. They've neither taken a positive or negative stance. For now, residents of the Frontier State can continue to scratch their sports gambling itch at certified online sportsbooks or in another state with different laws. We recommend you check out our comprehensive list of the best online sportsbooks and the best sports betting apps available.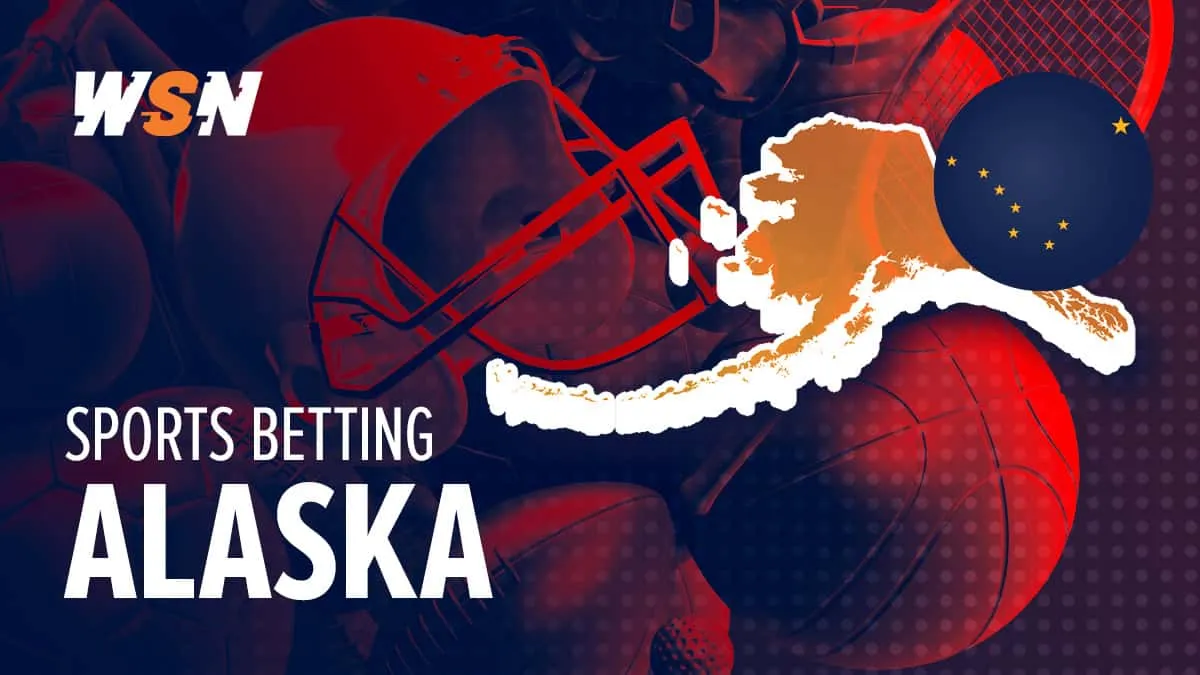 The History of Online Sports Betting in Alaska
Online sports betting in Alaska has a relatively short history but taking a look at the state's gambling laws, in general, can shed some light on its attitude towards wagering money on games of chance.
Another important thing that makes Alaska unique is that the state makes a vast majority of its revenue from the oil industry. Because Alaska already has a profitable industry that it's focused on, the additional revenue from casinos and lotteries has always been less appealing.
For this reason, the state has remained under a rather old-fashioned legal and political umbrella. In other words, the push for legal change regarding anything in the realm of gambling especially sports gambling, is a soft push at most.
But after the hit Alaskan revenue took from the pandemic, the idea of a lottery that takes in $15 million to $100 million per year could spark a new bill for consideration. Many see a state lottery as the first step towards bringing online sports gambling and gambling sites to Alaska.
There have been limited attempts to bring casino gambling to Alaska but so far they've all been unsuccessful.
In 1987 "Mafia Mike" Von Gnatensky attempted to enter the Anchorage mayoral race, running on a platform of bringing casinos and revenue to the region. He did not garner enough support to run in the general election.
In 1990 Alaska held a referendum on legalized gambling and the idea was voted down by an almost two-to-one margin.
In 1993 it looked like a tribal casino was coming to the Klawock Natives. The land was purchased, plans were drawn up and construction had just begun when the government jammed through new laws banning all casino games in the Last Frontier.
In 2008 another referendum was held and Alaskans voted once again voted no by a heavy margin.
Looking at online gambling and sports betting specifically, Alaska has actually been relatively neutral. No statute currently exists regarding online gambling one way or the other.
Which Online Sports Betting Sites Are Legal in Alaska?
Right now there are no legal online sports betting options open to people in the State of Alaska. Because of this, many people turn to off-shore casinos and sportsbooks to make bets. While this is not technically illegal for American citizens to do, that doesn't mean it's completely risk-free.
Depositing money and sharing personal information with casinos based outside of the US that are not subject to US law and regulation can be risky. If something goes wrong in your transactions or the company experiences problems or goes bankrupt you will have very few options to resolve the situation and receive your payout.
Given the changes we're seeing all over the country you're better off waiting to see if Alaska will choose to make mobile sports betting available.
Another great option for scratching that sports betting itch legally is by betting on fantasy sports. We'll go over the details of that in the next section.
Is Betting on Daily Fantasy Sports Legal in Alaska?
Fantasy sports betting is 100% legal in Alaska and most of the major fantasy sports sites offer their services to people there.
US gambling laws make a major distinction between traditional sports betting and wagering real money on fantasy sports contests.
Thanks to some very specific language that was included in the 2006 Unlawful Internet Gambling Enforcement Act, fantasy sports has been classified as a game of skill and not a game of chance. That distinction makes daily fantasy sports (DFS) exempt from all gambling laws.
Playing fantasy sports is an awesome way to get more involved in the games you love and you also have the opportunity to win real money.
Alaska Sports Betting -What Sports Can You Bet on Online?
When it comes to legal sports betting the options for Alaskans are very limited. Technically the only things people can bet on are bingo and dogsled racing and only when it's being operated for charitable purposes.
But like we said before, people in Alaska can, technically, partake in online offshore sportsbook wagering opportunities which opens the door to betting on most major sports. However, when they do so it's at one's own risk as the legality is uncertain.
Although it's technically not illegal for Americans to gamble with off-shore sites, they aren't regulated by state law so if something goes wrong you may have a difficult time resolving the matter or getting your money back.
The best advice we give people, from state to state, is to closely follow the changes stemming from the Supreme Court's May 2018 ruling which has given every state the authority to decide upon its own sports gambling rules and to govern themselves how they see fit. As more and more states make moves in the affirmative direction, the chances get better that soon you will be able to gamble with 100% safety and trust.
We have comprehensive reviews of all the best legal sportsbooks available in your state. Read them to compare betting options, bonuses and to get our take on which sports betting sites offer the best deals.
Is There No Deposit Sports Betting in Alaska?
No deposit bonuses can be an amazing way to find great value and bang for your buck. In fact, in the case of this type of promotion, you don't even have to provide your own buck! The sportsbook gives it to you completely free upon sign up. Amazing, right?
No deposit bonuses are rare but casinos and sportsbooks do offer them from time to time as promos to encourage you to sign up and place bets on your first deposit so it's worth keeping an eye out.
As the title suggests, no deposit bonuses are promotions that award free money or free bets with no deposit needed. Check out the sites we list on our comprehensive review pages to see if anyone is offering No Deposit Bonuses right now.
Remember to read the fine print of each bonus carefully as they differ and have their own rules. No Deposit bonuses generally have playthrough requirements meaning you need to wager a certain amount on subsequent winnings before you can make a withdrawal.
Also remember that usually, casinos will subtract the initial (free) deposit total from any future withdrawals should you eventually meet the playthrough requirements.
What Is the Future of Online Sports Betting in Alaska?
The answer to this question depends on the direction the state government decides to take on the issues surrounding the legalization of sports gambling in Alaska. It certainly won't be an overlooked issue as previous gambling legislation has had its own share of detailed attention in the state.
Three times in the mid-1990s, the state changed rulings on pull-tab gaming (slots), riverboat gambling licensing and increased taxation vendors offering in-house gambling.
Now that the entire world, including Alaska, is moving closer towards a post-COVID atmosphere, it seems highly likely that another lottery bill will be introduced in the Alaskan state House and Senate, which would be a powerful first step towards other legalized gambling in the state.
So while the future is unclear, one thing we know for sure regarding Alaskan online sports betting, it won't be under scrutinized, forgotten, or ignored.
Will Online Betting on Sports Ever Be Legal in Alaska?
At the moment, this is unknown. It appears as though Alaska is content to take their time on the decision of whether or not to legalize sports betting in their state. Perhaps they want to see how it plays out in other places, such as New York, first before they take any steps of their own in either direction.
Once lawmakers assess the total financial hit taken by the state during the pandemic, it's a safe bet that they will see online sports betting as a valid means of refilling their depleted coffers.
For now, the best thing people there can do is keep track of how their state and others respond to the Supreme Court's recent ruling on the federal law and plan accordingly. Be sure to bookmark this page as a place for up-to-date announcements as we track and report any significant developments.
North to the Future of Online Sports Betting
Alaska's state motto, "North to the Future", is an expression meant to represent a land of promise but as far as legalized sports gambling, no promise has yet been made. Unique to this state, compared to most others, is a vast land and access to oil.
With a strong industry already creating revenue for the state and a relatively low population, sports betting doesn't present the same financial opportunity for Alaska compared to other more populous states.
That said, if public opinion sways towards legalized sports betting, the door is open for Alaska to walk through.
If you live in Alaska we suggest betting on fantasy sports and monitoring the legal situation surrounding traditional sports betting for major developments.
Professional Sports Teams in Alaska
Alaska is a small state boasting a meager population of 731,545 residents. So if you thought that there weren't many professional sports teams in Alaska then you are right! Alaska used to boast an NHL, and NFL team, but never got the opportunity with the NBA.
However, there is talk once again of a homegrown NHL team in the Frontier State with the creation of The Krackon NHL team just to the South there is once again talk of a revival of Alaska hockey.
There is also not much in the way of horse racing in the state, but there is some limited forms of betting on dog racing in the form of dog team races.
Alaska Sports Betting FAQ
Here we strive to answer all your Alaska State sports betting questions.
Is there legal sports betting in Alaska?
No, Alaska has no legal sports betting and there is not much movement in the legislature to push for legalization.
Is there online sports betting in Alaska?
No, sports betting is not legal in Alaska, but online and mobile sports betting is the most popular form of betting in the USA where it is legal so you can expect online sports betting to be a part of any legalization package that will be considered in the future.
Is it illegal to use offshore sportsbooks in Alaska?
No, using offshore sportsbooks in states where sports betting is a risky endeavor. Not only is it not legal but you may not even receive your winnings if you do "win".