The Current Online Sports Betting Situation in Arkansas
As mentioned at the top, gamblers are currently not able to legally place a sports wager in the state of Arkansas.
However, that may soon be changing.
This November, Arkansas will have a proposal on the ballot allowing voters to decide whether or not sports betting will become legal in their state. The proposal is being put forth by an organization called Driving Arkansas Forward, and will look two accomplish two main things:
Authorize casino gaming at four establishments in the state.
Redefine approved casino gaming, so that it explicitly includes sports betting.
Even though the current Governor of Arkansas, Asa Hutchinson, opposes this effort, it's still too early to tell whether or not this initiative will pass. Since an anti-gambling statute was included in the state's original constitution, the only way sports betting can become legal is through a constitutional amendment. Needless to say, the stakes are high for this vote.
While traditional sports betting isn't allowed, people in Arkansas do have the option of betting real money on fantasy sports contests. This is similar to most US states since fantasy sports have been designated a game of skill while other forms of sports gambling are looked at by the courts as games of chance.
Most major fantasy sports sites accept players from Arkansas and it's a great way to enhance your sports experience and get in on safe, legal sports betting action.
There are also live racetracks in Arkansas that include dog and horse racing, plus electronic gaming machines like slots and video poker. There are currently no traditional casinos but there is an effort being made to change that which we'll get into in more detail in the next chapter.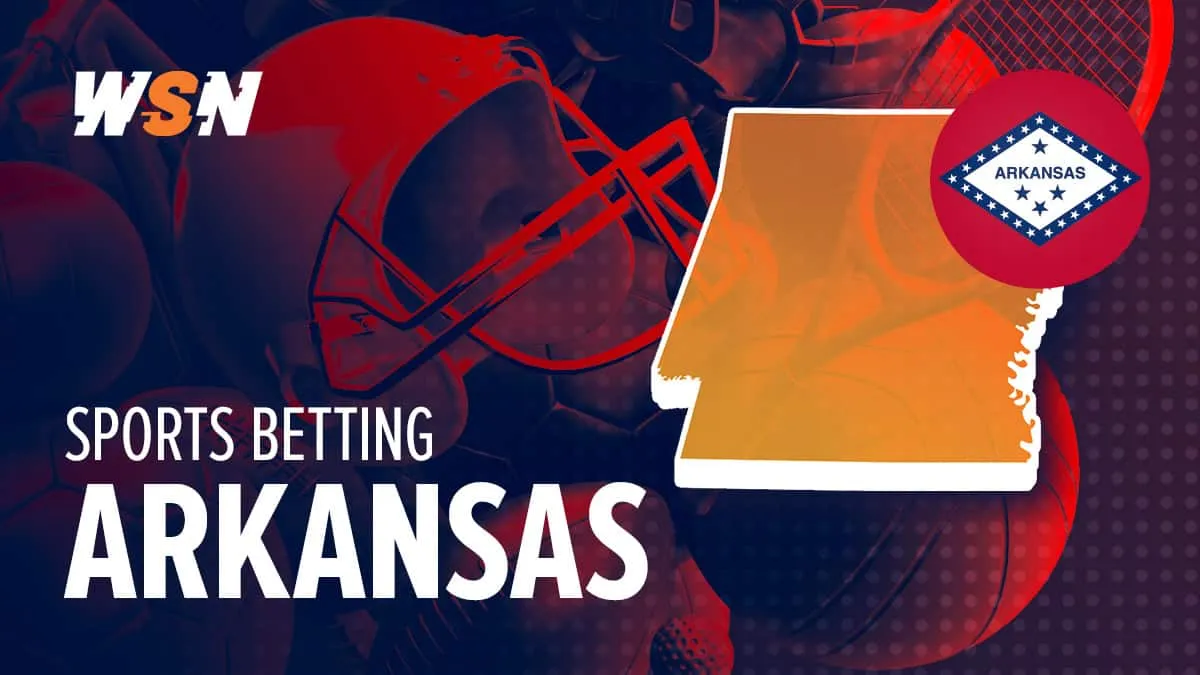 The History of Online Sports Betting in Arkansas
To date, no sports betting has ever been legal in Arkansas. To understand why that's the case you have to trace the state's gambling laws all the way back to 1874 when the Arkansas constitution was first created.
In Article 19, section 14 the constitution prohibits all lotteries from operating within the state. Unfortunately for many generations of gamblers that followed, the constitution didn't go into much detail about what it meant by "lottery".
Since the law wasn't explicit, it didn't take long for people to start exploiting its ambiguity. In the late 1890s, the first racetrack was built in Hot Springs and it was called Sportsman Park. In the next couple of decades, more tracks opened including Essex Park and the Oaklawn Jockey Club.
Interestingly, William McGuigan, the owner and founder of Sportsman Park, was so upset about Essex Park cutting into his profits that he undertook to help outlaw betting on races completely. McGuigan joined forces with Reverend W.T. Amis to create the Citizens Improvement Union.
In 1907 they succeeded in passing a bill that banned horseracing everywhere in the state, forcing his competition to shut down but also destroying his own business in the process.
It wasn't until the Great Depression that horse racing was allowed once again. The state, desperate for revenue, signed a new bill allowing pari-mutuel betting on horses in 1934. Over the next two decades, there were numerous lawsuits attempting to ban gambling once again but in 1956 the constitution was officially amended to say that horse racing would be legal in Hot Springs.
In 1957 more legislation passed that gave other counties the authority to vote on whether to open racetracks as well.
At the same time, greyhound racetracks began opening up as well, essentially catching a ride with the recently introduced horse-racing laws.
Things didn't change much until 2005 when new laws allowed racetracks to offer electronic gambling games like slots, video poker and virtual versions of other traditional casino games.
Which Online Sports Betting Sites Are Legal in Arkansas?
Right now there are no legal options for betting on sports online in Arkansas. The closest thing is fantasy sports which is allowed because it's been deemed to be a game of skill and therefore exempt from gambling restrictions.
People in Arkansas also have access to off-shore casinos and sportsbooks that accept real money bets. While it's not technically illegal to place wagers with these sites, it does come with the associated risk of dealing with an unlicensed company based in another part of the world.
If and when sports betting is legalized we will update this page with the best options for where to places bets online.
Betting on sports online is legal in other states. So while we're waiting for Arkansas to legalize sports betting we gathered the best betting bonuses for you in legal states and the top sports betting apps available for mobile.
What Sports Can You Bet on Online in Arkansas?
As mentioned before, with the current state of affairs such that gamblers are not able to find betting options directly within Arkansas, punters looking for action on any given sport will need to see what each specific site offers. Generally speaking, every online sportsbook will offer wagers across all the major North American sports as well as several international large scale sporting events.
Specific to Arkansas potential, however, there is a chance that if sports betting does become legalized in the state, it'll bring with it a whole slate of professional and amateur sports to wager on. Of course, you'll have the usual suspects — NFL, NBA, NHL, MLB, UFC, etc — but Razorback fans will be excited to know that college sports will also be on the table, giving local residents an opportunity to legally bet on their hometown team for the first time ever.
In terms of how residents of Arkansas should currently proceed with their off and online sports wagering needs, our best advice is to keep an eye on the changes happening everywhere from the Supreme Court's May 2018 ruling which repealed the federal ban on sports gambling.
Since each state now has the opportunity to decide for itself how they wish to deal with sports gambling laws, we are going to see change happening on a state by state basis rather than a broad-scale national quick change.
As these changes begin to take hold, each state's citizens will be able to gamble with complete safety and trust both online and in local casinos.
Is There No Deposit Sports Betting in Arkansas?
If you are new to online sports gambling and looking to dip your toes in the water without risking too much (or any) money of your own, you need to learn about No Deposit bonuses. No Deposit betting on your sports wagers is an excellent way to earn free value from your first bet on a site as well as learn the basics of its user-interface, what wagers they offer, and the way they post their lines.
Given that online sports betting is still not technically legal within state law, the issue of No Deposit betting is currently moot in Arkansas unless you use an offshore site. However, in the event that online sports betting becomes legal, residents of Arkansas can expect a similar approach to what other states are currently offering.
No deposit bonuses are just what they sound like: The casino gives you free money or free bets without asking you to make a deposit. They're not super common but they're worth looking out for because they offer value with absolutely zero risks.
There are a few key points to remember with No Deposit bonuses that will be specified in the terms and conditions:
Meeting playthrough requirements. On most bonuses that USA online casinos offer, the rules will state that you must match a playthrough requirement in order to withdraw any winnings from the bonus. This means that if your first free bet wins, you must wager a certain amount on subsequent bets before you can make a withdrawal.
Payouts do not include the initial bonus amount. Assuming you have read all the terms and conditions of the bonus and met all the requirements, it is important to realize that they will subtract the initial (free) deposit total from your eventual withdrawal. This makes sense considering it was free money, to begin with, and they do not want to operate at a loss in order to sustain their business.
Minimum/Maximum withdrawal limits. A site needs to protect itself from massive losses as much as possible, especially on a bonus that is offered completely for free. Most terms and conditions will stipulate an amount for the maximum and minimum possible withdrawals on a free bet offer.
Who is eligible to withdraw. This one is best to read and be aware from the start. If you are playing from outside of their permitted jurisdiction, all possible winnings will be voided.
What Is the Future of Online Sports Betting in Arkansas?
The immediate future for sports betting in Arkansas hinges on what happens in November, 2018.
In order for Arkansas to start taking steps towards making sports betting legal, a majority of voters need to vote yes and approve this new amendment to the state constitution. If they don't, we'll have to wait for the issue to resurface on another ballot before people will have another chance to vote.
If the amendment passes this year and sports betting is legalized, sports betting applications will start being accepted sometime in the middle of 2019, with gamblers being able to place legal wagers right around the same time.
This is the closest sports betting has ever come to becoming legalized in Arkansas, making the vote in November a pivotal moment in this state's history.
What This Means for Gamblers in Arkansas
For starters, if you're a resident of Arkansas and you want sports betting legalized in your state, the best way to make that a reality is to get out and vote in November.
Assuming the amendment passes, it's going to open up a whole new world of legal gambling opportunities. Whether it's going into a brick and mortar casino and throwing down money on a big game, going online and betting on your favorite team, or wagering on in-game props from your mobile phone, everything will be streamlined, efficient, and most importantly, 100% legal.
Sports betting is exploding all over the country, and online gambling sites are leading the way. With Arkansas on the precipice of jumping head first into a multi-billion dollar industry, gamblers, the state, and residents all over Arkansas have the potential to cash in huge.
Check this page regularly for major developments in the legality of sports gambling in Arkansas.