Monkey Knife Fight at a Glance
Here's a quick rundown of Monkey Knife Fight.
The site was founded in 2018 by Bill Asher, a billionaire entrepreneur with a background in adult entertainment.
MKF games are widely available in more than 30 US states, and to buy into a game you must be physically located in one of the legal states.
The games on Monkey Knife Fight are a variation of traditional prop bets on player stats, which may also incorporate DFS point-scoring.
MKF hosts games from multiple sports, both from US leagues and worldwide.
Where is Monkey Knife Fight Legal?
You can see a list of states where you can play at Monkey Knife Fight below. The list is subject to change, so don't worry if you don't see your home state – there's a good chance it will be added in the near future.
| | |
| --- | --- |
| US States | Monkey Knife Fight Legal States |
| Alabama | |
| Alaska | ✓ |
| Arizona | |
| Arkansas | ✓ |
| California | ✓ |
| Colorado | ✓ |
| Connecticut | ✓ |
| Delaware | |
| D.C | ✓ |
| Florida | ✓ |
| Georgia | ✓ |
| Hawaii | |
| Idaho | |
| Illinois | ✓ |
| Indiana | |
| Iowa | |
| Kansas | ✓ |
| Kentucky | ✓ |
| Louisiana | |
| Maine | |
| Maryland | ✓ |
| Massachusetts | ✓ |
| Michigan | ✓ |
| Minnesota | ✓ |
| Mississippi | |
| Missouri | |
| Montana | |
| Nebraska | |
| Nevada | ✓ |
| New Hampshire | ✓ |
| New Jersey | ✓ |
| New Mexico | |
| New York | |
| North Carolina | ✓ |
| North Dakota | ✓ |
| Ohio | |
| Oklahoma | ✓ |
| Oregon | ✓ |
| Pennsylvania | |
| Rhode Island | ✓ |
| South Carolina | ✓ |
| South Dakota | ✓ |
| Tennessee | |
| Texas | ✓ |
| Utah | ✓ |
| Vermont | |
| Virginia | |
| Washington | |
| West Virginia | ✓ |
| Wisconsin | ✓ |
Another contender on the DFS market is PrizePicks. Have a look at our review for PrizePicks.
How Does DFS at Monkey Knife Fight Work?
The DFS games at Money Knife Fight are influenced by both organized sports betting and casual betting among friends.
Rather than creating a full roster of players like in traditional fantasy sports, MKF allows you to buy into games that depend on individual player performances – very similar to prop betting.
Monkey Knife Fight has games that are based on specific stats (like how many points LeBron James scores in an NBA game), and games based on DFS points (like how many DFS LeBron James earns in a game).
An example would be MKF setting a line for points or rushing yards or rebounds, and you can bet on the Over or the Under. Most games involve making a combination of these selections, similar to a parlay in regular sports betting. The payouts depend on how many selections you make.
The games are generally more simple and beginner-friendly than some of the more complicated games at DraftKings and FanDuel, and they require less research time.
When comparing his site to traditional DFS, Monkey Knife Fight owner Bill Asher compared it to sitting in the bar with your buddies just before a big game. One guy says he thinks Pat Mahomes is going to throw at least three touchdown passes, the other says no way – so they make a bet.
That's how the games at MKF feel – more like straightforward predictions as opposed to careful strategy or management.
Let's take a closer look at the main game types offered.
More/Less Games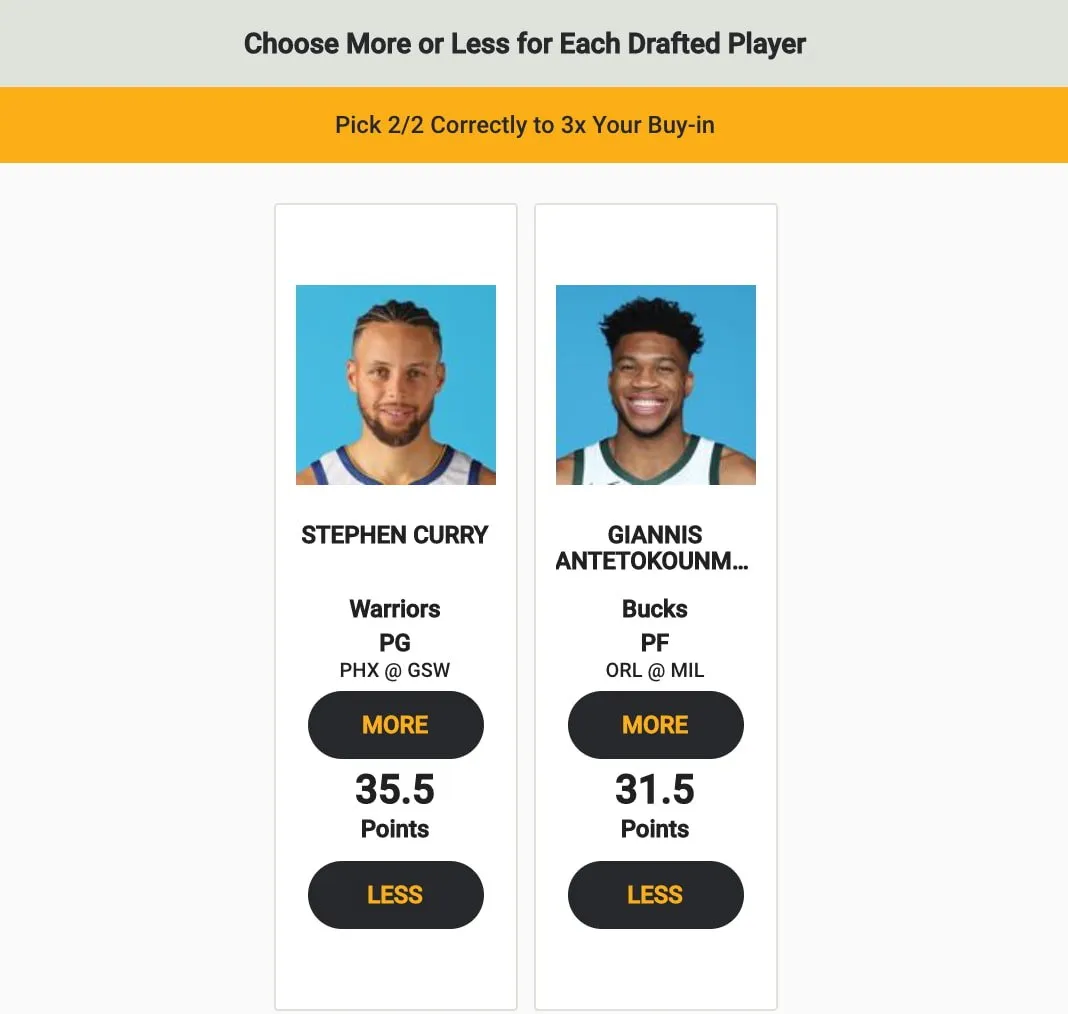 These types of games are very similar to placing Over/Under bets in a regular sportsbook, in parlay form. Monkey Knife Fight offers these games with both real stats (goals/interceptions/rebounds/home runs etc) and with fantasy points.
MKF has its own point-scoring system, which you can study for each sport. If you've played DFS before, the scoring systems should be pretty familiar.
For More/Less games, MKF projects how they think a player will perform in an upcoming event – like 28.5 points for Steph Curry in his next game. You can choose whether the player will go over or under that prediction. You need to make between 2-5 of these selections to qualify for a game, and if all your predictions are correct you win.
The payouts vary depending on your selections, and obviously the more selections you make the higher the payout. 2-leg games tend to pay between 1.5x-3x your buy-in.
You can also create More/Less games that allow one selection to fail, and you still win – albeit with a reduced payout.
Variations of these kind of games are available on lots of sports at Monkey Knife Fight.
Rapidfire
Rapidfire Games are similar, except you're betting on how players will perform against other players. For example, you might have a matchup that involves Tom Brady against Aaron Rodgers, and you have to choose who will throw the most passing yards. MKF also sometimes includes a spread, so it might look like Tom Brady v Aaron Rodgers (+20.5).
You can make multiple picks, with different players in different categories. Again, the payout structure varies depending on your selections, but this is one of the potentially highest paying games. Successfully picking 8/8 in a Rapidfire game can result in a 100x payout.
Star Shootout
These games are a little more similar to classic DFS since they involve picking a small roster of players who you think will perform well. Monkey Knife Fight will set a target (either a specific stat or in fantasy points) and you have to pick 3 players who you think will collectively reach it.
For example, MKF might set a rebound target at 30.5 and you can pick three players whose total rebounds will add up to 31 or more. MKF projects how well the players will do, so the potential payout varies depending on who you pick. You can also move the target number, which also changes the payout.
Monkey Knife Fight Software and Mobile App
Our experts were impressed with the MKF software. The site is modern and clean, with all the upcoming games laid out clearly. At the top of the screen is a menu that lets you toggle between different sports.
The main menu is on the left-hand side of the page, which has useful links to different parts of the site. There is also a Help button always visible in the bottom right-hand corner, where you can find live chat support.
Even though the games themselves are easy to understand, there is a fair bit of variation in terms of payouts depending on what selections you make. MKF does a great job of guiding you through the process, showing you the different potential payouts as you add selections.
Making your selections and buying into games is easy and intuitive.
It's a small thing, but it's nice to have real images of the players when you click into the respective games. Images contribute to the overall usability of the site, break up the text, and make the screen more attractive to look at.
Monkey Knife Fight also has a mobile app, available for download on both iOS and Android devices. As is often the case, the site does feel a little bit more crowded on the smaller screen, but it still works perfectly.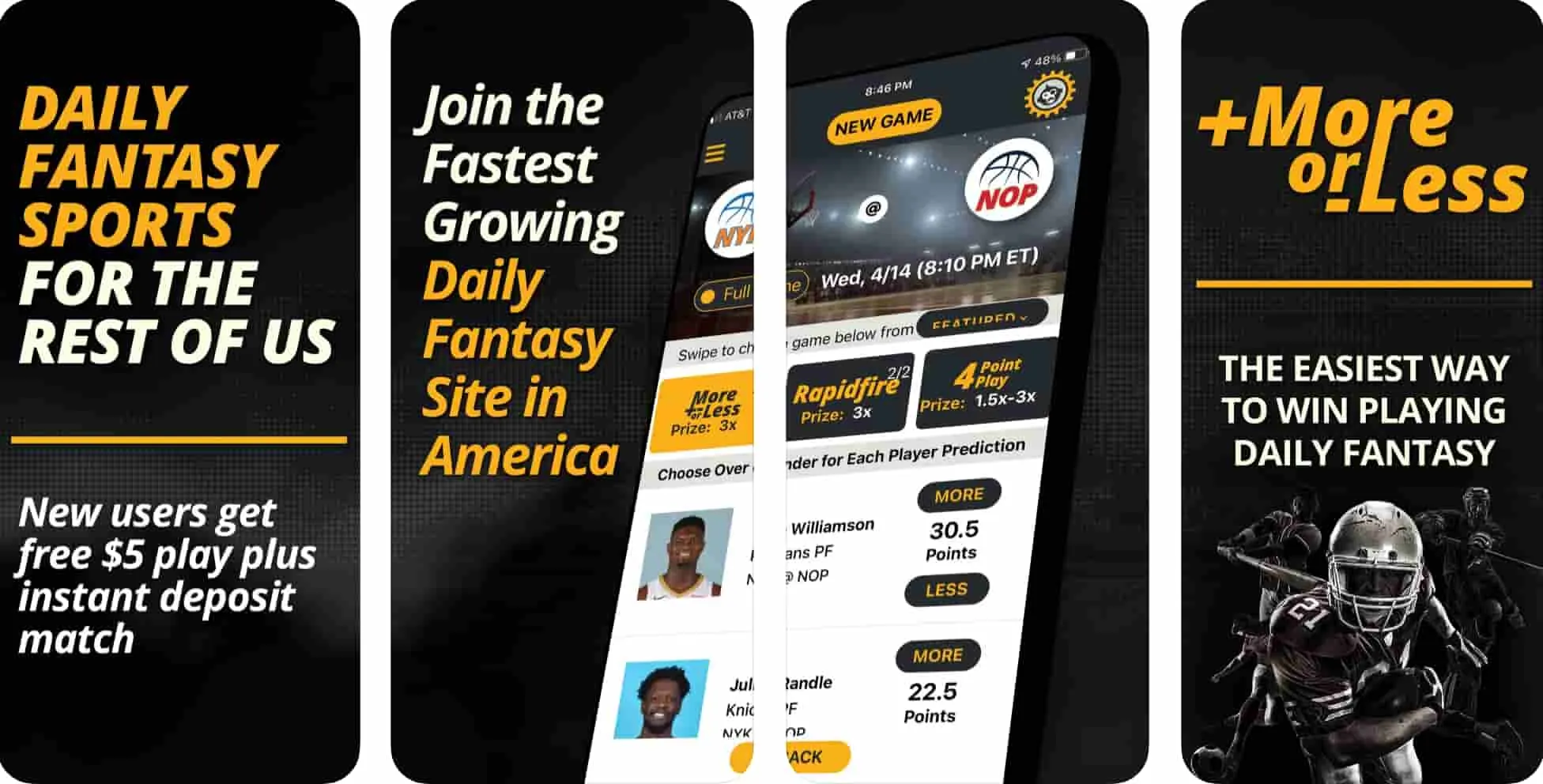 If you're out watching a game live, it's great to know you can quickly and easily buy into a game with a few swipes of your cell phone.
Software and App Highlights
Simple and modern design
Easy to make selections and test out different combinations before buying into a game
Live chat support
Beginner-friendly
Things to Improve
The app is not quite as slick as the desktop site
Monkey Knife Fight Bonuses and Deals
MKF Promo Code
Use promo code 'WSN50' for a $100 Deposit Match. Sign-up with MKF and get your welcome bonus.
Promotions and bonuses are an important part of the strategy for DFS sites to attract new players. DraftKings and FanDuel have lots of promos, both welcome packages when you sign up and on-running offers for existing players.
Monkey Knife Fight is probably not quite at the same level, but it does come with some juicy offers if you decide to sign up.
100% Deposit Bonus Worth Up to $100
MKF have opted for a classic welcome bonus offer in the form of a 100% match bonus. Whatever your first deposit, the site will double it up to a value of $100. So, depositing the maximum of $50 will give you $100 to play with.
As is always the case, the money received from a deposit bonus is not like regular cash. Instead, it's bonus money that can't be withdrawn right away and instead must be used to buy into the game.
At Monkey Knife Fight, bonus money is released incrementally at a rate of 4% of the value of every game you buy into. For example, if you buy into a $10 game, $0.40 of your bonus cash will be unlocked.
This is high, compared to industry standards.
Overall the 100% is good, but it's held back by the wagering requirements. We'd like to see them lowered.
Friend Referral
MKF has a nice referral program that benefits all parties. When you create your Monkey Knife Fight account you'll be given a unique code or link, which you can share with your friends who aren't yet members of MKF. If they sign up for a new account using your code and deposit some money, both you and them will receive $10 in bonus funds.
Many referral offers only benefit one of the parties, so it's nice of MKF to spread the love. However, those wagering requirements on bonus cash are still there.
Sports You Can Play on at Monkey Knife Fight
MKF has a good menu of sports, with plenty of different games in each. All the major US sports and events are guaranteed to have lots of action, like the World Series, Super Bowl, or Stanley Cup.
But MKF casts its net wider, with European leagues represented and even Esports.
It's also worth noting that the site is growing, and we expect to see this list of sports only get longer in the future.
Options for Deposits and Withdrawals
Monkey Knife Fight doesn't have the deepest selection of banking methods in the world, but it's working to improve in this regard. At the moment, all major credit cards and debit cards are accepted for deposits – Visa, Mastercard Discover, American Express, and more.
The company is in the process of adding PayPal transactions for deposits and withdrawals, which will be a welcome addition.
When you want to cash out some winnings, for now, you can either request an e-check or a physical check in the mail. As you would expect, a virtual e-check is faster and more convenient. You need to request at least $20 to qualify for a withdrawal.
MKF doesn't charge any processing fees for deposits or withdrawals, which we always like to see. The limits for deposits and withdrawals are very reasonable too.
You can see all the info in the table below. Don't forget that PayPal transactions should be added very soon:
| | | | | | | |
| --- | --- | --- | --- | --- | --- | --- |
| Method | Deposit | Withdrawal | Processing Time | Minimum Deposit | Max Deposit | Fees |
| Credit Card (via PayPal) | Yes | No | Instant | $10 | $1,000 | Not from Monkey Knife Fight |
| E-Check | No | Yes | 1-3 days | – | – | Not from Monkey Knife Fight |
| Paper Check | No | Yes | Variable | – | – | Not from Monkey Knife Fight |
Signup and Registration
Sign-up with MKF, here.
It's absolutely in the interests of sites like MKF to make it as easy as possible to sign up, and that's the case here. If you've ever created an account with a DFS site before the information required will be familiar.
You can also check out the MKF privacy policy to see how they store your data, which is all SSL encrypted. The information you need to provide is as follows:
Full Name
Full Address
Unique Username
Unique Password
Email Address
Date of Birth
It's also worth mentioning that before you can request a withdrawal some of your information will need to be verified. Usually, this involves sending some documentation, like a copy of your passport or SSN.
Security and Gaming Licence
Monkey Knife Fight has been around for a few years now, and nothing in our experience or our research has given us any security concerns.
The site is available in more than 30 states in the US and is fully compliant with local DFS regulations in each one. Data stored in MKF, from your personal info to your banking details, is all subject to SSL encryption.
The company utilizes segregated accounts, meaning that all money that all customer money is kept separate from MKF's own funds, and paid out accordingly.
Daily Fantasy Sports sites are very attentive to the latest tweaks in any laws that affect them, and we are confident that Monkey Knife Fight is trustworthy. If we weren't, we wouldn't recommend it.
Customer Support
In our experience, the best customer support comes in a variety of forms.
The very first thing we always look for is a live chat service, where you can talk directly with the support staff at the touch of a button. Monkey Knife Fight provides this, with the yellow Help button always visible at the bottom of the page.
If you run into any issues or just have a quick question, this is your best bet in our experience.
There is also an email support service (support@monkeyknifefight), which is useful for longer or more complicated questions and problems, and you can contact MKF on social media.
However, in an ideal world, you never have to contact the support staff. We love to see sites that have tons of information about just about everything – how to play, how points are scored, banking, how bonuses work – and MKF does pretty well here.
The FAQs on offer are comprehensive, and you should find the answers to 90% of your inquiries there.
Things Monkey Knife Fight Is Doing Right
Monkey Knife Fight is pushing DFS in new and exciting directions. In an industry that was in danger of being totally monopolized by two companies (albeit two companies that provide excellent services) MKF is a breath of fresh air.
After our Monkey Knife Fight review, our experts came back with a lot of positive things to say. Here are our favorites:
The MKF format feels like it splits the difference between sports betting and DFS. Many of the games on offer are essentially prop bets on player stats, and this is likely to be very attractive to fans of sports betting who are new to DFS. When you consider that Monkey Knife Fight is available in more than 3 times as many states as currently have legal sports betting, you can see how appealing this is.
The range of games is good without being overwhelming. There are plenty of different things to try at MKF, but they all feel very user-friendly and easy to get the hang of for beginners.
We like that some of the games focus on just stats while others utilize fantasy points. It feels like a good way to appeal to both traditional DFS players and those who are more interested in sports betting.
We have virtually no complaints about the software, which is well designed and easy to use. The app is perfect for playing on your phone, so you never need to miss an opportunity to jump in a game.
The banking process is very smooth and there are no fees for deposits or withdrawals.
Things Monkey Knife Fight Could Work On
In all our years of experience reviewing gambling and DFS sites, our experts have never come back without some pointers on what they think could be improved. Here's what Monkey Knife Fight could work on in the future:
The 100% welcome bonus is good but it's let down a lot by the wagering requirements and the incremental release structure. We understand that sites need to protect themselves, but it's not uncommon on other sites to see bonus cash like this come with a straightforward 1x or 2x turnover. We'd love to see this improved.
The banking process was good, but we'd still like to see more options added. PayPal is expected to be an option very soon, and we'd love to see more e-wallets too. Cryptocurrency options would also be great.
The range of sports represented is good, but smaller than DraftKings and FanDuel for example.
Often the games at MKF are effectively parlay bets on player props, and it's been pointed out that a lot of the time the payouts are worse than if you just created the same parlay in a sportsbook. It's something to think about if you're in a position to shop around. Of course, one of MKF's big appeals is that it's available in many states that don't have legal sports betting.
Monkey Knife Fight vs DraftKings/FanDuel
Monkey Knife Fight is going up against some pretty stiff competition in the form of DraftKings and FanDuel, so it's worth reflecting on how they stack up. The traditional big two are by far the biggest DFS sites in the US and have a huge customer base.
But MKF fight has created a niche for itself and similar sites, with some important distinctions that set it apart from DraftKings and FanDuel.
A huge difference is that in MKF you are effectively playing against the house, whereas at the traditional big two you are playing against other DFS players. The structure feels more similar to sports betting – in fact some of the games are effectively nothing more than parlayed prop bets. Having access to such bets in states where sports betting is not legal is great.
There are plenty of sharp experts on DraftKings and FanDuel, ready to take advantage of new players who don't know what they are doing. This is not the case at MKF, where the games are more straightforward and predictable.
However, some DFS players will of course prefer to play against real players, rather than the house (which has an in-built edge).
Comparison table:
DFS
Monkey Knife Fight
FanDuel US
DraftKings
Rating

⭐ 10/10

⭐ 10/10

⭐ 10/10
Bonus
100% Match Bonus
Up To $100
$150 Instant Bonus
Bonus
$1000 Deposit Bonus
Top
Features
✔ Great range of games

✔ Appeals to both DFS
and sports betting fans

✔ App runs smoothly

✔ Free play options

✔ Special contests
for newbies

✔ Lots of betting
options✔ Daily odds boost✔ Great live betting
section
States
License In
Currently licensed
in 30 states.
Currently licensed
in 14 states.
Currently licensed
in 14 states.
Payment
Methods
Visa
Mastercard
American Express
PayPal
Visa
Mastercard
Discover
PayPal
Google Pay
Apple Pay
FanDuel
prepaid card
E-check
Bank Transfer
PayNearMe
Cheque
Mastercard
Visa
Discover
DraftKings-
gift card
PayPal
Play+
VIP Preferred
e-check
Cash
Wire transfer
Support
24/7
Live Chat
Email
Live Chat
Email
Phone
Live Chat
Email
Call Back feature
Similarly, the games at DraftKings and FanDuel are generally more complex than at Monkey Knife Fight. Again, you can look at this in two ways. For sure some DFS fans love spending time on strategy and reveal the complexity. But others – especially beginners and more casual players – will love how easy the games at MKF are to understand and play.
If you're brand new to DFS, Monkey Knife Fight is a great place to start.
In some areas – like the range of banking options and bonuses for example – DraftKings and FanDuel's experience shines through. The same is true of the software. Monkey Knife Fight's site and app are both very good – simple and easy to use – but DraftKings and FanDuel feel more developed.
The Final Word on Monkey Knife Fight
Monkey Knife Fight is not only an extremely fun and easy way to play Daily Fantasy Sports, but it's also the closest thing you can get to legal sports betting without technically falling into the category.
The games are easy to play and understand and will appeal equally to casual fans, brand new users, and sports experts. MKF is up and running in more than 30 states and only likely to grow.
In terms of improvements, there are a couple of areas to work on. A revamp of the turnover structure on bonus money would be very welcome, as well as a few more banking options.
But the overall experience offered by Monkey Knife Fight is extremely strong. Our experts were happy to give it a very positive review, and we've no hesitation in recommending you try it for yourself. If you do, make sure you sign up via our links to hook you up with the latest Monkey Knife Fight promo code.