Florida Sports Betting an Ever-Changing Landscape
The lack of urgency and movement on this issue is certainly frustrating for gamblers, however, it may not stay this way forever.
The sports wagering landscape is changing across the country and while it is taking some state's a long time (some longer than others), it's widely believed that it's only a matter of time until Florida gets in on the action by the end of 2021 or start of 2022.
This page is your complete guide to everything you need to know about the past, present, and future of online sports betting in Florida. We'll explain the US Supreme Court decision on PASPA in more detail and explain how it figures into how sports gambling regulation will take shape in Florida in the years to come.
We'll also keep this page updated with significant developments that may help or hurt Florida's chances of introducing legal sports betting in the near future.
For more information on other states, read our state-by-state guides to US sports betting laws.
The Current Online Sports Betting Situation in Florida
When the US Supreme Court overturned PASPA in 2018 it opened the door for each state to make its own decisions with regards to legalizing sports gambling in their jurisdiction. Each state can decide whether to do it at all and if so, how the regulations will work.
Since each state has its own history and political/economic climate, we are likely to see change happen at a different pace depending on which part of the country you're talking about.
In some cases, the switch to legal sports gambling was already in the works and happened instantaneously. In other regions, the switch seems inevitable and is only waiting for legislation or some level of red tape to be dealt with. In other places, the legalization of sports gambling might not happen at all.
Florida falls somewhere in the middle of those groups. Given the new compact with the Seminole Tribe that was signed by Gov. Ron DeSantis in April 2021, it's obvious that the state is receptive to gambling in general. Unfortunately, there's still legal work that needs to be done before full-scale sports betting will be made available.
The current state of legal online sports betting in Florida is a bit complicated, to say the least.
Even though Florida now has the authority to legalize sports gambling, there are a few things standing in the way. Until the newly signed compact mentioned above, the biggest obstacle had been the specific agreement that the state has had with the Seminole Tribe.
Essentially, it gives the Seminole Tribe a monopoly on all casino card games (blackjack, pai gow, casino poker variations, etc). However, the agreement had become somewhat tenuous, and the new possibility of legal sports betting made the negotiations even more complicated.
As it stands right now, that new compact is awaiting federal approval. However, due to questions regarding the definition of mobile sports betting under tribal gaming law, it could still be delayed by certain legal challenges in the near future. The biggest two questions being:
Certain interest groups in the state are threatening to challenge the new gaming compact and potential launch of Florida sportsbooks on the grounds that the deal also must receive voter approval on the ballot.
Legal experts are also not in agreement about whether it is legal for tribes to facilitate mobile sports betting off-reservation lands.
Once the expected federal approval of the compact is given, these other issues must be sorted out by the various concerned parties.
That shouldn't take too long since, like many states, Florida is having a hard time ignoring the potential revenue when they see other nearby states begin to reap the rewards.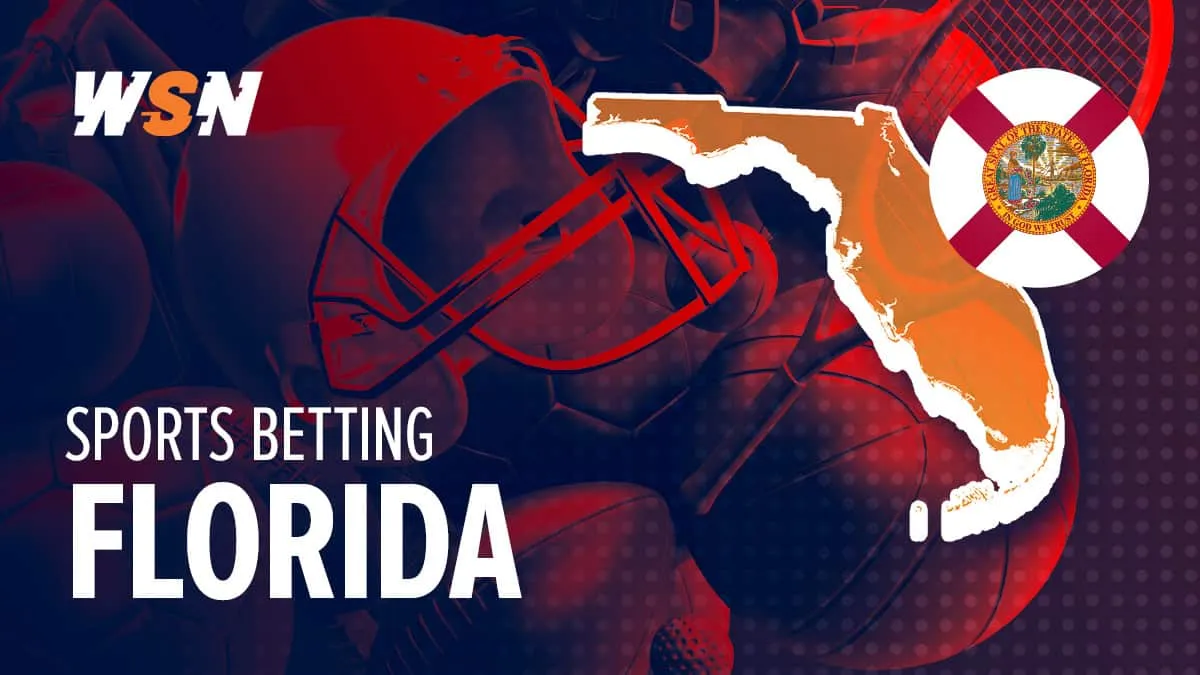 The History of Online Sports Betting in Florida
Florida is one of the states where sports gambling laws have not changed much over the last 50 years or so.
Over the decades America has been through a number of reforms when it comes to the laws governing sports betting. In the early 60s, in an effort to combat organized crime and mob-related racketeering, the US government made inter-state sports gambling illegal with the Federal Wire act.
The problem with that course of action, not unlike what happened with the prohibition of alcohol, is that it simply drove the business and flow of money further underground.
Three decades later, in 1992, the Professional and Amateur Sports Protection Act (PASPA) was introduced in an effort to protect the integrity of American sports by making gambling on games illegal anywhere outside of Nevada. Americans may not have been able to gamble on sports domestically, but it wasn't long after that the internet made it possible for offshore sportsbooks to offer their services to US players online.
Since then, the US has missed out on a massive revenue opportunity in the form of regulated sports gambling. There's clearly a huge market for it as Americans spend billions each year wagering on sports in Las Vegas and through unregulated off-shore casinos and sportsbooks.
As of this writing, sports betting has never been legal in Florida, interesting because the state has a relatively large gambling culture.
Racetracks and casinos are commonplace throughout the state, yet neither offers legalized sports gambling. The closest thing people in Florida can gamble on is horse racing and the sport of jai alai which has been popular and legal to bet on in the state since the 1960s. Greyhound racing was made illegal with the passage of Amendment 13 in 2018.
The only option sports gamblers have to place wagers on games is to use one of several offshore options, which are currently illegal.
Which Online Sports Betting Sites Are Legal in Florida?
Right now, there are no "legal" online sports betting sites in Florida. However, several offshore options exist for online sports gamblers, but nothing that would constitute as legal.
While not technically illegal, offshore sportsbooks are risky to use because they're based in far-off countries and not subject to authentic oversight or regulations. If something goes wrong with the company or your account, it's extremely hard to resolve the situation.
Our advice is to wait for legal and fully regulated options to arrive in the United States.
In the coming months, and after the fall of 2021 in particular, we highly recommend returning to this page for an update as we plan to keep readers updated on all matters regarding the legalization of sports betting across America.
Until then, have a look at the best mobile sports betting options available in other states.
What Sports Can You Bet on Online in Florida?
As of now, there are no professional sports teams you can bet on legally online, or off. However, once sports betting does become legalized in the state of Florida, it'll bring with it a whole slate of professional and amateur sports to wager on.
Florida has a massive sports culture and tons of pro teams for residents to root for. Here are some of the state's teams that will attract a lot of betting action.
Football in Florida
Florida is home to three NFL franchises with the Miami Dolphins, the Tampa Bay Buccaneers, and the Jacksonville Jaguars, which means Floridians will have lots of local NFL options to bet on when it becomes legal.
Florida residents have a lot to be proud of concerning football with the Tampa Bay Buccaneers having won the 2021 Super Bowl against the formidable Kansas City Chiefs.
The state also has a ton of NCAA teams with the biggest two being the Florida Gators and the Florida State Seminoles. Also drawing relatively large crowds for college ball are the Miami Hurricanes, the South Florida Bulls, and the UCF Knights.
Basketball in Florida
Basketball is huge in Florida and the state is represented by not one but two NBA teams: The Miami Heat and the Orlando Magic. When sports betting becomes legal in Florida you can expect a lot of action to center around these two franchises.
When it comes to NCAA basketball Florida's biggest teams are the Florida Gators and the Florida State Seminoles.
Baseball in Florida
Two Major League Baseball teams call Florida home: The Miami Marlins and the Tampa Bay Rays, both of which were founded in the 1990s. Florida is also home to MLB Spring Training each year which may also be possible to bet on in the future.
Hockey in Florida
When you hear ice hockey you may not think of Florida, but the sport is relatively popular with two NHL franchises based in the state. The Tampa Bay Lightning and the Florida Panthers which play home games at the BB&T Center in Sunrise, Florida. Sunrise is a town just west of Ft. Lauderdale and just north of Miami.
Wagering on Other Sports in Florida
Once legalization does take effect – the hope right now is that it will happen by early 2022 – people in Florida will be able to wager on all manner of pro sports, not just teams based in the state. Gator and Seminole fans will also be excited to know that college sports should be available to bet on too, giving residents an opportunity to bet on dozens of college sports games each weekend.
When the time does come that we see legalized sports gambling in the state of Florida, it would most likely start with land-based sportsbooks within a brick-and-mortar casino operated by the Seminole Tribe. Land-based betting is usually followed by online sportsbooks that offer the same betting options as live venues.
Is There No-Deposit Sports Betting in Florida?
Given that online sports betting is still illegal, the issue of no deposit betting is currently moot. However, once online sports betting does become legal, residents of Florida can expect a similar approach to what other states are currently offering.
In states like New York and Mississippi, bettors are usually required to make a deposit upon registration in order to make real money bets. That said, no-deposit promotions are popular and when you find one, take it. Always remember, though, that any type of promotion regarding no-deposit wagering usually comes with a few strings attached.
Depositing rules vary from each online sportsbook you choose to use, so make sure to pay close attention to playthrough requirements, withdrawal restrictions, and any other fine print that comes with the offer.
What Is the Future of Online Sports Betting in Florida?
The most immediate key date will almost certainly come sometime in mid-to-late 2021 when the new compact that was signed in April 2021 between the state senate and the Seminole Tribe finally receives federal approval, which is expected. The tribal interests needed tobe approached because they have long had betting-related exceptions especially when it came to casino gambling and casino games (such as craps and roulette) at tribal casinos.
Then it will be up to those brokering this deal to come to terms with those certain interest groups in the state who feel that this deal also must receive voter approval on the ballot. It will also have to be determined whether it is legal for tribes to facilitate mobile sports betting off-reservation lands.
Once those lawsuits are settled, though, expect the Hard Rock Sportsbook to be a key player in all the new sports gambling action. There are currently six large casinos run by the Seminole Tribe in Florida where bets could be placed. There are also pari-mutuel racing facilities such as Gulfstream Park Racetrack and Tampa Bay Downs Racecourse that would love to take sports wagers, but they would have to partner up with the Seminole Tribe according to the newly signed compact.
With more and more states opting for legalization, it's probably a matter of when not if sports betting will become legal in Florida. While the Sunshine State may be moving at a slower pace than its neighbors, the current prediction for legalization is expected to take place by sometime in 2022.
What This Means For Sports Gamblers in Florida
In a nutshell, have patience.
Simply put, there's far too much money up for grabs for Florida to stall legalized sports betting forever, especially as more and more states move in that direction. While there are unique complications facing Florida, nothing motivates politicians more than potential revenue.
Add to that the fact that people in Florida love sports and already love to gamble and you've got the recipe for a thriving sports betting market.
Until then, patience is required from sports gamblers all over the state. If you're looking for updates on the situation, check back regularly as we'll update this post as new information comes in.
We recommend checking back here at the end of 2021 and the beginning of 2022 when most of the Florida gambling dust should settle and online sports wagers should be available to its gambling citizens.
Florida Sports Betting FAQ
When it comes to sports betting in Florida you probably have a lot of questions, below we have tried to answer many of the main concerns Florida residents may have.