Despite an absolutely massive sports culture, sports betting is not legal in Texas.
Historically, the Lone Star State has maintained a firm stance against gambling in almost all forms and although there are signs of a change, Texans shouldn't hold their breath waiting for legal sports betting to arrive anytime soon.
However, there are a couple of exceptions. While standard sports betting is not allowed, sites providing daily fantasy sports, such as DraftKings and FanDuel are permitted to operate in the state.
Early in 2019, a state lawmaker filed a new Texas sports betting bill to allow in-person and mobile sports betting and while it looks awesome on paper, it faces a few big challenges. More on that in the next section.
In this guide we'll take a deep dive into Texas sports gambling laws to answer:
When will you be able to bet on sports legally in Texas?
What is the new Texas sports betting bill H 1275 all about?
How will people in Texas be able to bet on sports if it becomes legal?
We'll also delve into the questions of whether it's legal to bet on daily fantasy sports (DFS) in Texas and how the state's enormous professional and college sports culture will play into the legal sports betting industry we may one day see develop in the Lone Star State.
Texas Sports Betting Bill Filed Feb 1, 2019 (H 1275)
On February 1, 2019, Rep. Eddie Lucio III filed H 1275, the first sports betting bill in Texas since the US Supreme Court overturned the decades-old federal ban on sports betting known as PASPA.
We'll lay out the bill's most important points in a second but first, let's go over the main reasons this bill may have a hard time passing.
First of all, it was introduced by a Democrat and Texas is a staunchly Republican state. Second, for the bill to pass, a referendum to amend the state constitution to include sports gambling must be held. The resolution will need to pass by a two-thirds majority in the House and Senate and be approved in a voter referendum. The earliest that can happen is November 2019.
Here are the bill's most important features:
Online and mobile sports betting in Texas will be legal.
A maximum of five licenses will be sold. Each license will permit two online betting site skins.
Gamblers will pay a 6.25% tax, similar to a sales tax, on all money wagered.
If the bill and resolution to amend the constitution both pass, sports betting will be legal in Texas on January 1, 2020.
The Current Sports Betting Situation in Texas
Estimates suggest billions of dollars of tax revenue could be generated from sports betting legalization and that Texas would be the second-biggest sports betting state in the country.
Even without online and mobile betting, it's projected that Texans will bet $9 billion on sports annually. A 6.25% tax on those sales would equal more than $500 million.
The desire to access that potential revenue is butting up against a largely conservative, anti-gambling establishment which will make for an interesting dynamic if this bill moves ahead.
A prevailing anti-gambling attitude isn't the only hurdle this bill will have to clear. As you'll read about below, even if the state wanted to legalize sports gambling it would still need to amend its constitution to allow for betting on sports.
All types of gambling, with the exception of the state lottery and horse and dog racing, is illegal in Texas.
There is only one tribal casino in the entire state and it's not allowed to offer casino table games, only slots.
The gambling laws are incredibly rigid in the Lone Star State and bookmaking is a Class A misdemeanor.
Despite sports betting being illegal in Texas, the state's biggest sports team, the Dallas Cowboys, have agreed to a sponsorship agreement with WinStar World Casino.
With the deal, the Cowboys became the first NFL team to partner with a casino.
This doesn't mean legalization is coming soon to Texas, however, the state's flagship sports franchise inking a major deal with a casino company is another part of the puzzle that's coming together.
Another big factor is that Texas's neighbors including New Mexico, Louisiana, and Oklahoma either have fully-fledged legalized sports betting or have bills in motion to legalize it. That means Texans will have ample opportunity to take their billions of dollars and wager it out of state.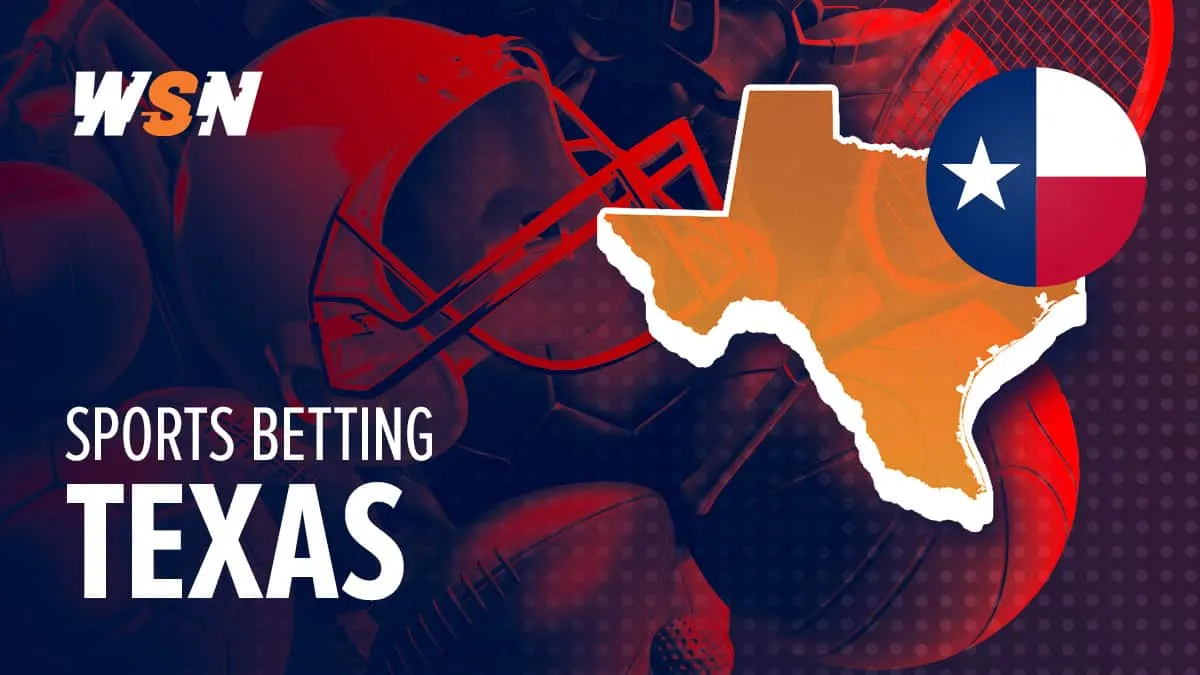 Texas Betting Laws Summary
Sports betting is currently illegal in Texas.
A sports betting bill was introduced in February of 2019 that could take effect on January 1, 2020.
While sports betting is illegal, horse and dog racing are legal. The state lottery has been in existence since 1991.
There is one tribal casino in Texas, the Kickapoo Lucky Eagle Casino in Eagle Pass on the Mexico border.
Daily fantasy sports betting is legal and DraftKings, FanDuel, and Yahoo! all accept players from Texas.
The History of Online Sports Betting in Texas
There's no real sports betting history in Texas. The state has enforced one of the country's strictest set of anti-gambling laws and it goes way back. Dog and horse racing are legal in Texas, however, gamblers can only place in-person wagers. OTB betting isn't allowed.
To give the current situation some context, let's look at the most pivotal moments in Texas's gambling history:
1933 – Texas implements its first Pari-Mutuel horse race betting.
1937 – Four years into the state's foray into legal horse racing the tracks are shut down and gambling on the races is banned.
1971 – Charity gambling is exempted from anti-gambling laws. Two years later this ruling is overturned once more making it illegal again.
1982 – Licenses for charitable gambling are legally sanctioned. This required an amendment to the state constitution in 1980.
1987 – Pari-mutuel horse track betting return thanks to a positive result in a state referendum. Simulcast betting from outside racetracks is introduced in 1991.
1988 – Casino Cruises are offered which sanction legal gambling as long as they are in international waters. Vessels depart from the Texas coast. Operations lasted for 20 years before shutting down.
1992 – A referendum passes allowing for a state lottery which includes draws and scratch-off games.
1996 – 2002: Tribal/state compacts come to a head as bingo halls and casinos on tribal lands are closed and reopened several times. Only one tribal casino remains to date which is owned by the Kickapoo tribe just south of San Antonio near Mexico.
2013 – Many bills are introduced to expand gambling in the state but don't see the light of day. Plans included offering video lottery terminals at racetracks and eight state-licensed casinos.
Which Online Betting Sites Are Legal in Texas?
As of now, no online sports betting sites are legal. Looking at the current sports betting bill, however, it's clear that the future of legal Texas sports betting will include online and mobile betting options.
The Lone Star state is unique in that it only has one tribal casino, and it's located near the Texas/Mexico border. It's a good bet that this organization will try to get involved with a land-based sportsbook and an online betting app.
Other physical infrastructure as far as casinos is scarce, so we expect the majority of the action to happen online.
Like we mentioned before, the WinStar World Casino made an official deal with the Dallas Cowboys which may be an indication that it's interested in entering the market.
We also expect established online sports betting sites that are already operating in other states to apply for licenses. This includes brands like BetStars, 888sport and many more.
If legalization does happen, check this page for expert reviews on all the best online sportsbooks in Texas.
Which Sports Can You Bet on Online in Texas?
Texas is one of the most sports-crazy states in the entire country, with two NFL teams, three NBA teams, two MLB teams, two MLS teams, and an NHL team.
And that doesn't even tap into their huge collegiate sport footprint, with top-ranked teams coming from schools like Texas, Texas Tech, SMU, Vanderbilt, and Texas A&M.
If and when legal sports betting comes to Texas, gamblers will be able to wager on popular North American sports and pretty much anything else found anywhere in the world.
A typical menu of sports Texans will be able to bet on includes:
NFL Football
NCAA Football
NBA Basketball
NCAA Basketball
NHL Hockey
NCAA Hockey
MLB Baseball
NCAA Baseball
Australian Rules
Boxing
Cricket
Formula 1
Golf
MMA
Nascar
Rugby
Soccer (MLS, Premier League, Champions League, La Liga, International Competitions and more)
Tennis
Non-sports Entertainment
How to Bet on Sports Legally in Texas
Gambling is currently extremely restricted in Texas, with one land tribal casino in the entire state and no physical sportsbooks.
The sports betting legislation that's currently in the works gives us an indication of how things will probably work in the future.
In other states that already allow online sports betting, the process of signing up for an account, depositing money and placing legal wagers is really straightforward.
First, browse reviews of all the best online sports betting sites in Texas, find one you like and then sign up for an account. You can usually create an account from anywhere but you have to be in Texas to actually make bets.
You'll have to provide some personal information and once your account is set up, you can deposit money using lots of popular banking options. You can often get in on special welcome bonuses and other offers when you deposit.
Once the cash is in your account, just find the sport you want to bet on and place your wager.
Are Daily Fantasy Sports Legal in Texas?
Players can place wagers at popular DFS betting sites including FanDuel and DraftKings, but there's a bit of a legal grey area when it comes to whether it's actually legal or not.
While the state does not press charges against daily fantasy sites, there have been unsuccessful bills to fully legalize DFS in the past.
Both FanDuel and DraftKings accept Texas players and the state seems content with letting this play out in a state of legal flux until it fully considers their next steps on sports betting.
In terms of security, the Fantasy Sports Trade Association and the US Gaming Commission are responsible for all DFS activity so at the end of the day, funds on the sites are 100% secure.
What Is the Future of Online Sports Betting in Texas?
While historically a dark place for legal gambling, Texas's future as far as sports betting goes has gotten a bit brighter.
There's still a ways to go but with the introduction of a new bill to legalize sports betting, we're beginning to see a glimmer of light at the end of the tunnel.
Estimates range, but the American Sports Betting Coalition believes legalized sports betting could inject nearly $2 billion dollars into the local economy and create over 9,000 jobs. With Texans already betting on sports illegally and in other states, new legislation may actually have a chance of passing.
On the other side of the argument are groups like the General Baptist Convention of Texas which consists of roughly three million Texans. Not only are they against legal sports betting, but they also want to get rid of the entire state lottery.
Rob Kohler is a lobbyist for the Baptist Convention and says the proposed tax on sports betting will hurt the poorest people in the state the most, similar to the lottery.
"It'd make a sales tax blush with its regressivity. So, is it smart for us to fund our government with the folks that we're giving money to help? No," said Kohler.
However, the State lottery did generate $1.3 billion in 2017 for the state's education system. The tax revenue from legal sports betting will be even bigger.
In the meantime, take a look at the best real money sports betting apps available in states where sports betting is legal.
Questions Remain for Legal Texas Sports Betting
Whether sports betting is eventually legalized in Texas depends on lots of different factors and no one can predict exactly how it's going to play out.
Our best guess is that it will happen but it may not be the current sports betting bill that gets the job done.
However, if everything goes perfectly and H 1275 passes with an amendment to the state constitution, Texans would be able to start betting on sports legally as early as January 1, 2020.
The sheer size of the potential industry and profits, literally billions of dollars, is the biggest reason we may see this legislation fast-tracked.
In the meantime, sports gamblers in Texas can bet on DFS, or make the trip to one of a few nearby states that are already legalizing full-on sports betting.
2019 will be an important year for online sportsbooks in Texas and we'll post major developments as they happen on this page.
Also, browse our state by state guides to legal sports betting in the US for more info on other parts of the country.