The Current Online Sports Betting Situation in Washington, DC
Before we dig into the details, here are the most important developments we need to highlight:
The first state in the USA to offer sports betting without having any land-based casinos.
DC lottery will oversee all sports betting activity.
Licenses would be sold by the lottery to sportsbooks at Nationals Park and Capital One Arena for $250,000 over five years
Retailers such as restaurants and liquor stores can purchase a two-year license for $5,000.
There is no cap on the number of licenses.
Operators to be charged 10% revenue tax.
Minimum age requirement of 18 – same as lottery gambling.
Earlier this year the US Supreme Court ruled in favor of New Jersey in a lawsuit requesting the repeal of a decades-old ban on sports gambling. That law called the Professional and Amateur Sports Protection Act (PASPA), made sports gambling illegal almost everywhere in the USA except for Nevada.
With PASPA now struck down, every state and DC has been given the chance to make new rules governing sports gambling in their own jurisdictions. A select few states jumped on it immediately. Washington, DC is now among that group.
On December 18th, the DC Council voted 11-2 on in favor of authorizing licensed sports betting and all remains to make it official is a signature from the mayor and a review from Congress.
Just saying yes to sports betting makes DC special but as we mentioned before, there's another special reason that sets the district apart. So far every state that has legalized sports betting already had land-based casinos. It was looked at almost as a prerequisite to offering legal betting.
Now that DC has done it without any casinos, it opens up the possibility to states that don't already have a regulated casino industry.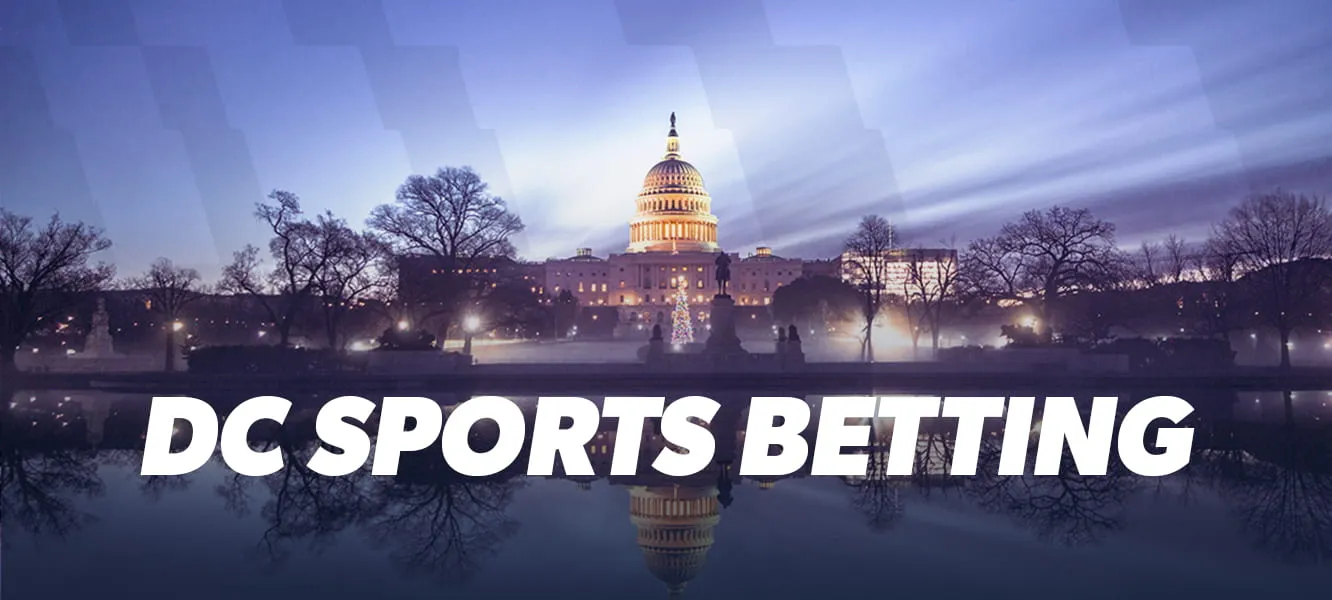 Washington, DC Sports Betting Laws Summary
Congress still has 60 days to undertake its review process of the new bill. However, it is possible for the Council to pass a resolution to set things in motion even sooner.
Once the district has its legislation in order, the list of laws and rules will include the following:
Bill passed entitled The Sports Wagering Lottery Amendment Act of 2018
Sports Wagering Lottery Amendment Act of 2018 requires 0.25% integrity fee.
All wagering will be via mobile/online, kiosks, or at either of the two local professional sports stadiums.
All sports betting in DC will fall under the purview of the DC Lottery.
The legal gambling age is 18 for the DC Lottery.
The History of Online Sports Betting in Washington, DC
The Supreme Court ruling to repeal PASPA was a big shake-up in the landscape of American legislature both nationwide and state-by-state.
DC saw the opportunity for a thriving new industry and they jumped on it. Thankfully, the district of Columbia is now making moves but it wasn't always the case.
The following are some notable events in Washington DC's gambling law history:
1981 – Previously unofficially legislated, bingo, raffles, charity games, and poker tournaments must now become licensed under law via the lottery and charitable games control board.
1982 – DC Lottery created.
1989 – Attempt to legalize sports gambling discussed but does not gain traction.
2010 – Proposal to legalize online gambling is used as an option to re-up the depleted DC budget. Work on a state online casino began.
2011 – Operation to implement online gambling into the lottery system is canceled at the last moment.
2012 – 2010 proposal officially repealed.
2018 – The Sports Wagering Lottery Amendment Act of 2018. Expect official legalization in the first quarter of 2019.
While DC has never had any casinos of its own, it did at one point have a race track that offered pari-mutuel betting. When that was shut down, many DC residents would travel to nearby Atlantic City to enjoy the events live and access the casino gambling action.
Which Online Sports Betting Sites are Legal in Washington, DC?
The best online sportsbooks to bet on in Washington, DC have not been revealed yet but we expect details to emerge over the next couple months.
As previously stated, Washington DC will be the first place in the nation to legalize sports gambling without already having land-based casinos. Since DC is breaking new ground, we're not sure exactly what to expect in terms of online betting options.
The current bill passed by Council has granted control of mobile sports gambling to the lottery although in-person wagering at kiosks, licensed venues, and stadiums may be operated by other ventures. That is good news for punters as it will promote competition and potentially better options for customers.
Since there's a mobile betting component already built into the new legislation, things look good for some form of online betting. Stay tuned to this page as things develop. We'll list all the sports betting sites open to residents of Washington, DC and we'll also review and rank them based on the most important features like odds, bonuses, and software.
What Sports Can You Bet on Online in Washington, DC?
While specific betting options haven't been announced, we expect a wide variety of sports, leagues, and kinds of wagers to be available in Washington, DC once the final laws are passed.
DC has several professional teams so we expect lots of local action to focus on those franchises. Residents will be proud to get behind its teams, especially recent Stanley Cup champions the Washington Capitals when they want to bet on the NHL.
In the NFL, DC is represented by the Washington Redskins. The team's got a loyal fan base and has won three Super Bowls since they formed all the way back in 1932.
Overall, gamblers will be able to bet on tons of different sports from the US and around the world, including:
NFL
NBA
MLB
Golf
NHL
NAS
MMA
Soccer
CFL
CFB
LOL (League of Legends eSports)
EL (Euro League Fantasy Basketball)
Tennis
How to Bet on Sports Legally in Washington, DC
Sports gambling in DC will be available to those 18 years of age or older.
When the day comes that the first bets can be placed, you want to be ready. Since DC is unique in that they do not have any casinos the registration process will probably be run by the lottery's mobile app system.
Most of the time you have to provide some basic personal information to sign up for an account. Sometimes you have to verify your identity and place of residence with documents like utility bills and in some jurisdictions, you also have to present yourself in person as a final step.
The bottom line is that any online sportsbook DC develops will be easy to register with.
Signing up for online sports betting accounts in Washington, DC could also come with valuable bonuses and promotions. When those options are finalized we'll post them all on this page and explain anything that might be confusing to beginners.
Placing bets in person in Washington, DC will be even easier. The latest plans we've heard include betting options at licensed bars and stadiums. This will work in a similar way to land-based sportsbooks in other parts of the country. Whether through a clerk or an automated kiosk, just present your money and choose the wager you want to make.
If you're a sports betting beginner, be sure to check out our comprehensive sports betting guides to learn more about which kinds of wagers to make.
Is Betting on Fantasy Sports Legal in Washington, DC?
Betting on daily fantasy sports (DFS) is not currently legal in DC but with big changes to sports gambling laws on the near horizon, there's a chance these restrictions will loosen up as well. One of the main hurdles will be how the sports gambling bill is finalized. If full control is given to the DC lottery commission then it will likely prevent DFS from coming in.
The current bill states that the DC Lottery shall be the sole company that is allowed to host a mobile app. DraftKings, FanDuel, and others have voiced their objections and the next few months will definitely be interesting in this regard.
It is expected that nearby Maryland and Virginia will legalize fantasy sports in 2019 which will put pressure on DC to follow suit. We will keep you posted with all details and developments on DFS in Washington as it happens so make sure to check back on this page.
What Is the Future of Online Sports Betting in Washington, DC?
The big takeaway here is that sports betting has officially been legalized but we don't know exactly when the final bill will be signed. We hope to see DC accepting legal sports bets as early as the spring of 2019.
In a perfect world, we'd also see the rules around DFS betting change too although this will take longer and depend on the factors we mentioned earlier.
The best result for gamblers would for lawmakers not to create a monopoly by only allowing the DC lottery access to the sports betting market. With no competition, punters won't have as many options to find an edge, including shopping for the best odds among many different sportsbooks.
Also, giving all of the control to the lottery may also prevent fantasy sports sites like FanDuel and DraftKings from being legalized.
In short, change is coming but the exact form sports betting will take in Washington, DC is still to be determined. Check back on this page regularly for more updates as they happen.
Washington, DC Online Sports Betting FAQs
Is sports betting legal in Washington, DC?
Sports betting has been approved for legalization but the final bill has not yet been signed. The legislation is currently being discussed and finalized. It is expected that Washington DC will take their first legal sports bets in the spring of 2019.
Where can I bet on sports in Washington, DC?
When DC starts offering legal sports betting action, punters can expect a mobile app run by the district's lottery corporation as well as kiosks at licensed bars and restaurants. Gamblers will also be able to place bets at the larger professional sports stadiums like Nationals Park and Capital One Arena.
What sports can I bet on in Washington, DC?
The sports that we expect to see offered right away include but are not limited to: NFL, NBA, MLB, Golf, NHL, NCAA football and basketball, NAS, MMA, Soccer, CFL, CFB, LOL (League of Legends eSports), EL (Euro League Fantasy Basketball), and Tennis. We will post the specific betting options when they are finalized.
What sports are illegal to bet on in Washington, DC?
Betting on high school sports is not expected to be included in Washington's legalization bill but almost all other sports will be legal to bet on.
Is it illegal to bet using offshore sports betting websites?
Although betting with offshore sites is not explicitly illegal for Americans it's definitely a legal grey area we recommend avoiding. Instead, it is best to use a locally licensed and sanctioned operators to place your sports bets when it becomes legal in Washington DC.