It's not uncommon for NASCAR drivers to get their feet wet in go-karting but most of them do so in their pre-teen years.
For Billy Johnson his start came a bit later, as a 13 year old, when he took to karting and immediately made an impact at the local, state, and national levels.
By 17 years of age, the half-Japanese speedster had earned two racing scholarships and taken home the Formula BMW Sportsman of the Year award.
The majority of Billy Johnson's accomplishments and wins in his career have come in the Grand-Am Continental Tire Sports Car Challenge Series (CTSCC). In fact, over the past ten years no one has won more in that division. He has 23 wins and 60 top-5 finishes
In 2010 Johnson made his NASCAR debut with Roush Fenway Racing. Although he hasn't had a large collection of races in any top NASCAR division, Johnson has demonstrated that he has what it takes to compete with the top dogs of the sport.
If not for a few bouts of bad luck and timing he would have a few more positive Xfinity finishes on his resume.
In this article we'll explore Billy Johnson's racing record, career history, stats, highlights and more.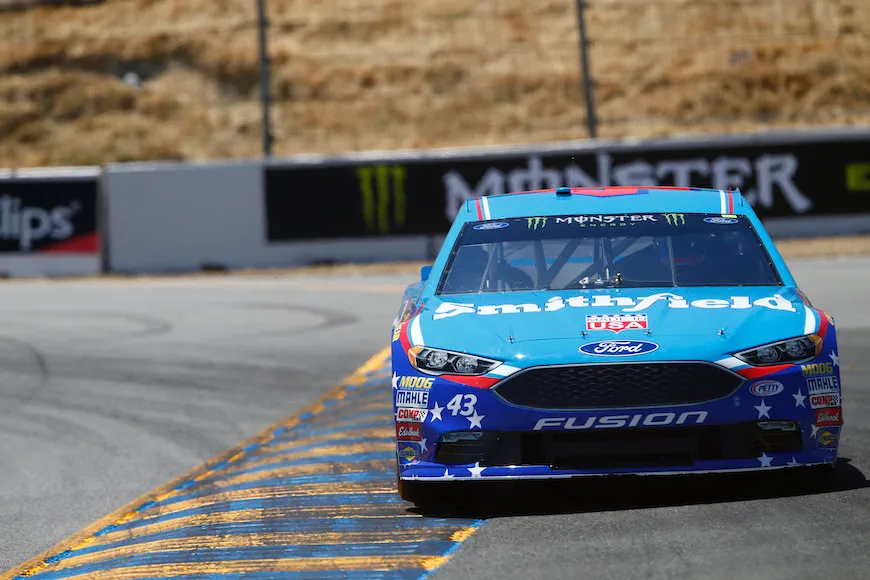 Fast Facts:
Full name is William Ryan "Billy" Johnson
Height: 6'0"
Born: October 10, 1986
Hometown: Torrance California
Business Administration Major graduate from Cal State Fullerton
Often used as a Road Course Ringer.
Biggest Results:
2012 – NAPA Auto Parts 200 at Circuit Gilles Villeneuve
2012 – Emco Gears Classic at Mid-Ohio Sports Car Course
2012 – Continental Tires 200 at Watkins Glen International
2013 – VisitFlorida.com Sports Car 250 at Road America
Billy Johnson Bio
Billy Johnson is a racing jack of all trades. Other than competing for his own merits, he also works as a road course ringer who race specifically on road courses and are more experienced at both left and right turns.
His breadth of reach in terms of different Series he's competed in is astounding. Here are some of the events he's been a part of over the past five seasons:
FIA WEC
NASCAR XFinity
IMSA/Tudor/Grand Am Rolex
IMSA Continental Tire Sports Car Challenge (CTSCC)
Speed World Challenge
Formula Star Mazda Pro
Formula BMW
Skip Barber Regional and National Series
Super Street Time Attack
Redline Time Attack
He is also hired by Ford as a driving coach for up and coming racers who are being steered toward learning advanced road course techniques (as opposed to left turn only NASCAR races).
NASCAR Xfinity Series and Monster Energy NASCAR Cup Series
Being quite spread out and utilized as a driver, Johnson has not had a lot of time to gain traction at NASCAR's highest levels. He has only five Xfinity races under his belt and a single Monster Energy NASCAR Cup Series race.
The talent is there, however, and if not for a few bits of bad luck could have done quite well. In 2012, in Montreal, he was in contention for the lead with a few laps left but had fueling issues. Then again at Road America in 2013 when a promising start was nullified by a late race collision that damaged his car.
First NASCAR Win
There is nothing to report here unfortunately although he does have three Grand-Am Rolex Sports Car Series wins to his name in 2012 and 2013.
Career-Best Season
His career best results would definitely have to reference his dominance in the Continental Tire Sports Car Challenge (CTSCC) where he has 23 wins in the last five years.