At just 22 years of age, Blake Jones is part of the next wave of talented young NASCAR drivers that may become the superstars of the sport's future.
Jones started go-karting at age 5 and immediately started winning. He scored victories in 14 of his first 16 races which earned him both the division championship and Rookie of the Year. After continuing his dominance in the Bandolero Bandits division he moved to full stock cars and eventually into NASCAR's elite levels.
After dipping his feet in the Xfinity Series pool in 2016, Jones made his Monster Energy NASCAR Cup Series debut in 2018 competing in a total of three races. It will be interesting to see what 2020 and beyond have in store for this talented young speedster.
In this article, we'll take a look back at Blake Jones's short but promising driving career, including stats, highlights, history, bio and lots more.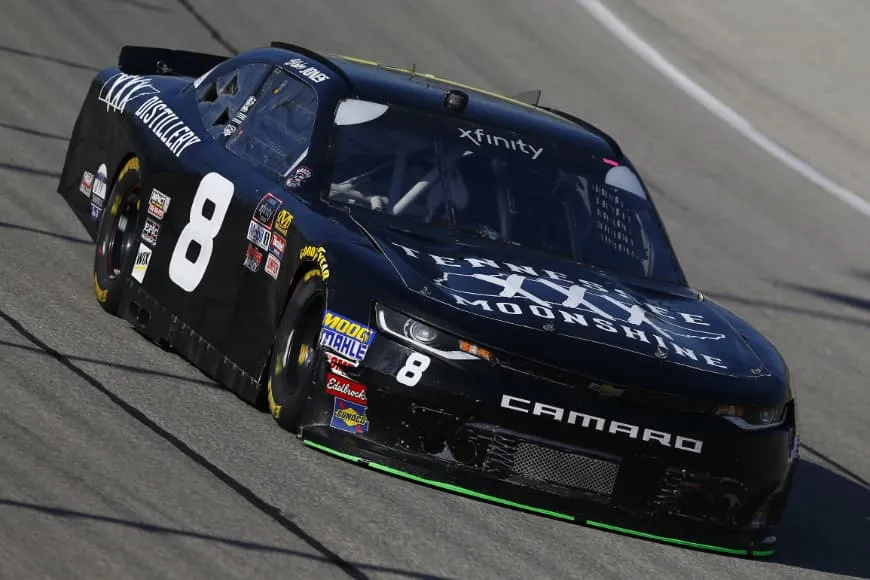 Fast Facts:
Born: January 12, 1997
Hometown: Sevierville, Tennessee
Head distiller of Tennessee XXX Moonshine – which is also his car sponsor.
Youngest driver to ever win at Talladega.
Came up racing against peers like Ryan Blaney and Chase Elliott.
Biggest Results:
2015 – #ThisIsMySpeedway 150 at Iowa Speedway
2015 – Federated Auto Parts 200 at Berlin Raceway
2015 – International Motorsports Hall of Fame 200 at Talladega
2016 – Kentuckiana Ford Dealers 200 at Salem Speedway
Blake Jones Bio
Blake Jones is a young racer and his career is just getting started. With aspirations to one day be like his idols Jimmie Johnson and Kyle Busch.
In a recent interview following his first ever Monster Energy Cup Series race Jones said, "Starting a Cup race is just a different world out there compared to what we're used to, even in the Xfinity Series."
"You're out there with the best drivers in the world but we just wanted to run all the laps and learn all we can to get familiar with the cars. It was the first time I had ever sat in a Cup car this weekend."
While Jones may not have as much experience as his idols, his achievements so far indicate he does have the talent.
NASCAR Xfinity Series and Monster Energy NASCAR Cup Series
So far in his young career, Jones has a total of 8 races in Xfinity and Cup Series combined. That being said, he does know how to win.
In ARCA and X-1R Series he had 20 top-10 finishes and won the International Motorsports Hall of Fame 200 in 2015 at Talladega. That result being extra special as he became the youngest ever winner at the Talladega Superspeedway.
First NASCAR Win
So far there are no NASCAR-level wins to report for Blake Jones. Hopefully, 2020 has something special in store for Jones as he grows both his racing resume and his confidence.
Career-Best Season
In his early years at the X-1R Series level, Jones experienced his best season in 2011. That year he had seven top-10 finishes, one of which was a second place finish at Catawba County United Way 200 at Hickory Motor Speedway.
Following that he had his next best season at the ARCA Series level in 2015 with three top-10s and one champagne popping podium celebration.