Ryan Blaney is a beast on the track. There's no other way to put it.
His career numbers, at the age of 25, could make a seasoned veteran green with envy. A multiple-time champion already, Blaney has won at every level including 7 Xfinity Series wins and 2 Monster Energy NASCAR Cup Series wins.
If the name Blaney rings a bell but you can't figure out why it's because Ryan's father Dave was a former sprint and NASCAR driver in the Sprint Cup and Nationwide Series just a few short decades ago.
The apple doesn't fall far from the tree and Ryan has been a natural since he first started racing at age nine. With wins in multiple age groups and divisions, he quickly found himself accumulating more and more trophies and podium finishes, and the professional-level attention that goes with it.
By 2013, at just 20 years of age and with one year of NASCAR racing under his belt, he was honored with the Rookie of the Year award in NASCAR's Camping Truck Series.
The wins and accolades are sure to continue pouring in for this talented driver and in this article, we'll take a closer look at his most interesting career highlights.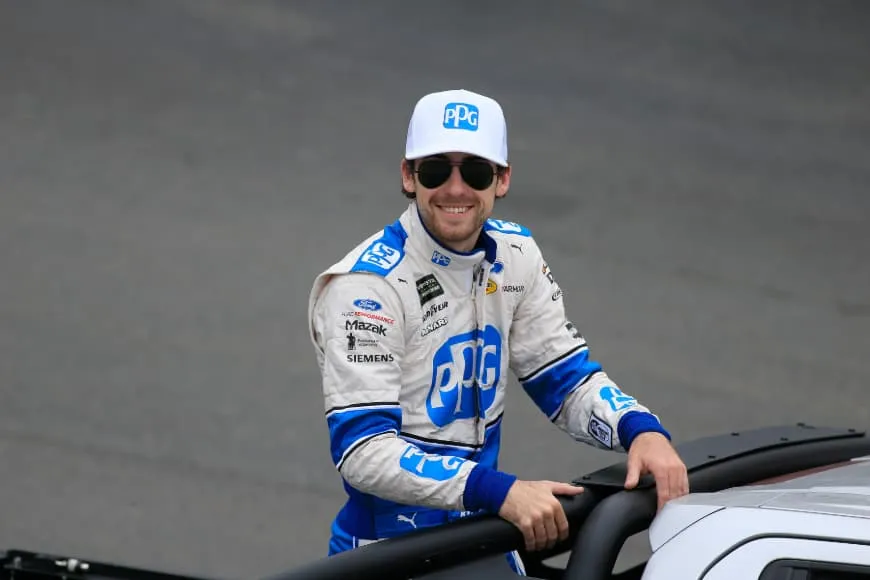 Fast Facts:
Born December 31, 1993, in High Point, NC
2013 NASCAR Camping Truck Series Rookie of the Year followed up with 2014 award for Most Popular Driver
Made three Hollywood movie appearances in 2017: Cars 3, Logan Lucky, and Taken
Has earned more than $5 Million dollars from racing so far.
Won his very first race in the K&N Pro Series
Was the youngest winner of a Truck Series event at 18 years, 8 months and 15 days.
Ryan Blaney's Biggest Results:
2017 Axalta Presents the Pocono 400 at Pocono Raceway
2017 Daytona 500 at Daytona
2018 Bank of America Roval 400 at Charlotte Motor Speedway
2018 Quaker State 400 presented by Walmart at Kentucky Speedway
7-time Xfinity Series winner: Kentucky 300 (2013), Food City 300 (2014), US Cellular 250 (2015), VisitMyrtleBeach.com 300 (2015), Hisense 300 (2017), Drive Sober 200 (2017), My Bariatric Solutions 300 (2018)
Ryan Blaney Bio
There isn't much to say about Ryan Blaney that isn't a compliment to his abilities or a reference to something he's won. He's been racking up victories at every level he's competed at during his career.
A third-generation racer in the Blaney family, it looks like Ryan took his father and grandfather's natural aptitude and kicked it up a notch.
NASCAR Xfinity Series and Monster Energy NASCAR Cup Series
Blaney's Monster Energy NASCAR Cup Series races (126) far outnumber his Xfinity Series appearances (68) which is quite rare, especially for a young racer. He's posted 41 top-10 finishes in Monster and 55 in Xfinity.
Blaney is definitely capable of competing and winning against the upper echelon of NASCAR drivers so it's no surprise he's put up against the best as often as possible.
First NASCAR Win
Age never seemed to factor into what Ryan Blaney was capable of. At just 18 he won his first-ever NASCAR race: The 2011 K&N Pro Series West event in Arizona.
He followed that up shortly thereafter with a Truck Series win at Iowa Speedway that made him the youngest ever to do so at that level.
Career-Best Season
It's actually quite difficult to say which year has been Blaney's best. Every single one is riddled with trophies and podium finishes. It also seems like a no-brainer to say the best years of his career are still to come.
Most people agree that 2017 was his best season to date as he finished ninth overall in the Cup Series standings and posted impressive results including four stage wins and two pole positions.
Of his 14 top-ten finishes, four were top-5 and one saw him pop champagne on the podium at Pocono Raceway in June.