You have to admit, Chase is a great name for a racecar driver. The only problem is, Chase Elliott is usually in the lead with other drivers chasing him.
Having Hall of Fame NASCAR driver Bill Elliott for a father definitely sets the bar high but in this case it seems to have added a ton of fuel to the fire for Chase.
The junior Elliott definitely had big shoes to fill when he made his debut in NASCAR but he delivered in a big way by winning the Nationwide Series championship in his rookie year – something no one else has ever done.
Having a legendary driver as a father also seems to be something Chase likes in his romantic partners as well. He's currently dating Kaylie Green, daughter of former driver David Green who often raced against Chase's dad.
In this article we'll dive into NASCAR driver Chase Elliott's biggest wins, driving history, stats, bio, career highlights and more.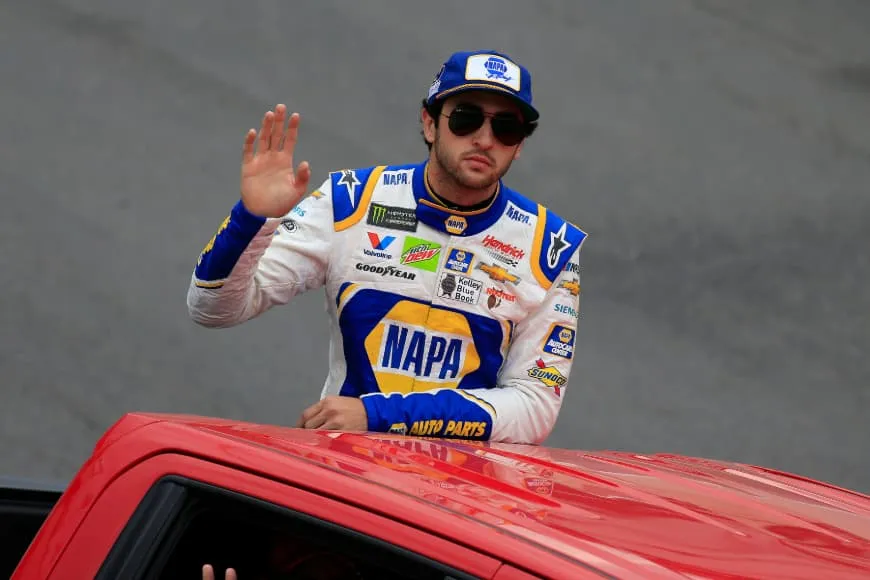 Fast Facts:
Full name L William Clyde Elliott II
Born: November 28, 1995
Hometown: Dawsonville, Georgia
Height: 5'10"
Three-time "youngest winner" on road course at Can-Am Duels (2017 & 2018).
Youngest winner at Cup Series level at Dover International Speedway.
Featured in Sports Illustrated at age 13 with 13 other athletes, as potential future stars in their sports.
Biggest Results:
2010 Winchester 400 at Winchester Speedway
2011 & 2015 Snowball Derby at Five Flags
2013 All American 400 at Fairgrounds Speedway Nashville
2014 Nationwide Series champion
2016 & 2017 Daytona 500 pole position
Chase Elliott Bio
Currently racing for Hendrick Motorsports in the No. 9 Chevrolet Camaro ZL1, Elliott has blasted through racing's ranks at the same pace he's used to travelling on the asphalt – full throttle.
Voted most popular driver in the Xfinity Series in 2014 (the same year he became Nationwide Series champion), Chase continued to thrill his fans with a Rookie of the Year award-winning season at the Sprint Cup Series level just two years later.
Throughout his career, it seems like every time Elliott moves up to a new challenges he triumphs. Having earned numerous Rookie of the Year awards, he is also in the record books for youngest Cup Series winner at Dover Speedway, Kansas, and each of his two back-to-back Cam-Am Duel races in 2016-17.
He's also got a taste for being on camera as he's appeared on such shows as Ridiculousness (MTV) and Dude Perfect (CMT); while also doing voiceover work on Nickelodeon's Blaze and the Monster Machines and as Chase Racelott in Pixar's Cars 3.
NASCAR Xfinity Series and Monster Energy NASCAR Cup Series
In 80 career Xfinity races, Elliott has five wins and won pole position twice. Of those 80 races, he has an incredible 64 top-10 finishes. That works out to an amazing 80-percent average for making the top ten.
In his four seasons at the elite Monster Energy NASCAR Cup Series level he's added 3 more wins to his resume over 113 races. Amazingly, all three wins coming in 2018.
First NASCAR Win
Elliott collected his first NASCAR win in 2013 at the Truck Series level at the Chevrolet Silverado 250.
He took home his first checkered flag at the Xfinity Series level just a year later in the O'Reilly Auto Parts 300.
His first Cup Series win came at the Go Bowling At The Glen in New York on August 5th, 2018
Career-Best Season
It's going to be hard for Elliott to top 2014 as far as memorable seasons go. Elliott made history when he won the Nationwide Series championship in his rookie year and also became the youngest driver to win the event.
Elliott's 2018 season is also worth mentioning because he scored three wins and 6th-place overall finish on the season, both amazing accomplishments for a 23 year old.