Cole Whitt is a talented driver and you may recognize his last name because his cousin Brandon Whitt also races NASCAR.
As a youth Cole started out as a competitive BMX racer but made the switch to go-karting. By 2006 he was the Hoosier Sprint Car Rookie of the year at just 14. Fast-forward a couple more years and Cole won his first major racing championship, the 2008 United States Auto Club (USAC) national midget championship.
The win made him the youngest USAC champion ever.
Now at 27 years of age, Cole is working hard to build a name for himself at NASCAR's top national levels. Let's take a closer look at some Cole Whitt's career highlights, stats, bio and more.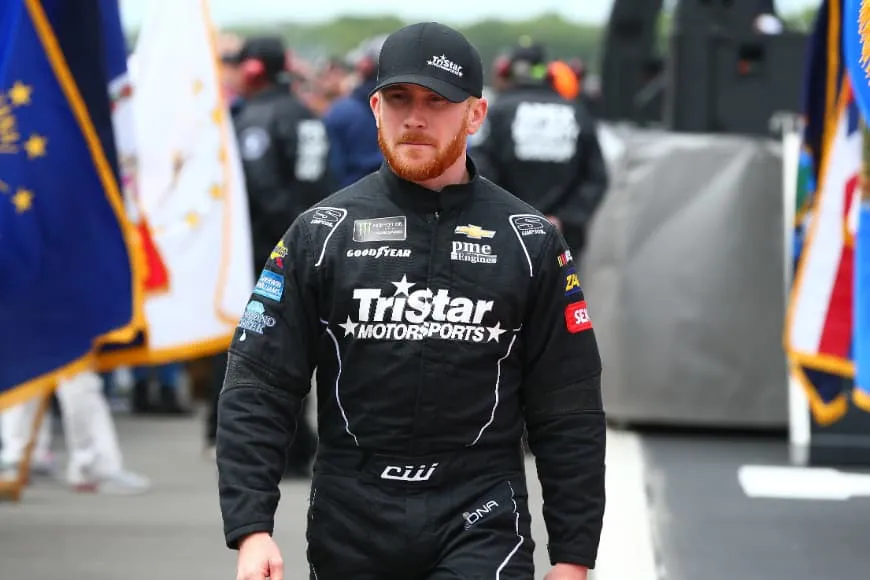 Fast Facts:
Full name: Cole Daniel Whitt
Nicknamed the Ginger Lion for his red hair and ferocious driving style.
Born: June 22, 1991
Hometown: San Diego, California
Cousin of fellow NASCAR driver Brandon Whitt.
2008 – USAC National Midget Champion
2008 – Youngest USAC National Midget Champion ever
2006 – Hoosier Sprint Car Rookie of The Year
2010 – USAC Super License Award
Biggest Results:
Cole Whitt Bio
Cole Whitt's two most memorable achievements in NASCAR's top divisions so far in his career would have to be his pole win at the 2011 Too Tough to Tame at Darlington as well as his season record-setting pace in the Truck Series when he became the first rookie to ever lead the season after seven races in.
In 2018 Whitt decided to race only part-time in Monster Energy NASCAR Cup Series competition so that he could spend more time with his family.
His team, TriStar Motorsports, made the official announcement at the CanAm 500, at ISM Speedway, that the race would be his last with them.
NASCAR Xfinity Series and Monster Energy NASCAR Cup Series
Cole has eight years of Cup Series racing and a total of 161 races under his belt. He has never been able to crack the top-10 but he's been close.
His best result was 11th overall in the Coke Zero 400 at Daytona in 2016. It was an impressive result when you consider he began the race in 35th spot.
At the Xfinity Series level, he has found better results. In 5 years of racing, he has amassed 18 top-10s in 53 races. Four of those were top-5 finishes although he never got to experience a podium finish.
Truck Series racing has also been a bit more favorable to his resume as he has a pole win and a second and third place finish.
First NASCAR Win
Unfortunately, Cole Whitt has not been able to pop any NASCAR victory champagne during his career so far. The closest he came was second place in Truck Series competition in 2011 t the Lucas Oil 200 at Dover.
Career-Best Season
2011 was Whitt's best year in Truck Series racing. He had 11 top-10s and a pole victory.
He followed that year up with his best at the Xfinity Series level. In that 2012 season, he had 14 top-10s, of which four were in the top-5. His Xfinity Series race earnings that year were over $1 million.