Derrike Cope is one of the most well-known names in the history of the sport and, even more amazingly, he's still competing on the NASCAR circuit today.
It's been a long time since Derrike Cope pulled off a narrow and surprising victory in the Daytona 500 back in 1990. In fact, many of the drivers racing today weren't even alive when Cope won that epic race.
Even fewer of the drivers were born by the time Cope made his NASCAR debut in 1982 which was the same year Michael Jackson's "Thriller" was released.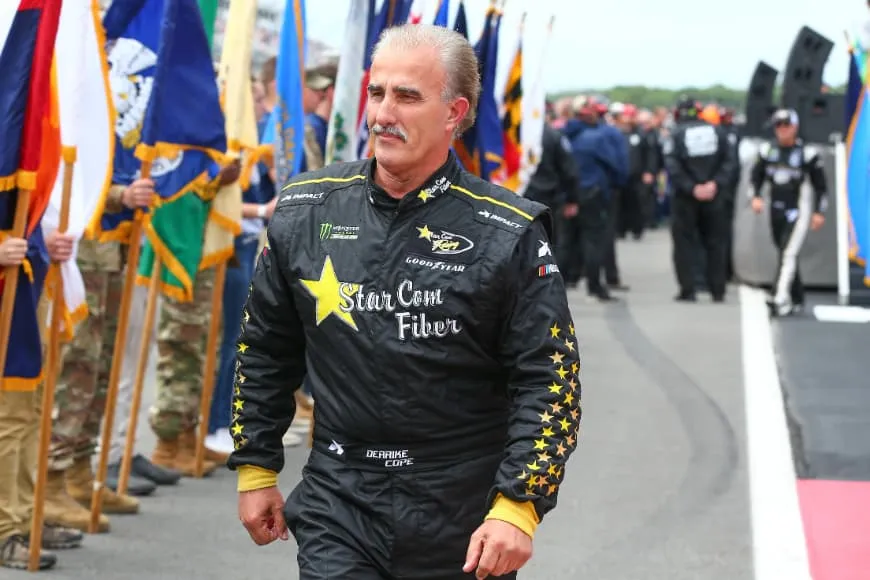 Keep reading to learn more about the nearly four-decade career of Derrike Cope including driving highlights, stats, bio and more.
Fast Facts:
Birthplace: San Diego, California
Hometown: Spanaway, Washington
Date of birth: November 3rd, 1958
Height: 5'7"
Weight: 180
Favorite Food: Chicken & Dumplings
Married: Renee Cope (Divorced in 2004)
Education: Bethel High School, Whitman College
Worked as an analyst for NASCAR on NBC, FOX, ESPN, TNT, and Speed
Notable Results:
Winner of Daytona 500 in February, 1990, beating out Dale Earnhardt
Winner of the Budweiser 500 in June, 1990
Winner of the Chevy 250 (Xfinity Series) in May, 1994
8 top ten Xfinity Series finishes between 1994-96
Went nine straight years between 1989-97 with at least one top ten finish per season (31 top ten, 6 top five, 2 wins).
Derrike Cope Bio
Although Derrike Cope isn't the oldest NASCAR driver on the circuit, he does crack the top-ten list of the oldest drivers in the sport. However, some of the oldest drivers didn't even start their career until their 40s, whereas Cope started in his early 20s.
Cope actually planned on becoming a professional baseball player during his youth, and was scouted by teams such as the Chicago Cubs and Baltimore Orioles back when he was in high school in the mid-1970s. Those plans changed in 1978, when Cope, a catcher, severed ligaments in a baseball game while trying to chase a wild pitch.
While recovering, Cope's interest in racing was sparked. His father was an engine builder and that inspired Cope to begin racing. He actually suffered blindness in his right eye following a crash early in his racing career in Washington, but he did recover several weeks later.
Cope made his NASCAR debut in 1982 but it was the late 80s and early 90s when his career realling started picking up speed. That ball started rolling with four top ten finishes in 23 races during Cup Series action in 1989.
Cope's Crowning Achievement in 1990
It was the first race of the season for Cope in February 1990: the Daytona 500.
Cope was trailing for most of the race, but leader Dale Earnhardt ran over some debris and popped his tire on the final lap. Cope avoided the debris and won the race in dramatic fashion.
Cope also won the Budweiser 500 later that year, in a race where he ran out of fuel early on but rallied to pick up his second career NASCAR win.
There were other good seasons for Cope, including the 1995 Sprint Cup foray. That year, Cope finished 15th in points and had 8 top-ten finishes.
By the end of the 90s, Cope was beginning to fade out as a top NASCAR driver, even if he was able to prolong his career to this day. Some of his best years for earning money were in the 2004 and the 2005 season.
Outside of NASCAR
When Cope started moving towards being a part-time race car driver in the early 2000s, he took up multiple gigs on TV as a NASCAR analyst. Cope worked for a number of stations over the years, including NBC, FOX, TNT, ESPN, and Speed network.
Cope also had two twin nieces, Amber Cope, and Angela Ruch, who competed professionally in the NASCAR circuit. They made history in 2010 by being the first twins to compete in one of NASCAR's top series, in their case the Gander Outdoor Truck Series. The bloodlines for racing clearly run in the Cope family.
Cope also ventured into the business world, selling his own brand of shocks called C2P Suspension Technology. It was eventually sold to an exclusive distributor before it was discontinued.
Despite all of that, Cope still continues to race and is now one of the longest-tenured drivers in the sport's history. His 38 years in racing currently trails only the 76-year-old Morgan Shepherd, who has been racing in NASCAR for 51 years.