The true location of the Martinsville Speedway is actually in the town of Ridgeway, Virginia and not the larger nearby Martinsville.
When we say larger here, we're speaking in relative terms. The town of Ridgeway is home to 742 people while the population of Martinsville is just over 13,000.
Any way you cut it, this speedway is nowhere near any real cities. To attract fans, Martinsville has always tried to offer something special. The venue's racing calendar revolves around three unique race weekends and it also hosts other non-sporting events.
In this article we'll go into detail on everything you need to know about Martinsville Speedway including its history, stats, location, capacity, key events and lots more.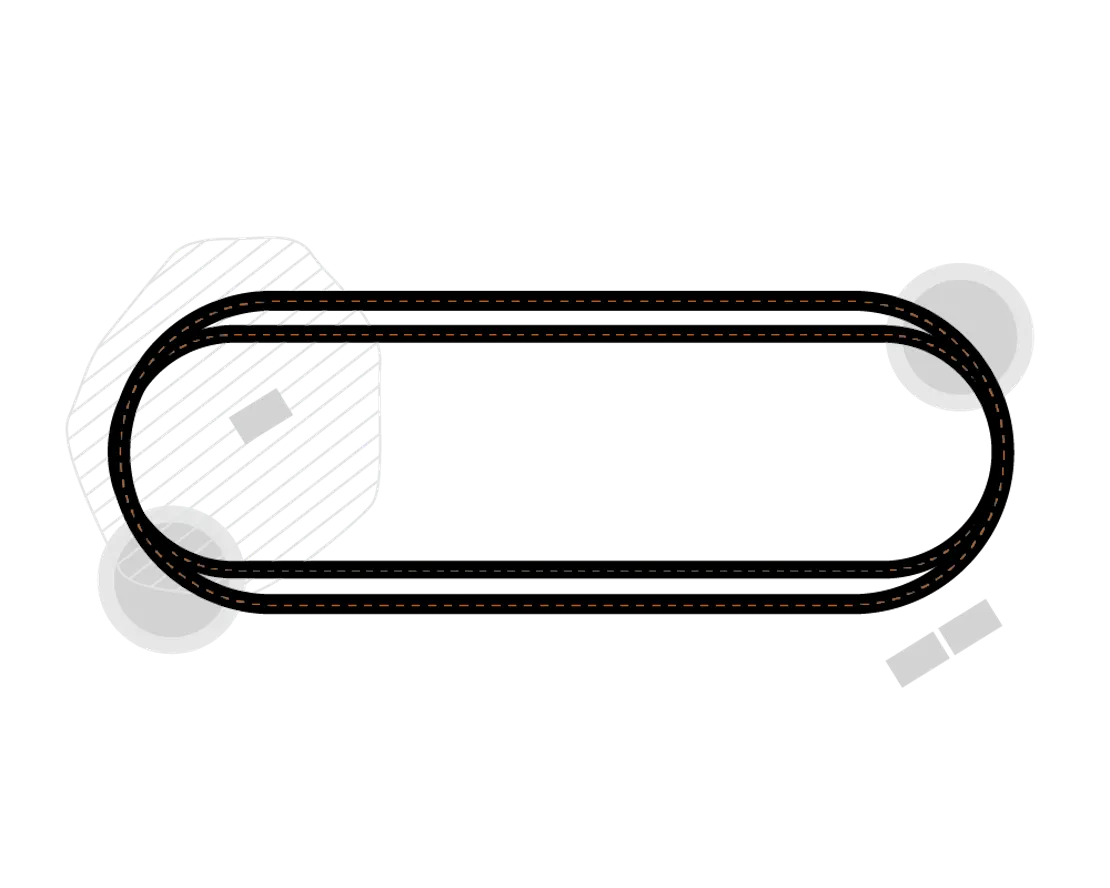 Martinsville Speedway at a Glance
One reason Martinsville is unique is that the race track has been used on the NASCAR circuit since its inception in 1948 and it was one of the first ever ovals to be paved for NASCAR racing.
Martinsville Speedway is the shortest track in the entire Monster Energy NASCAR Cup Series. It is also the only track that has paved asphalt straightaways and concrete covering the turns. This plays a major factor in race strategy, especially considering the track has a paper-clip like shape with long straightaways and shallow banking on the turns.
Drivers need to give extra focus to their entries and exits in these tricky Martinsville Speedway situations.
With two huge annual NASCAR weekends, the speedway carries a lot of importance in NASCAR's yearly rankings and in Cup Series playoffs. The venue hosts two Cup Series races, two Truck Series races, and one NASCAR Whelen All-American Series race.
Every spring since 1950, the STP 500 comes to town, although the name and sponsorship have changed a few times throughout the decades.
The other Cup Series race, which is even older and, in fact, has been around since NASCAR first started, is the First Data 500. These days the First Data 500 is the 7th of 10 Cup Series playoff races and the first in the current format's Round of 8 bracket.
The Truck Series and Whelen Series races are held on Labor Day Weekend each year and raced at night under the lights.
Fast Facts:
Location: Ridgeway, Virginia
Built in: 1947
Owned and operated by: International Speedway Corporation
Track Types: Oval 0.526 miles (0.847 km)
Oval turns: 4; banked 12 degrees,
Straightaways banked 0 degrees
Race lap record: 18.746s Greg Sacks NASCAR Whelen Modified Tour 1986
Capacity 44,000
Major Races – Monster Energy NASCAR Cup Series: STP 500, First Data 500 | NASCAR Gander Outdoors Truck Series: Alpha Energy Solutions 250, Texas Roadhouse 200 | NASCAR Whelen All-American Series: ValleyStar Credit Union 300
Martinsville Speedway History
Over the years this prestigious and relatively small race track has earned its fair share of nicknames. Due to its shape, many people refer to it as the Paper Clip while others call it the Augusta National of Race Tracks, likening it to home of the PGA's Masters Tournament.
Perhaps most fitting is the most ominous nickname of all, the Half Mile of Mayhem given for it's tight nature and difficult turning configuration.
When the tract officially opened for racing on July 4th, 1947, there were over 6,000 spectators but only enough seating for 750.
On July 4th, 1948 the speedway hosted NASCAR first ever sanctioned race. One year later the first ever First Data 500 (which at that time was a 100 mile race) was won by NASCAR Hall of Famer Red Byron.
Historically, Martinsville Speedway will be remembered as the home of Richard Petty dominance. Having started 67 Cup Series races at the venue, he proudly holds 15 race wins and 30 top-5 finishes at the track.
Something Special at Martinsville Speedway
In 1964 majority track owner H. Cay Earles decided he wanted to differentiate his winner's trophy prize from other races and in the process wanted to make it something relative to the local community.
Since Martinsville is known for its furniture industry, they came up with the idea of a longcase clock to present to each race winner. The clocks are valued at more than $10,000.
In 2017 a $5 million LED lighting system was installed at the track to allow for races to be able to finish in the dark in case of delays.
Thanks in part to a new NASCAR initiative that same year to implement some compressed-scheduling, the track's playoff race in October was scheduled to conclude under the lights for the first time. They discontinued this change the following year.
While the speedway currently does not host any Xfinity Series events, they did dabble with a few Busch Series events from 1982 to 1994, and again for a year in 2006, but have discontinued them since then.
The track recently downsized its seating capacity to 44,000. With numbers dipping across the board in NASCAR in recent years many tracks, including Martinsville, were required to reduce their maximum occupancy maximum.
Rumblings of the venue losing one of its main Cup Series races have been quelled by track president Clay Campbell who said that claims were completely false and hold no merit.
Double Pit-Road Nuances and Changes
Up until 1999 there were only two NASCAR tracks that had two pit roads. One was Bristol Motor Speedway and the other was Martinsville.
The issue with the Martinsville configuration was that one was much more favorable than the other which caused a lot of competition and strategy regarding when, how, and where to utilize pit stops.
The backstretch pit road at Martinsville was the worse of the two and had implications of how cars could respond to a pace car in the case of caution. Drivers who were pitted on the front stretch would not have to stick with a pace car when leaving pit road while those on the backstretch pit road would. This unfair advantage led to a lot of controversies and forced the track to make changes.
What organizers, teams, and designers decided to do was stretch the pit road from the entrance of turn number 3 back to the exit of turn 2. In so doing more space was created and allowed for a garage to be built in its place.
Best Bargain in the Business
When polled in a massive NASCAR-wide survey, fans voted Martinsville as the best bang-for-your-buck venue across all Cup Series locations and also number one for having the best/closest/clearest view of the cars.
Many fans cited the track's great value due to its comfortable seating in regular grandstand areas, modern amenities, and state-of-the-art facilities around the concourse for fans and media alike.