Regan Smith was an early adopter of speed. He unofficially began his racing career at the tender age of 4, when he picked up go-kart and microd racing.
He would eventually see this early passion grow into a successful NASCAR career that includes multiple wins over 12 years of racing so far.
Also noteworthy is that Smith's talents aren't restricted to being behind the wheel. He's also appeared as a pit reporter for Fox NASCAR since late 2017.
As a man known for racking up top-10 finishes and consistently competing year in and year out, Smith was a force on all NASCAR circuits for the better part of a decade.
In this article, we'll take a closer look at Regan Smith's fascinating NASCAR career including highlights, stats, bio and more.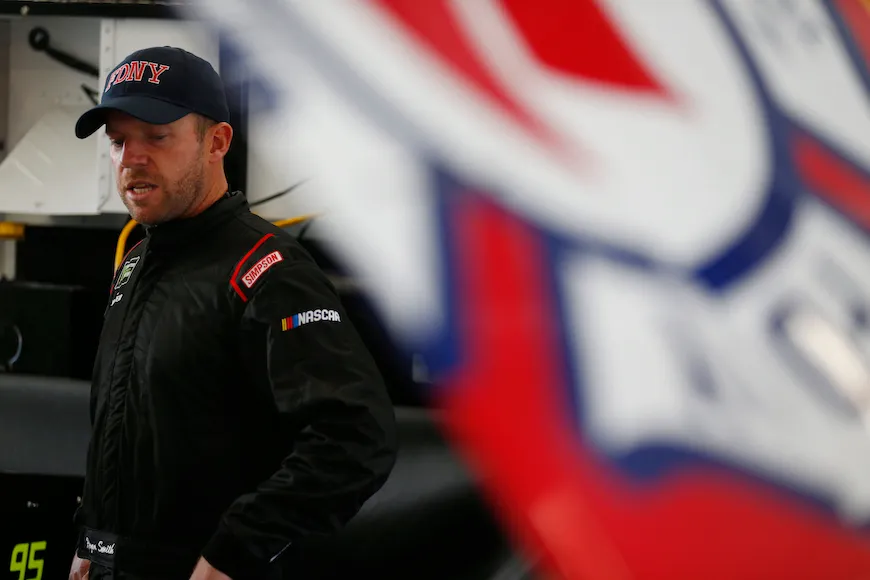 Fast Facts:
Born: September 29, 1983
Hometown: Cato, New York
Height: 5'9"
Currently a pit reporter for Fox NASCAR.
Has not officially retired from racing and currently operates as a 'free agent'.
Made NASCAR debut in 2002.
2008 Sprint Cup Series Rookie of the Year
2013 NASCAR Nationwide Series Most Popular Driver Award
Biggest Results:
Regan Smith Bio
Regan Smith has been driving since he was just 4 years old, when he used to race go-karts and microds in Cato, New York.
His NASCAR career officially began in 2002 when he debuted in a Truck Series race at the young age of 18. Smith's career since then has been impressive with seven career wins and a combined 100 top-10 finishes across Cup, Xfinity, and Truck Series circuits.
At the end of the 2017 season, Smith began working for Fox NASCAR as a pit reporter and made a few racing appearances in 2018, suiting up for Leavine Family Racing in the Cup Series.
NASCAR Xfinity Series and Monster Energy NASCAR Cup Series
In Xfinity Series career, Smith has competed in 206 races over 12 years.
He has six wins, 79 top-10 finishes, and one pole. His best overall finish came in 2014, where he finished in 2nd place.
In Monster Energy NASCAR Cup Series competition, Smith has been in 224 races over 12 years. He has one win and 14 top-10 finishes, three of which came at the Daytona 500. His best overall finish came in 2012, where he placed 24th.
First NASCAR Win
Smith's first NASCAR win came in the Cup Series at the 2011 Showtime Southern 500 at Darlington Raceway.
His first Xfinity Series win came in 2012 in what was then the Nationwide Series. The victory came in the Ford EcoBoost 300 at Homestead-Miami Speedway.
Career-Best Season
Smith's best season came in 2014, where he finished in 2nd place during the Xfinity Series. He ended the year with 1171 points, by way of 1 win, 7 top-5s, and 26 top-10 finishes. He opened the season with a win at Daytona and rattled off 14 straight top-10 finishes to start the year.
He also had a memorable 2011 season when he won his first and only NASCAR Sprint Cup Series race, the Showtime Southern 500 at Darlington Raceway in South Carolina. Add to that win four other top-10 finishes and you can see why it's a contender for his career-best year.