Timmy Hill is the son of former NASCAR driver Jerry Hill and he first started putting his genetic racing gifts into action at age 12 on the local go-karting scene in Maryland.
Hill's victories started piling up fast as he won the Concord Speedway Winter championship, two World Karting Association championships, and two King George Speedway championships.
By age 18 he was already racing on NASCAR's Nationwide Series and performed well enough to win the division's 2011 Rookie of the Year award.
While he's still in search of his first-ever NASCAR win or pole position, Hill's family background and track record suggest it won't be long before he's in the winner's circle.
In this article, we'll take a closer look at Timmy Hill's driving history, career highlights, stats and lots more.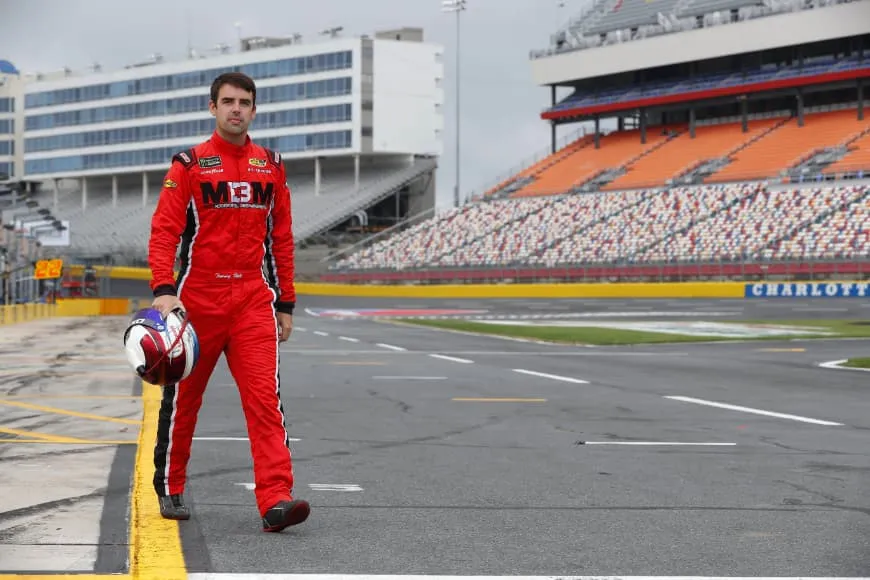 Fast Facts:
Born: February 25, 1993
Hometown: Port Tobacco, Maryland
Father Jerry Hill raced NASCAR and younger brother Tyler is starting in ARCA Series Racing
2011 NASCAR Nationwide Series Rookie of the Year despite missing the first race for not yet being old enough to race.
The third-place finish in Rookie of the Year standings at Cup Series level in 2013 behind Ricky Stenhouse Jr. and Danica Patrick
Biggest Results:
Timmy Hill Bio
Timmy Hil's career started out fast but unfortunately over the past few seasons that upward trajectory has flattened out considerably.
In more than 200 combined races at the Cup Series and Xfinity Series levels he has just three top-10 results. Obviously by now, the 25-year-old expected more of himself in terms of results and wins but fortunately, he still has youth and talent on his side.
As he continues competing at all three top NASCAR divisions, and with solid teams behind him such as Rick Ware Racing (Cup Series), MBM Motorsports (Xfinity), and NEMCO Motorsports (Truck Series), expectations are still high for a successful future.
NASCAR Xfinity Series and Monster Energy NASCAR Cup Series
In seven years Timmy Hill has 159 Xfinity Series races under his belt and three top-10 finishes. His season-best finish was 17th overall in 2011 which earned him Rookie of the Year honors.
In seven years of Monster Energy NASCAR Cup Series races, Hill hasn't had much to write home about. In 84 total races, his best showing was 14th overall in 2017 at the Brantley Gilbert Big Machine Brickyard 400 in Indianapolis.
First NASCAR Win
Unfortunately, this day has yet to arrive for the 25-year-old. We expect Timmy Hill's first win to come in the Xfinity Series level where his results show the most promise.
We do want to mention a race in the early part of the 2016 Truck Series season when Hill held a lengthy lead at Daytona for several laps and was in the top-5 on the final lap, only to be unfortunately spun out and finish in 14th – ruining what was likely going to be his best ever NASCAR performance.
Career-Best Season
2011 and 2012 were Timmy Hill's best seasons so far.
The 2011 Nationwide Rookie of the Year award was likely his career's shiniest moment and his two top-10 finishes in the Xfinity Series in 2012 were his best individual race showings to date.