Timothy Peters
is a Truck Series specialist. While many drivers who climb through the ranks prefer to use NASCAR's third-highest division as a stepping stone to Xfinity and Cup Series, Peters has made a career out of the Truck Series.
In 14 years and 243 Truck Series races, Peters has amassed 11 wins, 8 poles, and 126 top-10 finishes.
In 2018 Peters made his debut on the Monster Energy NASCAR Cup Series level and his one race, to date, remains his only experience in the Cup Series.
The 38-year-old is signed on with Niece Motorsports in 2019 and plans to continue adding poles and wins to his Truck Series resume. Speaking of which, let's take a closer look at what he has accomplished in his lengthy career so far.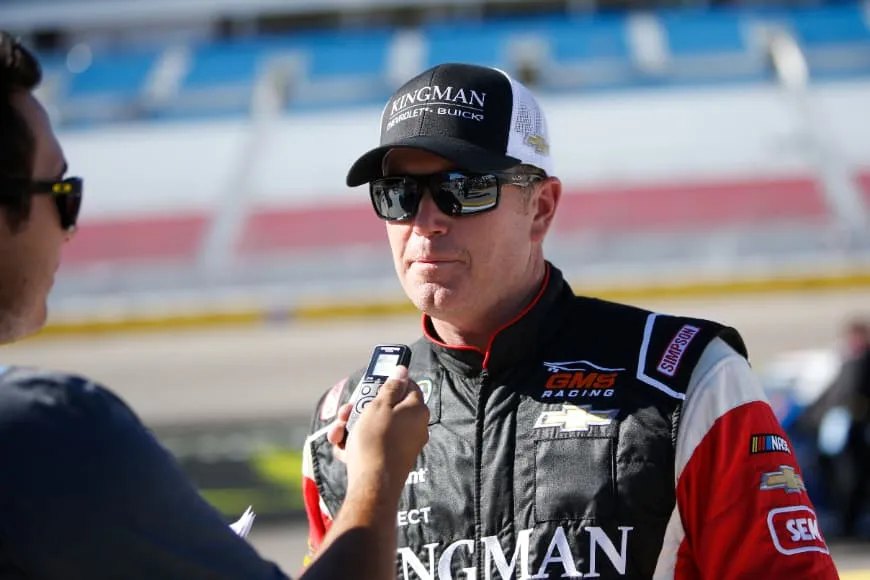 Fast Facts:
Born: August 29, 1980
Hometown: Danville, Virginia
Avid fisherman
Career best 2nd place season standings finish in Truck Series competition in 2012.
Lead all 204 laps in 2012 UNOH 200 at Bristol Motor Speedway.
Thought 2018 was his last year but felt reinvigorated to continue after a win at Talladega.
Has 5 race on CARS Late Model Stock Tour: 1 win, 1 pole, 4 top-10s.
Biggest Results:
2009 – Kroger 200 at Martinsville Speedway
2010 – NextEra Energy Resources 250 at Daytona
2012 – UNOH 200 at Bristol Motor Speedway
2015 – Fred's 250 at Talladega
2018 – Fr8Auctions 250 at Talladega
Timothy Peters Bio
Peters loves driving at Talladega and it's easy to see when you're looking at his results.
He is the all-time winningest Truck Series driver on the track with three victories at Alabama's iconic superspeedway. He also feels extremely confident on his home track of Martinsville Speedway in Virginia where he has one Truck Series win and two Late Model Stock race wins.
In 2018, with retirement looming and unfortunate sponsorship issues reducing his chance at a full-time competition, he surprised and impressed many with a monumental win at Talladega that resurrected his career and opened new doors with a new team.
The stars aligned to give the veteran driver hope and inspiration to make 2019 a great season.
NASCAR Xfinity Series and Monster Energy NASCAR Cup Series
Peters has 8 career races at the Xfinity Series (then Busch Series) level. The first came in 2006 and the rest in 2007. His best performances were two 13th place finishes.
His one and only Monster Energy NASCAR Cup Series race was in April of 2018. The opportunity came at his favorite track, Talladega, in the GEICO 500. He started in 32nd spot and managed to finish a respectable 23rd overall.
First NASCAR Win
Peters' first career NASCAR Truck Series win came in 2009 at the Kroger 200 on his home track at Martinsville Speedway in Virginia where he started in 11th spot and led for 84 of the 200 laps.
Career-Best Season
Peters can look back on a career with many wins and many poles but to isolate one best season is difficult since 2012 and 2015 are near mirror images of each other.
In 2012 Peters had 16 top-10's, ten of which were top-5 finishes, and he was the winner in two. In 2015 he had 16 top-10's, eight of which were top-5 finishes, and he won two.
2012 might take the cake, not just for having more top-5s, but also because he earned two poles whereas he had just one in 2015.
It should be noted that in two of those three races where he won the pole position, he was also victorious at the end.