Although race car driver Ty Dillon might play second fiddle to his brother Austin, who won the Daytona 500, there are lots of reasons Ty should be recognized as one of the top drivers in the sport as well.
While Austin has records, such as most consecutive poles in the Xfinity Series, Ty can boast a few of his own.
Ty was the 2011 ARCA Racing Series season champion, for example. Even more amazingly it was his rookie year. He was ahead of fellow rookie Chris Buescher by 340 points but somehow came runner-up to Buescher for Rookie of the Year honors.
Nevertheless, Ty worked his way up the ranks and is now a staple on the Monster Energy Cup Series. Still, in the prime of his career, expectations are high for Ty Dillon to continue racking up wins in the years to come.
Keep reading to learn more about Ty Dillon's background in racing, career highlights, stats and more.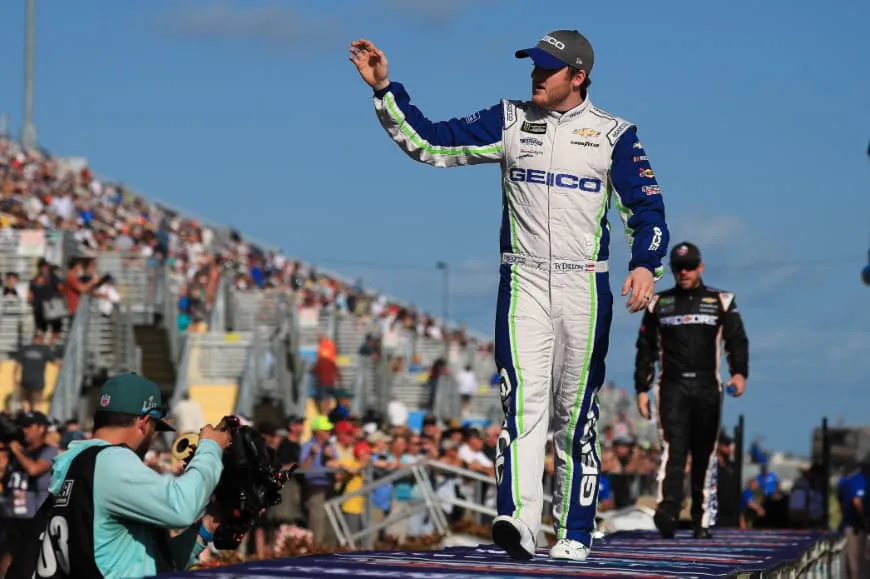 Fast Facts:
Birthplace: Lewisville, North Carolina
Birthdate: February 27, 1992
Height: 5'10"
Weight: 185 pounds
Parents: Mike Dillon, Tina Dillon
Wife: Haley Carey
Career Highlights:
2008 UARA Stars Champion
2011 ARCA Racing Series Champion of the Year
Youngest ever driver to win ACRA Racing Series Champion of the Year
2012 NASCAR Camping Outdoor Series Rookie of the Year
2013 2nd place in points in Ganders Outdoor Truck Series
2014 winner of Xfinity Lilly Diabetes 500
88 top-ten finishes in 146 Xfinity Series races
Ty Dillon Bio
Ty Dillon comes from a family with deep racing routes. As we mentioned already, Ty's brother Austin also races in NASCAR's Cup Series.
Furthermore, Ty's father Mike was also a race car driver in his day. Mike was also the general manager of Richard Childress Racing, which was founded by Ty's grandfather, Richard Childress.
After watching Austin have early success in his career, Ty, two years younger, was quickly drawn to racing.
Ty was the 2008 UARA Stars Champion in 2008 at the age of 16, and soon thereafter was named the 2011 ARCA Racing Series champion. He surprisingly wasn't named rookie of the year despite finishing the season first overall.
In 2012, Ty followed in his brother's footsteps by winning NASCAR's Ganders Outdoor Truck Series Rookie of the Year, an award Austin won two years earlier.
Ty enjoyed two outstanding seasons on the circuit, racking up three wins. He ranked fourth overall in points as a rookie in 2012 and finished second overall in points in 2014.
Ty Dillon Shines in Xfinity Series
After finishing near the top of the charts in Ganders, Ty joined RCR Racing, driving the No. 3 Chevrolet and replacing his brother Austin. He had big shoes to fill, with Austin finishing first overall in points the year before.
His rookie season couldn't have gone much better. Dillon won his first race at the Lilly Diabetes 500 at the Indianapolis Motor Speedway and had 24 top-ten finishes in 33 races. That was good enough to put him fifth overall in points.
He carried that success over into the 2015 season by finishing third overall in points. While he didn't win a race, Dillon did finish in the top-five in 12 races, and only twice all season did he not finish in the top-20.
2016 was another banner year for Ty, with what seemed like another routine top-five finish overall in points. Since then he's joined the Monster Energy Cup Series full-time, racing only sporadically in the Xfinity circuit.
His numbers overall in the Xfinity circuit are incredible. In 146 career races over seven seasons, Ty Dillion has 88 top-ten finishes.
He's still trying to climb the ranks throughout his two seasons in the Cup Series, with 24th and 27th overall finishes in points. Some of his best finishes include ending up 13th overall in Talladega and two other finishes in 11th. He was a slow starter early in 2018 but had a career-best sixth-place finish in the Coke Zero Sugar 400 at Daytona International Speedway, his first top-ten finish in the Sprint Cup Series.
It looks like a sign of things to come for Dillon, who looks to be rising the ranks in Cup Series racing, just like his brother Austin.